"Each step forward has a sacred meaning of its own" Sri Chinmoy
Meru Waterfall Hike & Arusha National Park - 16 October 2019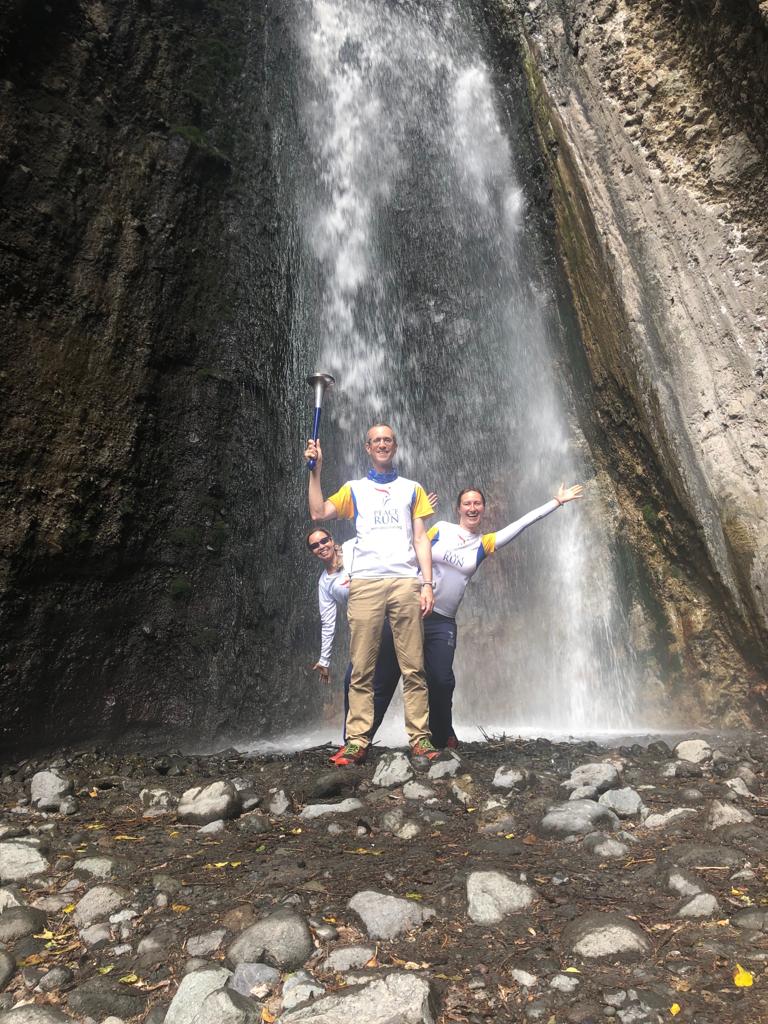 We had a day with no "official" programme arranged in the middle of our Tanzania Peace Run and a few of us - me in particular - were keen to get out of the city and see the countryside. The whole group couldn't go on a full-on safari as that's super expensive, but we did manage to book a trip for 3 of us which started with a hike to a waterfall on the slopes of Mount Meru then morphed into a game drive in the Arusha National Park. I wasn't sure what to expect as it cost a lot less and involved a lot less travel than the big one-day safaris, but this way we didn't split the group overnight and we still got to breathe some mountain air....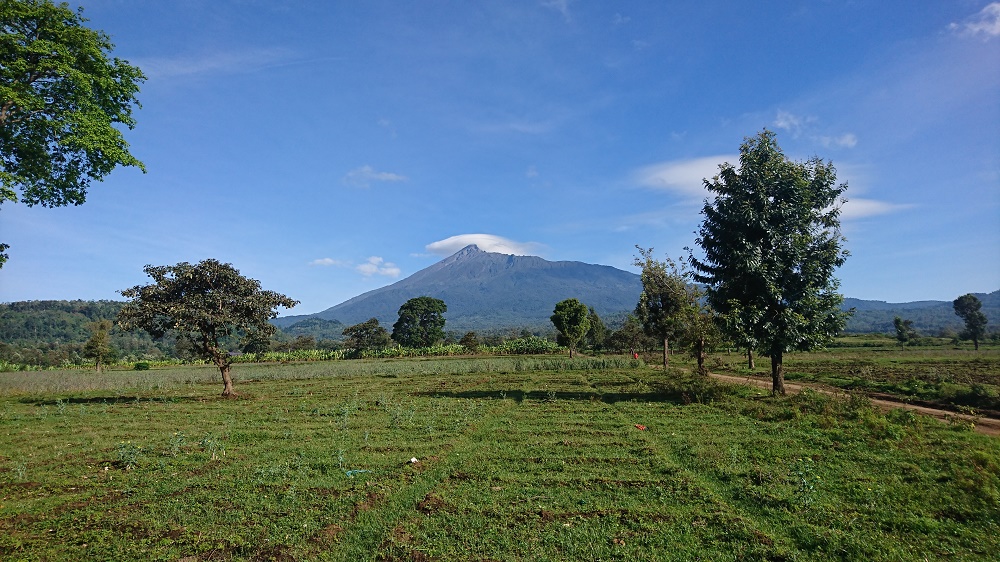 We stopped on our way out of town to get shots of Meru towering over the landscape. Although in the rainy season and mostly getting some showers or even downpours every day, we were blessed with perfect weather.
Coming into the park we saw buffalo, warthog and waterbuck across the fields and some storks and cranes too - then we got out at the trailhead to meet our guides John (trainee) and Mohammed (rifle-toting guide with plenty of experience).
The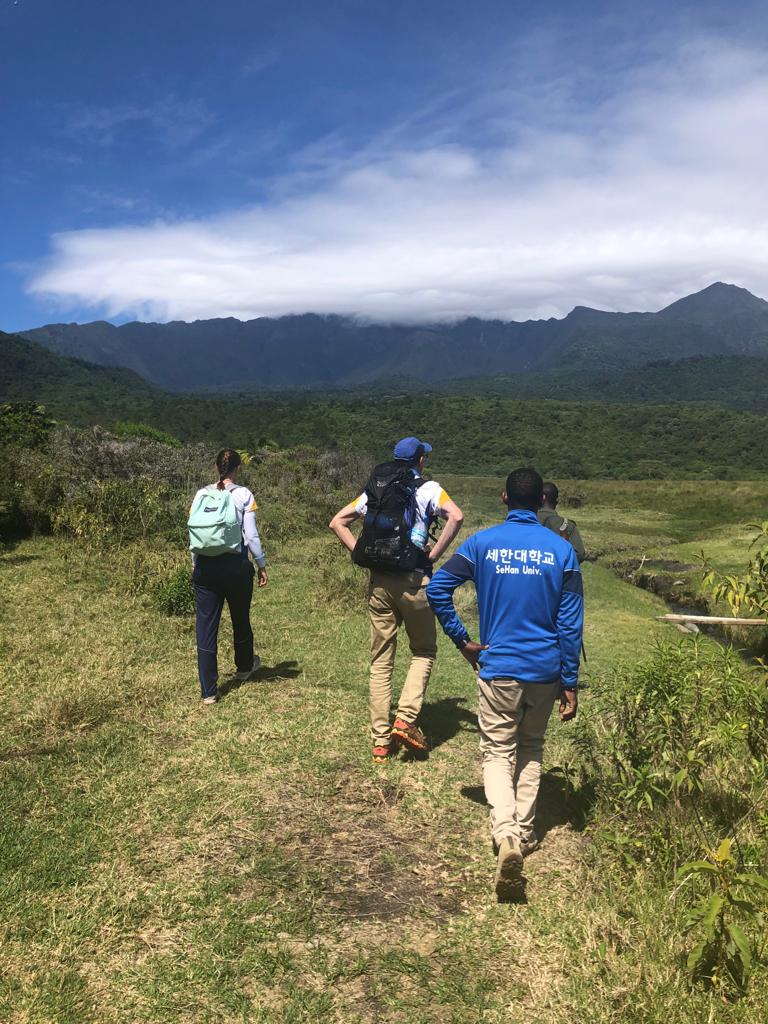 I was joined by Phaedra, who has stacks of Africa experience, and Martina who like me was out there for the first time.
The trail led off into gorgeous upland scenery, following a stream across lush meadows and into some scrubland and forest.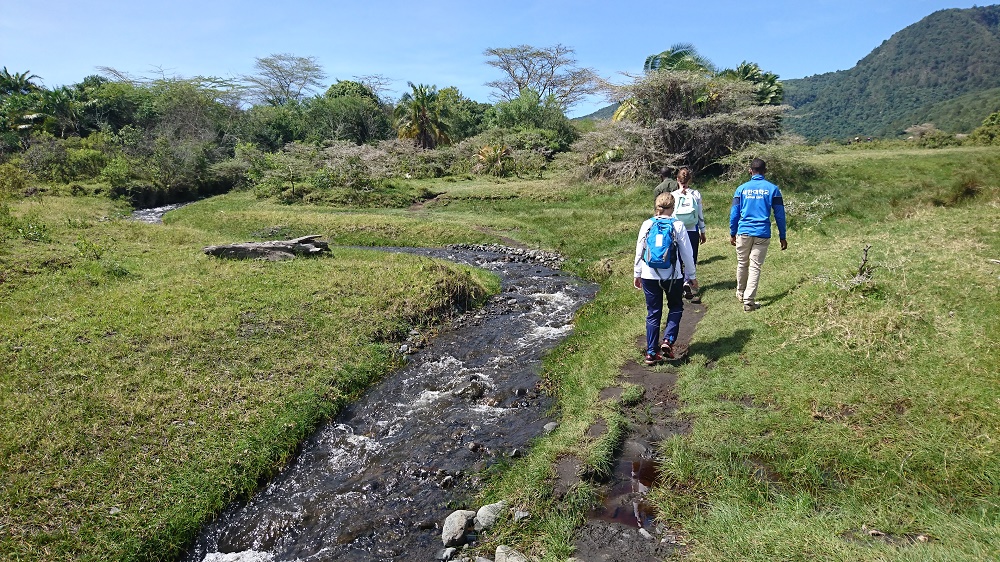 On the way to the waterfall we had a big surprise, spotting a gathering of giraffe in the trees flanking the meadow. We didn't get shots of them as we knew we'd pass closer on the way back. I hadn't expected to see big animals on the hike, only on the game drive, so this was pretty special.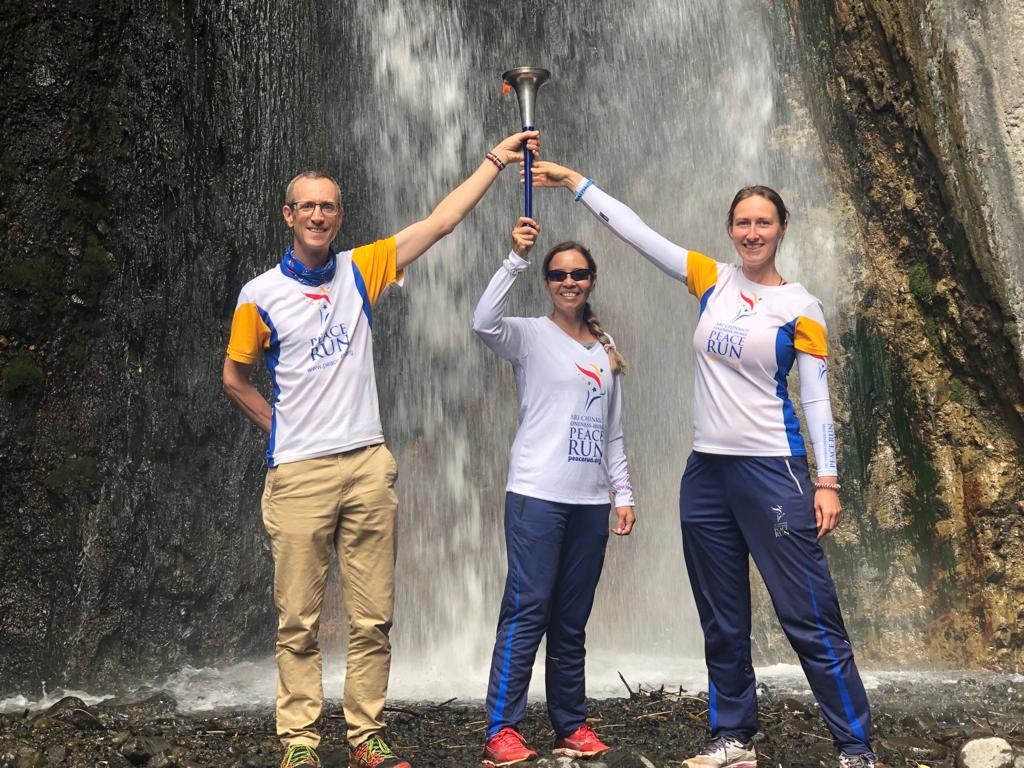 Some waterfalls are a bit tame when you reach them but this one was no disappointment - powerful and profoundly peaceful in a gorge surrounded by forest. I went into a meditation almost without trying, gazing up into the descending waters and feeling a descent of compassion and peace. We lit the Peace Torch and several other hikers wanted to hold it and ask about the Peace Run, so we felt we were doing something constructive with our day as well as having a good time!
A selfie featuring the girls taking selfies - very 2019!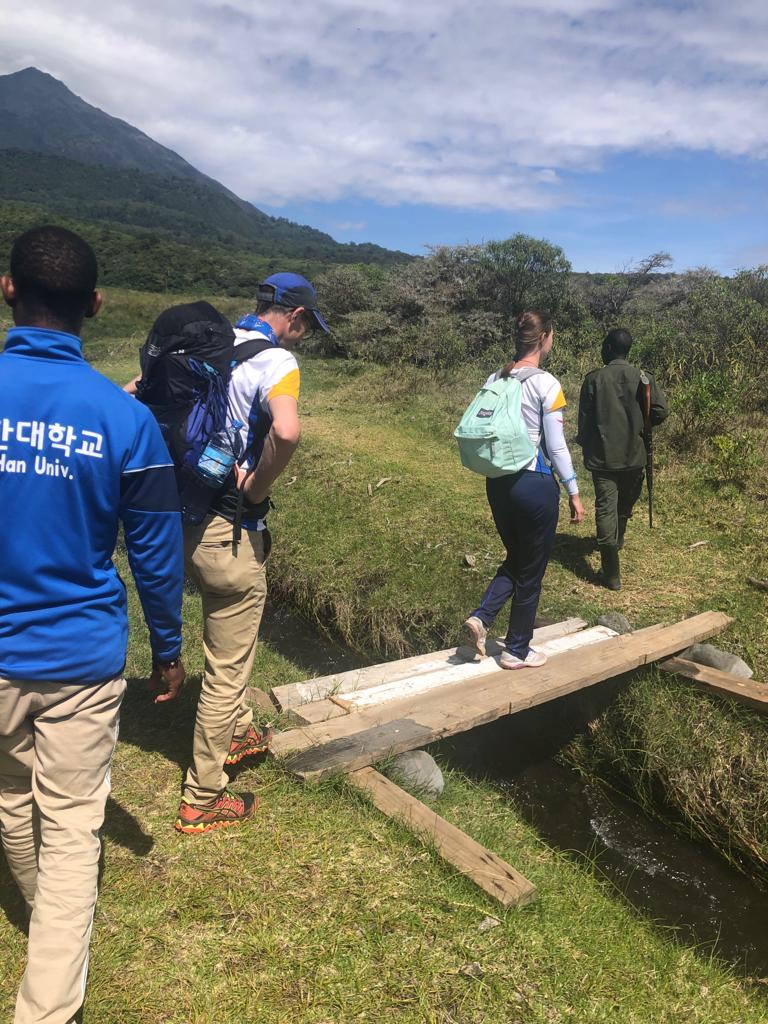 The return route took us over a makeshift bridge and through paths like tunnels in the forest. Plenty of birdsong. Mohammed unslung his rifle in case we startled a buffalo in the trees - if you corner them they're dangerous apparently.
The giraffes soon came into view and were very tame - we could walk quite close to them and they just kept on feeding or looking at us unperturbed. We spent ages watching them and photographing them as they are such beautiful and graceful and gentle creatures. An imatient Mohammed eventually dragged us away....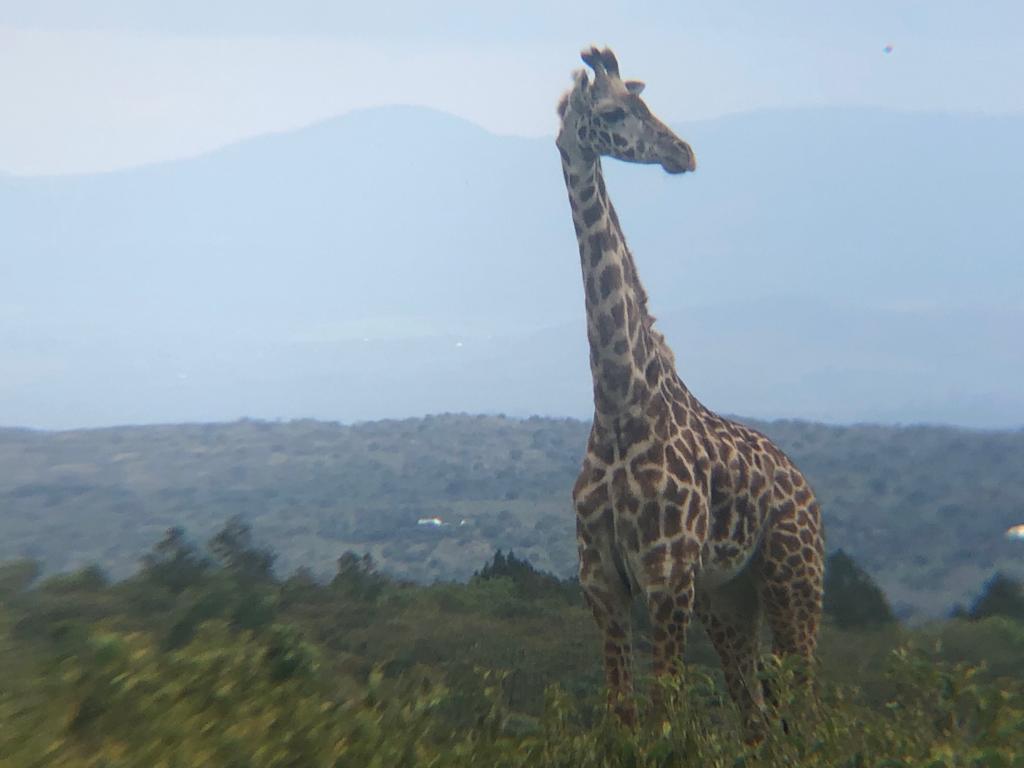 This blog is supposed to be about hikes, runs and rides not drives! But as this one was bolted on to the hike I feel that's good enough excuse to blog my photos of Arusha National Park taken from Immanuel's 4-wheel drive. There are lions here (they keep a low profile and are rarely seen) so there are only a few places you can safely get out.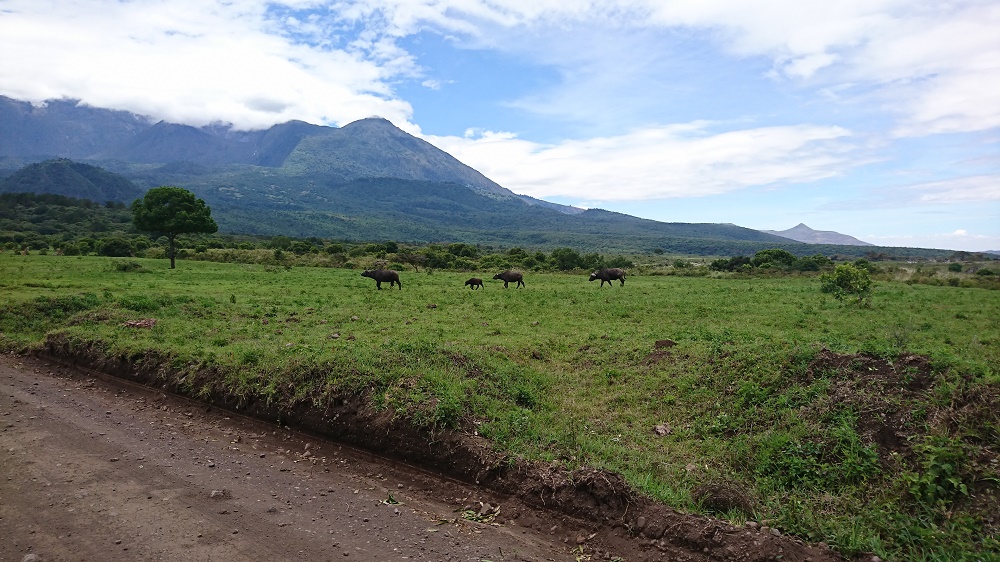 Buffalo against the backdrop of Mount Meru.
Zebra family.
Waterbuck, doe (female) one of 3 types of antelope we saw (the others being bush buck and dik dik).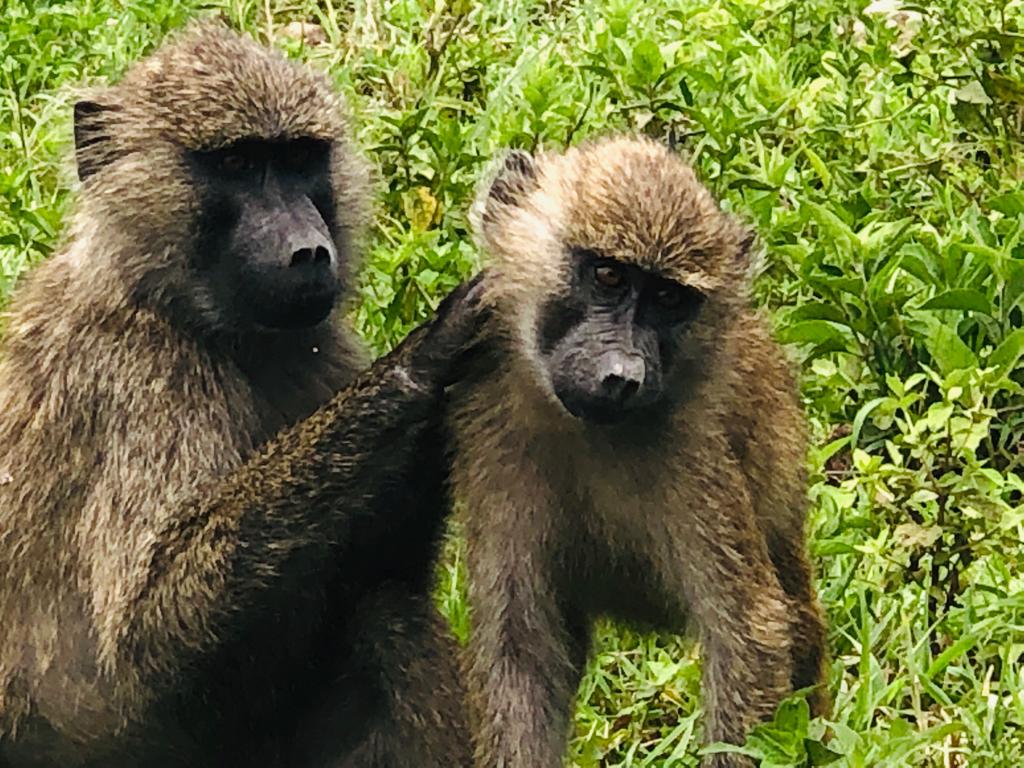 There were baboons everywhere, constantly grooming and tick-picking.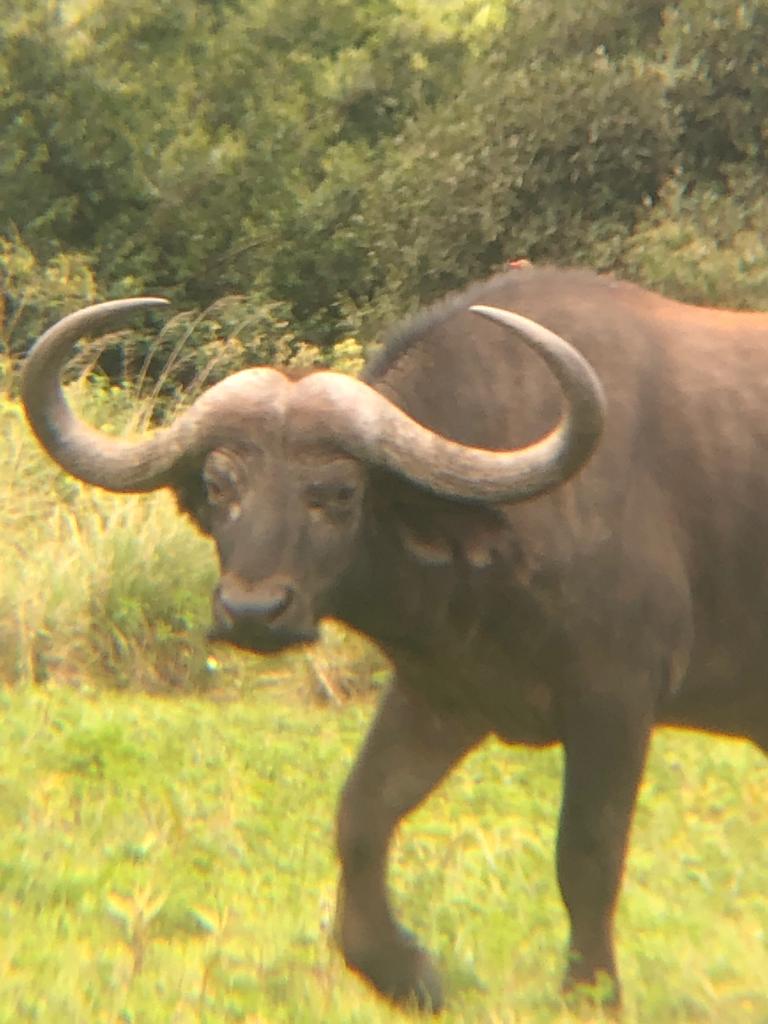 Male buffalo.
Poomba / Warthog - my favourite! This shot doesn't do them justice. Saw them play fighting, head-butting each other and doing a kind of push-of-war.
Next up we saw more giraffe - some of those were playing as well, rubbing their necks together looking as though they were trying to twist themselves into a kind of giraffe spiral.This one is feeding, they seemed to be eating mainly thorn bush leaves but our guide told us their tongues are nimble enough to grab the leaves and avoid the thorns.
Bushbuck in the grass....
We finally came to Momella Lakes - it was a stunning view from the dirt road as we came round the corner and saw the entire Little Momella Lake covered by pink and white flamingoes. We speng a while looking out over the lake - flamingoes look so graceful standing statuesque on one leg in the lake but their take off and landing are not quite so elegant!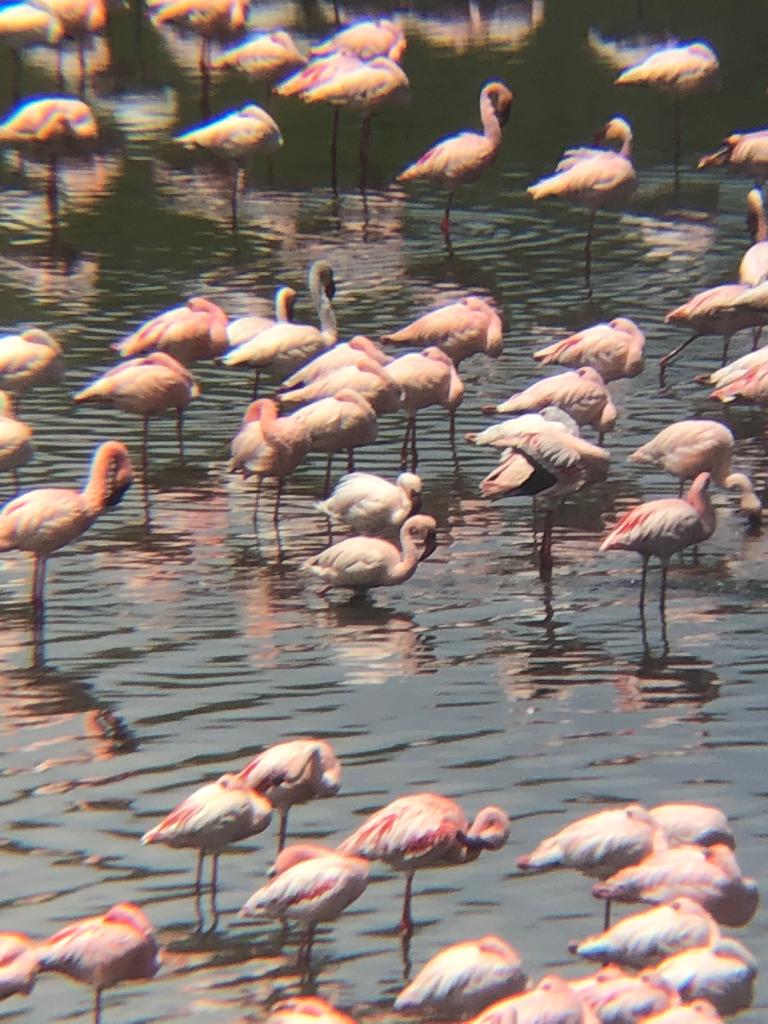 The three of us at the viewpoint overlooking the Momella Lakes. It was hot and peaceful, other groups also stopping off their to enjoy the lake panorama and eat their lunchboxes. Our veggie version had a kind of pakora and a portion of cold chips as well as doughnuts and cake.
Our last stop was Ngurdoto Crater, a lovely green and marshy meadow lying in the bottom of a volcanic crater with the crater walls covered in thick rainforest. We saw lots of signs of elephant here - dung all over the trail and broken branches where they had passed through the bush - but we didn't get to see any actual elephants. Apparently they are rarely seen in Arusha Park like the lions. At least it was one of those safe areas so we could get out and enjoy the crater views. It was another place I found myself just lapsing into meditation as I looked at the view - expansive and serene, totally timeless. A couple of hornbills perched in the tree next to us and then flew across right in front of us - I've only seen these beautiful and exotic birds once before at Bali Bird Park, so it was lovely to see them "in the wild".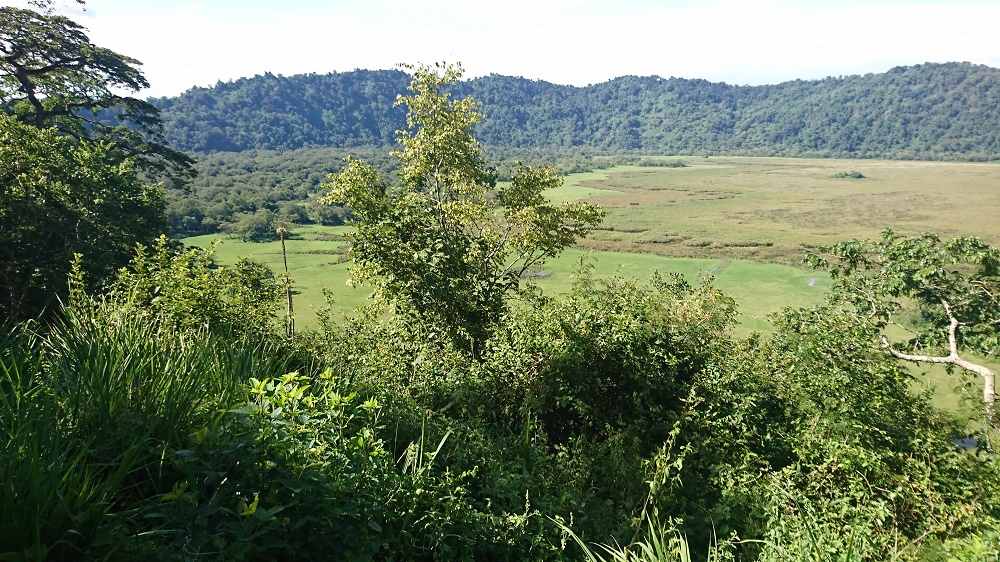 Then it was the slow drive home to Raha Leho in Arusha. So glad I got to see some African wilderness after spending time in 3 bustling African cities.