"Each step forward has a sacred meaning of its own" Sri Chinmoy
Cambrian 1F 100k Ride 2017 - Chepstow-Raglan-Brynithel-Usk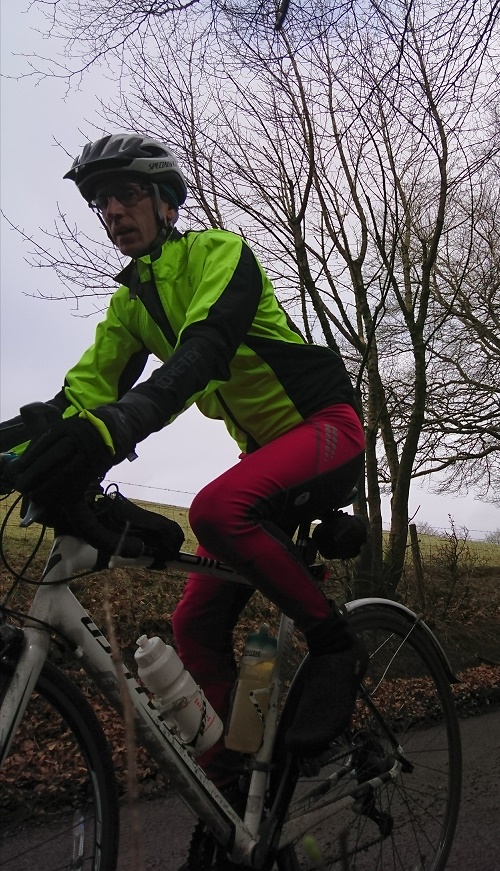 This was the first ride on my quest to clock up 20 AAA points - in other words 20,000m of climbing in Audax rides. You only get points from rides that include at least 1000m of ascent so I knew every qualifying ride would tax legs and lungs, even if they weren't going to be as sapping as the series of 200k events I did in 2016. The Cambrian series offers lots of options around mid Wales but I started with this 100k from Chepstow, just up the road from home, knowing I could be out and back by mid-afternoon on my lieu day, with maybe time to give the bike a much needed clean before it got dark. To be frank I'd had enough (for the moment) of winter riding in the darkness and was looking forward to the Welsh valleys and Monmouthshire hills in actual daylight.
I clocked in at the cash maching in Chepstow at 8.06 and tried to follow the route from google maps that I'd downloaded from the Audax perms website. It proved tricky - I should have tried this out before really! After some twists and turns I found myself en route to Raglan though and making good progress over the ridge between the Wye and the Usk. It was misty and murky and there wasn't much of a view - basically although it was pretty dry I was riding inside the cloud. I knew these roads from previous rides so the constant hills were no surprise - after all that was the name of the game - AAA points. They don't come for free.....
The first control at Raglan was just a mini market where I bought a twix just to get a receipt and within a few minutes I was back in the saddle, unable to pick up the route on my app and riding the route from memory. Never a great idea! The valley route was scenic and the spring lambs were out in the fields, daffodils coming up on the verges (they looked a bit desperate for some sun to open them up a bit more, but at least they were showing their faces). I drifted off a bit and missed a turning at Llanfihangel Gobion but when I u-turned and found the right road I realised I had only strayed a mile or 2 off. This made me pick up the pace, as you always do when you've lost some time, and I was soon coming into Pontypool. Here I could have done with the app to give me a decent route but I still couldn't get a connection so I guessed at the road signposted to Tranch as the right way to go. I knew it was a parallel route to the A road up the valley (the return from Byrnithel is on the A road itself) but when I checked later I realised I had strayed off the planned route. What I ended up with was a major climbfest - this road up to Pantygasseg is used for a Hill Climb event and it wasn't hard to see why. By the time I reached the top I was pretty spent (see my facial expression in that selfy above) but the downhill was hard work too - potholes and a wet road making me very glad I had changed my tyres and gone back to using Specialized Espoir 25c - glued to the road, thankfully. Whatever happened next I would feel I'd earned those AAAs!
Next came the B road up the valley side towards Aberbeeg, the route I should have been on from just outside Ponty. There were ups and downs through little valley villages, reminding me of all the rides I'd done when I lived in Cardiff and rode up into the valleys once a week on my day off. Brynithel itself seemed a very strange turnaround point, but it is interestingly placed at the top of a steep, switchback hill that rises from the valley road half way up the ridge. You have to get your legs working to wind your way up to the little collection of houses clustered around a newsagent and a post office. I visited both, as the massive flapjack I bought at the convenience store came with a useless receipt (no time or location) and I had to pop into the Post Office for a stamp to get something more official for proof of passage. The lady behind the counter (do we still call them postmistresses? Postmasters?) was very friendly and mentioned she'd had someone in for an Audax receipt the day before. I told her to expect a few more in the summer...
At this point I'd been out a fairly ridiculous 3 and a half hours, so I had to make better speed on the way back or risk the humiliation of missing the cutoff time, which I guessed was around 6 and a half hours all in. Actually when I checked it was 7 hours but while I was out on the road I was convinced I had to get back in 3 hours and I knew there would be a stiff climb waiting from the Usk Valley over to Chepstow. I got on the A road and tanked it back to Ponty, a pleasing 40 kph coming up on the Garmin. The receipt from Brynithel Convenience Store may have been useless but the flapjack was doing the job pretty well. When I got to Usk I headed for my usual haunt - Number 49 - and ordered tea and fruitcake. I didn't aim to hang around but after I texted Kokila to give her my location (an agreed requirement since one ride finished in hospital with a broken helmet and amnesia) she called me back and we got chatting. I was in the back yard of the cafe getting cold so I soon let her get back to her work and resumed the ride, hills expected and a deadline (in my head at least) to hit.
I rode out past Usk Prison and into the valley - quietude descended and the magic of the Vale of the Usk took over. My legs seemed to be working OK, if not as fast as on my earlier flapjack fuelled time trial to Pontypool, and the beauty of the early spring landscape was more than payback for all the calories I was expending. Then came the endgame - shortly after passing under the main road I clocked a warning sign for 16% and the hill began. It went on a very long time - I was soon in bottom gear and making snail's pace progress, sweating into my jacket and too tired to stop and take it off. After an eternity of in the saddle, out of the saddle, back in again, climbing all the while, I rounded a bend that turned my back to the valley and came up to the top of the climb. A long and gentle descent was great but I knew that meant more climbing around Chepstow and Shirenewton. Never mind. When the ascents did finally come I tried some sport dextrasol (chewable glucose and magnesium) and found them pretty useful - should have opened he packet earlier. Thus reinvigorated I tackled the last tests of the day, with views over the Bristol Channel and the North Somerset coast spread out before me. After the last dig of a climb I was crossing the main road and belting down into Chepstow. Oh no, one way street ahead! I was tempted by tiredness to ride the wrong way down it and save a few minutes but I u-turned and found a way round. Clocking in at the cash machine I'd taken 6:15, an hour longer than expected, but my self-imposed diversions accounted for most of that. My lack of long rides since December explained the rest.
Job done, 1.75 AAA to add to my total and a great day's riding behind me, I had time to stop and meditate at the Peace Plaque overlooking the Severn Bridge, standing in the spot where Sri Chinmoy did the same back in 1991.