"Each step forward has a sacred meaning of its own" Sri Chinmoy
Surrey Hills Audax (Perm) AAAx1 / 56km, Jan 13th 2018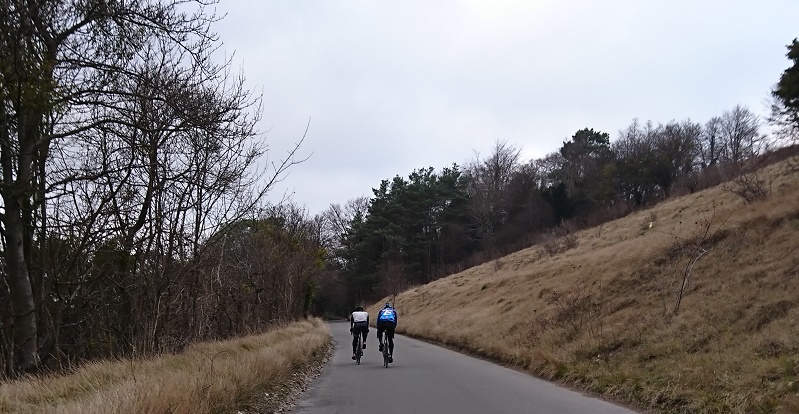 First proper ride of the year and I opted for this one for a number of reasons. Firstly I wanted to see my folks who live just up the road from the start/finish (sorry, Depart and Arrivee). Secondly, I needed to keep my AAARTY sequence of rides going. Thirdly, I just wanted to ride the familiar roads and hills of my youth in Surrey (I used to ride around here in the early 80s as a teenager).
Pressure to squeeze all those into a single weekend meant I was glad the route was only advertised as a 50k. Scrutiny of the routesheet revealed it was in fact 56k, plus another 6 or so getting to and from Denbies Car Park, a convenient place to stash the motor where I saw numerous other riders (MTB and roadies) extracting bikes from boots and racks so it's clearly well known for that reason. A well signed cycleway (how often do you see one of those?) got me to the high street where I rode up to an ATM and got proof of start time. Memories flooded back as I rode through Dorking and looked up at the old Quaker Meeting House where I spent every sunday morning as a kid. I'm still grateful for that Quaker start in life - ultimately I needed something deeper in my practice than quiet reflection, but the principles of peace, service and simplicity that quakers stand for still ring true for me. Nostalgic reflecting over I found myself on the climb to Leith Hill and became aware of just how popular these Surrey roads now are for cyclists - I was barely out of site of another rider for more than a few minutes at a time for the whole ride.
Leith Hill was a good climb but not to hard and the info control (naming a car park at the top) was easy enough too. It was cold and dull but no rain and not too strong a breeze so conditions for a hilly ride were excellent. The fast descent got me on to a B road all the way to the first and only control at Cranleigh. Out of habit I stopped at a cafe for tea and a pastry to top up my carb levels but on such a short ride I really shouldn't have bothered. It was almost a reflex action when I saw "control" on the brevet card! Fuelled up I turned around and headed back for the North Downs, this time on the 21% climb of Barhatch Road which was a really good workout. Around me other riders puffed their way up, including a woman just behind me who repeatedly swore then apologised between gasps as the gradient steepened. F****, sorry, ah, ah, F*** this, sorry! Ah...ah...F**** etc. Comedy gold!
Another swift descent was followed by the well known (apparently) Combe Lane which took us back up on to the hills from the lovely village of Shere. This place I knew from my youth. Surrey gives me mixed feelings. On the one hand it's my birthplace and I have a special feeling for it - it's beautiful too, steeped in ancient woodlands, rolling hills and winding rivers. Then there's the affluence which for some reason makes me uncomfortable. I need to get over it, but for some reason that level of wealth in the land of several BMWs outside each million pound house gives me a cold feeling. There's no sense in it - affluence is not immoral and if it was I would be guilty in the eyes of many, as just being a westerner on nearly average income makes me very wealthy by world standards. Yep, mixed feelings when I let my mind get hold of it so I kept my mind out of the picture as much as possible and just let my heart enjoy the loveliness of the landscape.The woods are lovely, dark and deep but I have promises to keep and miles to go before I sleep, as Robert Frost once wrote! On I rode, down off the hills then back up the climb of Crocknorth Road where I grabbed my water bottle only to have it break in my hand and leek electrolyte everywhere. Oh well, I had a second bottle so I wasn't goint to die of thirst but it's the first time I've had a plastic bidon shatter on me. Strange. On Ranmore I rode along the lovely ridge between woodlands then past the amazing church - once known as the Cathedral of the Surrey Hills apparently. Some of the views were really expansive and uplifting despite the cloudy conditions - on a clear day this ride would be incredible.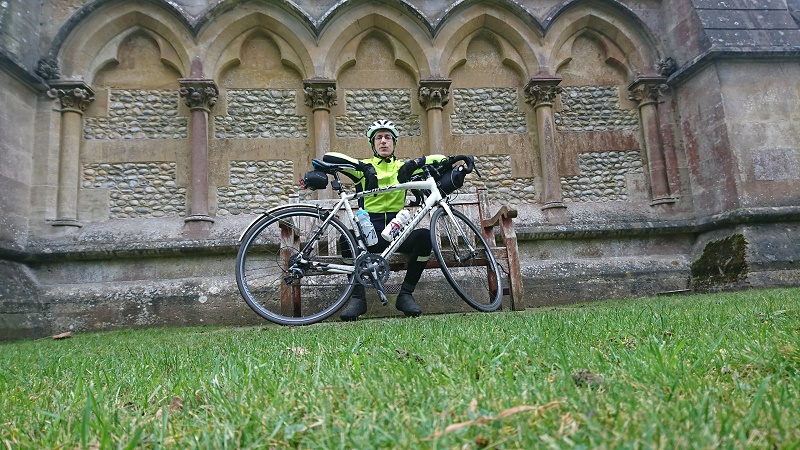 I stopped just long enough to admire the church and grab a selfie then I descended to Westhumble for the main business of the day - Box Hill. I was overtaken by 3 guys on the way down so on Box Hill I made a point of catching them - I may not be a fast descender but going up is fine. The views from the hill were amazing and it was crowded with riders going both up and down - some clearly doing reps. After that a rapid descent got me in to Dorking in 3.02. AARTY box duly ticked, some lovely scenery soaked up and some great climbs stored in the legs, I hope.