"Each step forward has a sacred meaning of its own" Sri Chinmoy
Sugarloaf Hike, Abergavenny, Jan 2018
Late in 2017 myself, Balavan and Bahumanya cooked up the idea of getting together to hike up some hills/mountains whenever we could (despite the fact we live in Bristol, London and Oxford so it's not easy logistically). I'm a keen trekker myself and we all agreed that it's the one form of exercise we're into that is also really sociable. Cycling and running it's hard to chat, but hiking is basically a moveable coffee house where you can chat to your heart's content while conquering a mountain or trail and checking out some awe inspiring scenery. Not sure how fit we all were, we opted for an easy one first time out - a 12k hike from Abergavenny station to the summit of the Sugarloaf (just shy of 2000') with the upward route on the Deri ridge and the return over the Rholben.
From the station the route took us through town - bustling and lively on a Saturday morning - then up hill on the lanes for about half the distance before we came out into the mossy oakwoods of the Deri and then the open moorland of bracken and sheep-cropped grass that covers the ridge. The cloud was low - down around 1500' - so we never really got to see the shapely cone of a summit that tops off the mountain and gives it it's name. It did reveal itself briefly when the cloud swirled away for a second but that was it. there were no views from the top either - totally in cloud!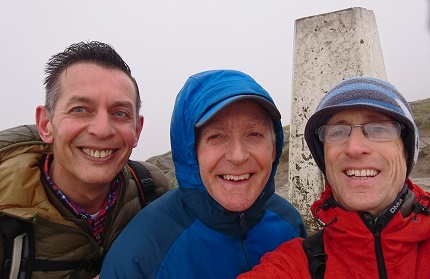 None of this mattered though as we were accompanied throughout by the music of streams and wind in the trees and when we came out of the cloud the views out over The Skirrid and The Blorenge were awesome. And, needless to say, we covered every aspect of life in our endless talk on the mountain. This was not a day for silent contemplation! By the time we got down after around 4 hours we'd sorted the world economy, interpreted the visions of William Blake, redefined patriotism in a progressive sense, fathomed the reasons that right wing parties are able to appeal to the masses while simultaneously robbing them of their prosperity and opportunity, etc. etc. etc. I think we deserve credit for spending minimal time on Trump and Brexit - to be frank it's been over a year since both got voted for so enough has been said really.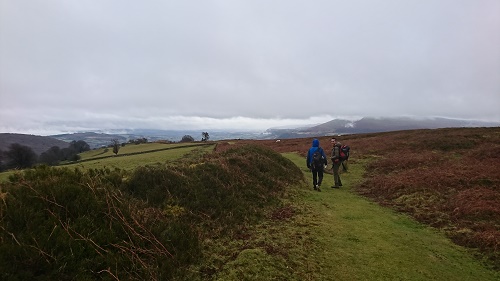 So...cabbages and kings, mountains and moorland, all in all a great day. Egg, chips and beans for £4.60 afterwards in Aber.