"Each step forward has a sacred meaning of its own" Sri Chinmoy
Stroud 5 Valleys Audax - 18 August 2018
Last year I began the 12-month long journey that is an AAARTY - a ride with Audax Altitude Points every month for a year. The sequence has to be unbroken though, and mine unfortunately got broken when I failed to finish one of the Cambrian rides within the cutoff time (thanks to a google-inspired detour down the Taff Vale). I started again but tripped up a second time when I failed to get my entry confirmed for the Kings, Castles, Priests and Churches Permanent - it was a great ride and excellent training for my tour to Germany but the AAARTY was once again scuppered. So here I am again, starting the 12 month challenge with a short but monster-hilly jaunt through the hills and valleys around Stroud.
My other goal on the bike right now is to prepare for a Middle Distance Triathlon - the first one that long I've done since 2011 - so I started the day with a hard ride from Bristol to Stroud to visit my daughter Jemima (known to the world as Jelly) on her 29th birthday. I went out aiming to average 18mph but after an hour of hard slog, down on the tri-bars in drizzle and swirling breeze, I was well pleased to see an average clocked on Garmin of 20.0 miles per hour. For me, that's pretty good! I had just come off the A38 and decided to lengthen my route with a detour through Selsley, to avoid arriving too early. Views over Stroud and its valleys opened up below me as I cruised past the church - it was green hillsides and cotswold stone buildings scattered across the landscape in every direction. Early on a Saturday morning it was quiet and idyllic.I'd probably clocked around 35k by the time I tracked down the start point of the Audax (Paganhill Tesco) then popped in to see Jelly (surprisingly staying only 40 metres or so from...Paganhill Tesco).
Jel and Glen were on good form and I had a chance to play with 8 month old Nerys before having a light breakfast with them (Nerys donated much of hers to the dogs by dropping it on the floor, but she was happy enough) then heading out to ride the 5 Valleys.
The route started with a climb immediately - the scenic slog up to Whiteshill. After pausing to photograph the name of the woodland at the top of the climb for an info control, I was on the first of many madly steep descents and very glad that the roads here were bone dry. At the first proper control I had a choice of pub or info, the latter being the phone number of a payphone which no longer had a phone (it's now a defibrillator and a book exchange) so I bagged a selfie hoping that would be acceptable. After a short ride along a flat lane I was climbing again on the second leg, a 1-in-6 slope apparently. I felt in good shape and pleased that I was doing the whole ride on my tri bike - although not set up for climbing I needed to get the miles in on that bike in preparation for the race. It felt surpisingly light and natural on the ascents and I was enjoying climb 2 - although with a nagging feeling that by the time I got to climb 5 I might regret the exertion of the time-trial from Bristol to Stroud and the detour climbing to Selsley. The stage ended in Painswick, already buzzing with visitors, including some on horseback who were outside the pub next to a pricey sports car. Yep, I was in the Cotswolds! I bought a 25p fudge bar to get a receipt as proof of passage then came another mad descent. Half way down I hit a shocker of a pothole and had a front tyre blowout, but it was no bother changing a tube on a warm day on a dry verge with lovely views and hardly any traffic. All went well and I was soon back on the road and taking the turning to Elcombe with what felt like good solid pressure in the tyre.
There was hardly any flat - I was climbing on rough, twisty lanes or descending on even rougher and twistier lanes for what seemed like an age, then I was on the high plateau of the Cotswolds rolling in to Bisley. On the climb I passed a woodland named in honour of Laurie Lee, and had to slalom round one of the local residents who'd taken a break from grazing on the common to be a bovine roadblock.
In Bisley I got a proper, old-school stamp on my Brevet Card at the post office and sped on down into the Toadsmoor Valley. I was cautious at first as the route sheet mentioned having to stop at lights but I got a bit distracted by the scenery and when I rounded a bend and saw the red light it came as a bit of a shock - fortunately those FSA brakes are excellent. Next came a sharp climb to Minchinhampton, another beautiful village of ancient, honey-coloured stone houses and a cute corner shop where I could get a bottled frappucino and a good quality receipt as proof of passage. Then it was down to the familar town of Nailsworth and its busy stretch of A46 with a couple of awkward roundabouts - a real contrast after the silence of the hills. I'd last ridden through here on a long 200k Audax which was part of my 2016 RRTY - I got a bit lost on that one so I was out for a good 13 hours and I rememer it vividly! The climb past the football ground to Nympsfield went on a long time, perhaps because I was flagging due to lack of fuelling, but once at the top past the eery gates of Woodchester Mansion (a squat / parkup of mine back in the 80s when Stroud was something of a stomping ground) I knew there was no more ascent and it was just a case of rolling into town across the common to finish.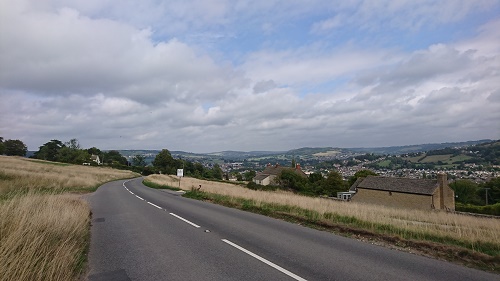 The ride home after completing the Audax was quite a challenge as I was short on calories and a serious block headwind had appeared, making each turn of the pedals on the exposed and unrelenting A38 a real effort. I struggled successfully until around Thornbury when very suddenly the strength drained from my legs and the 10 or so miles I still had left to do seemed insurmountable. I saw a sign for a garden centre and my bike seemed to have a mind of it's own, steering itself into the car park so I could refuel at the cafe. The earl grey tea I had there tasted like something celestial - it was too good to be real - I take that as a sign I'd left it a bit too late eating and drinking! The food disappeared in a couple of minutes as soon as they brought it over. Then a waitress came and returned my debit card which I'd left in the machine - further proof that I was totally spaced out. Fortunately this overdue feed stop dealt with the calorie deficit and those last 10 miles were easy enough. At least the wall was only hit after around 7 hours - the race I'm training for should take around six and a half.
Well, that was my grand day out - Jelly's soul's day, quality tri-training and an AAA ride all bundled together.