"Each step forward has a sacred meaning of its own" Sri Chinmoy
Rindomo Gorge - Greece - December 2016
I chose this hiking route because of my memories of hiking to the Bridge of the Immortals in Huang Shan - the turnaround point at Pigadia was set to be another striking bridge, centuries old, this one spanning the Rindomo Gorge. In the event, it turned out to be the most striking scenery I've seen since that epic day in China back in 2005. Since then I've scaled mountains and hills in Thailand, Ireland, Spain, Bali - all awesome in their own right - but this gorge had a stretch that was truly unique and well worth the hard graft of hiking back through the rock filled canyon to get back to our starting point.
The outward trail was easy going with wonderful mountain views - the bridge that was our supposed goal was spectacular if a bit hard to see clearly through the trees! We were then left with a choice between hiking back the same way or negotiating the gorge which we knew might be knee deep in water in places and also looked dark and ominous from above. We decided to go for it and were very glad we did!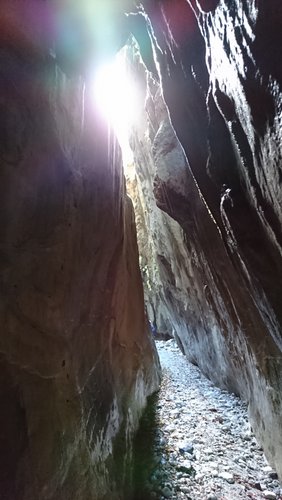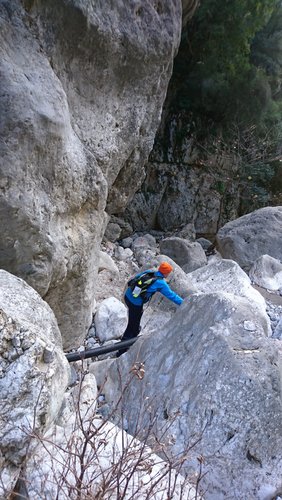 Nearly 2 hours of hard scrambling, chimneying and walking over loose rocks finally led us to the base of an easily missable trail (marked only with a couple of squares pinned to a tree) and the steady climb back up to the church at Profitis Ilias. The Taverna was open so we had mountain tea accompanied by a handful of old guys watching soap operas on a communal TV. Very surreal!
I could say so much more about the gorge but I'll mostly let the photos do the talking. It was truly unique.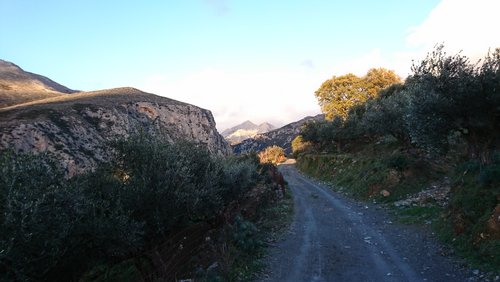 Our crew on this hike was international to say the least - Ambarish (Ireland), Sandro (Italy), Daulot (Seattle), Nitish (Netherlands), Tarit (Scotland), Moni (Czech, living in Seattle though) and me.