"Each step forward has a sacred meaning of its own" Sri Chinmoy
Le Havre to Beauvais - 180k
I had a great meditation on the ferry despite the rolling of the ship and the lack of sleep. Special birthday blessing....
We docked and disembarked late, and although I was first off with the motorbikers it was still well after 9am when I touched the tarmac of France and rolled into Le Havre under heavy grey skies. Soon it was raining and I had my first taste of GPS navigation hassle when a long climb out of Harfleur ended on something more like a goat track than a cycle track. Getting back on route was time consuming and as always it was tricky dealing with Google maps with neoprene gloves on!
After some changes of plan and false starts on unsuitable roads I finally found myself making good progress through Gainneville and into Lillebonne. Then came a long climb to Grand Camp and I realised it was going to be a long day when I saw I was only on line 3 of a long route sheet. I was singing the Panchash song to myself and getting a real wave of energy from it, which I needed as the rain was heavy and that drains energy, plus Normandy was proving rather hilly. In fact that song turned into the mantra of the whole trip and I was to find myself singing it (badly, breathlessly, maybe once or twice tunefully) from the banks of the Wylye to the Neckar Valley.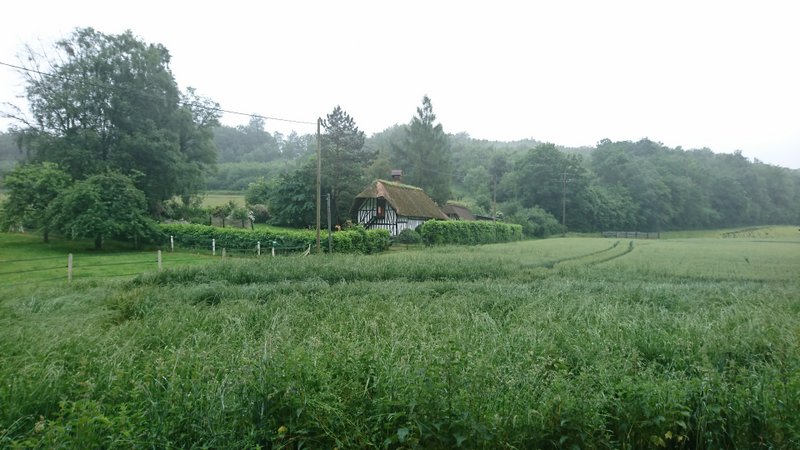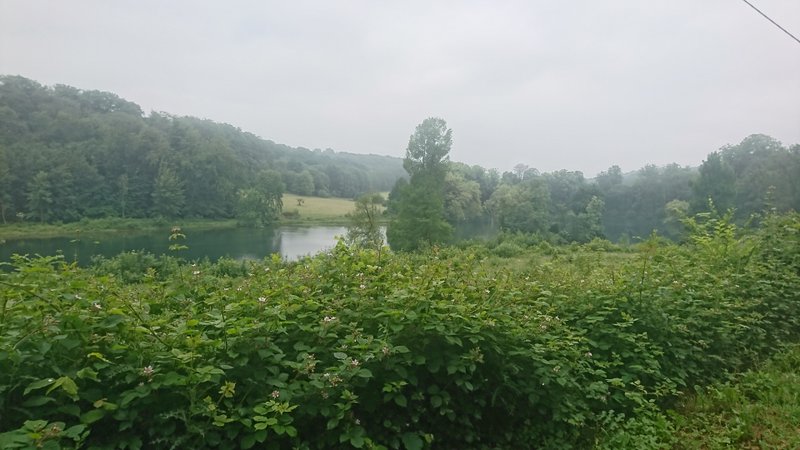 The countryside was lovely, very sparse with only tiny hamlets on the back-road route I'd chosen to ride. It had a deep rural peace and beauty. It didn't have the charm or sweetness of some other French regions, or those of southern England come to that, but it felt good to be riding through a region I'd not explored before and enjoying its unique atmosphere.
As well as soaking up the vibration of the landscape I was occupied with the simple business of keeping moving forward in the face of fatigue and heavy rain, as well as stiff headwinds. No shortage of challenge. Then in a particularly heavy downpour had a rear puncture and had to stand in a sodden grass verge getting wet up to my ankles while I fixed it. I found the culprit easily enough (a razor sharp stone) and the tyre was on and off with no trouble, but my pump wasn't sealing well on the valve and I couldn't get a good high pressure into the tube. It was good enough to get me back on the road though. Throughout all this I was managing to stay cheerful and grateful as one should on a soul's day, which with hindsight was pretty good going! Lunch came in the form of 2 fresh cheese quiches and 2 awesome pains au chocolat, eaten in a bus shelter. Later I rested under an old market hall much like the one in Ledbury. I think that was Buchy? As the afternoon wore on and the rain slackened off, crickets began to chatter loudly and a squadron of swifts looped low over the fielsa to feed. I enjoyed this natural symphony as I kept on turning the pedals and notching up km after tiring km.
The ups and downs of Normandy went on for a long time, and my route passed some towns with shops and cafés so I was able to feed and refill the bottle OK. I realised it was going to be hard going getting an evening meal somewhere on the road and still making it to the hotel in Beauvais while reception was still open, but I decided to stick with that plan rather than drag myself all the way to the hotel without much fuel.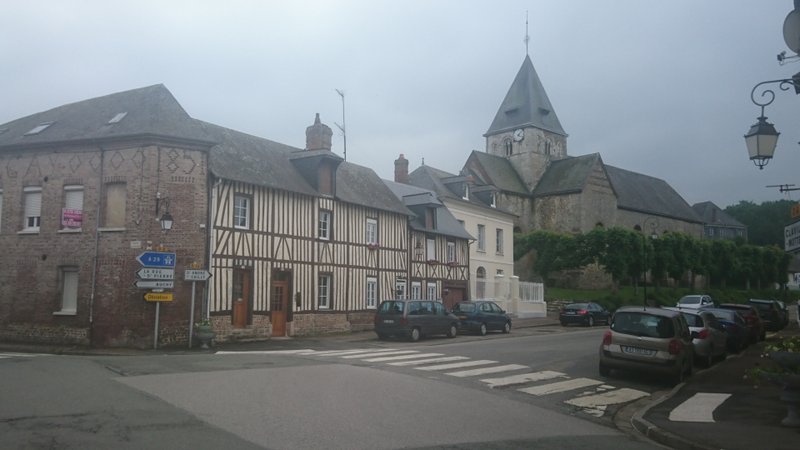 The rain finally stopped and the sky lightened and I found myself descending into an exquisite valley. All was well with my world. The scenery around me shifted to something resembling Salisbury plain and I remember a moment when I rode towards two beautifully sculpted low hills, and the landscape became somehow numinous and unearthly. It was a moment of cycling perfection. I feel this deep connection with the countryside when I ride - and when I run - and those moments when I feel a sense of oneness with the landscape are what it's all about for me. Those Norman hills are still etched on my memory.
I reached Gornay en Braie where I got well fed at a kebab shop that did a veggie option, then had a stroke of luck with Google finding a cycleway that actually really was a cycleway. It was beautiful tarmac, perfectly straight and flat, deserted and silent. I got a surge of energy now I was on an easy route with the end of the stage in sigh so I time-trialled to Beauvais and made it with ten minutes to spare, tired but very happy.
Despite the dry end to the day, my kit was soaked from the earlier downpours and in my tired state the thought of starting Wednesday with cold, wet shoes and clothes was pretty uninspiring to say the least. I was staying out in a retail park on the very edge of Beauvais and there were no shops open, not even a garage where I could buy a newspaper to stuff in the shoes overnight. I wandered around the desolate retailscape looking in bins hoping to find a discarded paper but didn't find anything except some glossy (and therefore non-absorbent) flyers and catalogues.
Then, in the last bin, a fresh, dry and clean bundle of paper.... I shook out a single uneaten chicken nugget and stuffed the wad of paper in my bag. I laughed to myself about spending my birthday, my soul's day, rooting around in bins in a French retail park, but the paper did its job perfectly and the sodden shoes were bone dry in the morning. I also managed to stuff my seakskinz socks into the vents of the air conditioning so they were perfectly dry next day as well.
My phone was crowded with messages from friends which I didn't have time to reply to, and sleep was instantaneous when my head hit the pillow.