"Each step forward has a sacred meaning of its own" Sri Chinmoy
Cotswold Standard Triathlon - Lake 62, Ashton Keynes - 5th August 2017
I suppose I had trained OK for this one – virtually no running but some hard sessions on the bike and even a bit of quality in the pool/lake (hard 50m reps of standing recoveries in the pool, and just keeping up regular weekly swims at Cromhall Lake of around 2400m)
The first half of the summer of 2017 was awesome – proper 1976 revisited – but since mid July we'd been back to the traditional sunshine and showers so it was all a bit unpredictable right up until race day. The final forecast was for a dry start with rain during the race so I packed a gilet and hoped I wouldn't need it. I had never run sockless in my new running shoes but they felt good on my feet so I decided to chance it.
As usual I was one of the early arrivals and the race had a pleasantly laid back feel with around 200 entrants and a spacious transition area right next to the swim exit on soft, smooth grass. That meant I could opt for pulling on my bike shoes for the run out of T1 instead of having to clip them into the pedals – also it was mild so I could forget about the gilet. Everything seemed to be coming together for a simple race…I felt relaxed and happy with how the training had gone, which is strange as injury means I can hardly do any running, but usually I can do that from memory up to 10k.
Wave 1 went off at 9 and that meant we had our wave 2 start while they were coming round for lap 2 – plenty of room though in the nice mild lake though. I don't often genuinely enjoy the swim leg of a tri as I'm kind of focussed on getting it over and done with, but this time it felt good. The water temperature definitely helped, and the fact that I was in reasonable shape. I was near the back of my pack and not able to catch the fast swimmers from other waves who cruised past but I was sighting well, swimming a good line, generally having a good experience. I was definitely tiring in lap 2 and the slippery ramp swim exit was a challenge but I emerged smiling from the water (photos prove it) in around 29 minutes. That's 4 mins quicker than 2016!! Great result on leg 1.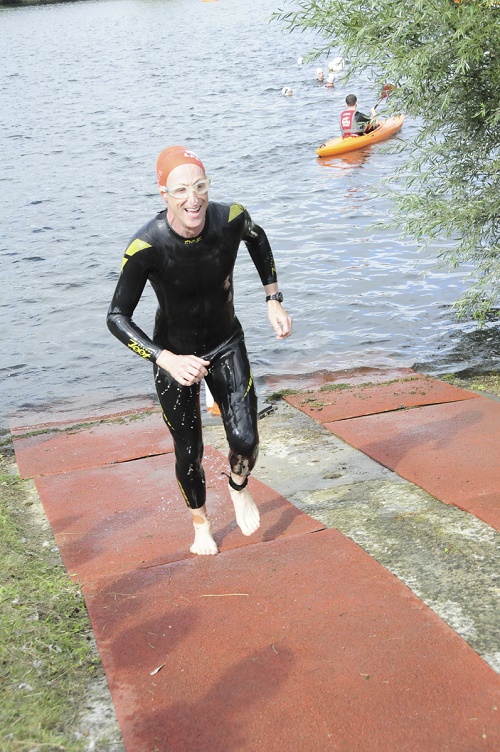 Transition is often a nightmare in my old, tight wetsuit but this time it almost fell off without a struggle and I was soon into helmet, shoes & shades ready for the run out. Once on the road I worked darn hard – I was hoping for 20 or 21 mph avg speed, with the bends and junctions (including 2 compulsory foot-downs) likely to make that a big ask, but as I pushed into the headwind I was only averaging 18 despite being flat out. Well, was it a headwind or was it imagination? Hard to tell until you turn the corner and see if your speed goes up. On this occasion it did and I even touched 26mph on some flat sections so that's good for me. My mind was nice and clear and still, just like Lake 62 had been earlier, but legs and lungs were at full stretch and I felt slightly sick from the effort. Nevertheless I was able to enjoy the Cotswold village scenery, the soft summer landscape, the joy of looking at my garmin and seeing I was now averaging over 20mph. So far so good..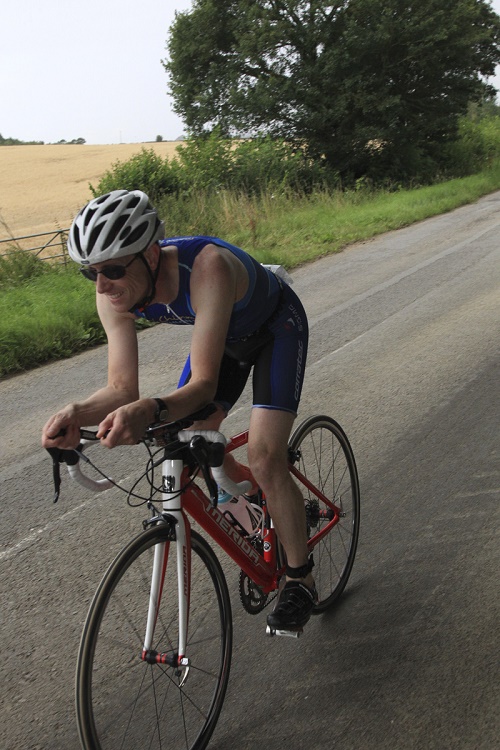 In lap 2 the huge, glowering clouds that had been gathering came overhead and cold, spattery rain began to sting my arms. It wasn't that cold and it looked like it was just a sharp shower so like everyone else I just ploughed on into it. At times it felt like hail but it was definitely just rain, but falling hard enough to bounce off the road and collect as standing water in places. I took it easy on the bends, having seen enough crashes in the Tour De France coverage to have developed rainophobia (to add to my pre-existing downhillophobia). Soon blue sky floating in from the west, promising a sunny end to the bike leg, which duly arrived as I kept up my steady average of 20+ on the twisty course. T2 was easy enough and as I jogged out to start the run, which I thought was 9 laps, I realised I had a chance of a PB so long as we had started on time (I had clock time on my watch, not race time).
Running off the bike was a shock to the system especially after such a hard effort in both the swim and the bike, and having forced 4 Hi-5 gels and 600ml of Hi-5 Zero down me on the bike, so I felt some nausea and stomach cramp that held me back a bit at first. I knew if I overcooked it I would develop a stitch and have to slow down so I had to get it right on the edge of stitch territory and hold it there at that uncomfortable pace. The lap time was just under 7 mins so I asked the marshal at the finish how many laps it was - they confirmed 6 not 9 so I was pleased/relieved to realise I was actually on for a PB.
As the laps passed I relaxed enough to enjoy the woodland/lakeside scenery and the feeling of being flat out but in good enough shape to still feel the joy of the race. When the line came round I thought I had got a PB of 2.26 but I was assuming we had started bang on time - what if our wave had gone off earlier? I was a bit spaced out and staggering around from the effort so I didn't find anywhere to confirm the result - later when I got home I checked the online timings and there it was - 35th place out of 201 starters and a PB for the distance of 2.26. Swim had taken 29 something - 29.50 I think - best I've ever done in an open water tri. Ride was steady and run too - transitions OK as well especially T1. Well pleased with that for my main race of the year.