"Each step forward has a sacred meaning of its own" Sri Chinmoy
Lovchen National Park, Montenegro, December 2017
In the company of Daulot as per usual I found myself jumping into a hire car at around 12.30 and setting off on a drive of 30k or so inland from Budva to see if we could find some trails and maybe run as far as the National Park itself above Cetinje. The road was being improved,which meant several long, long stops at traffic lights before we inched, single file, over unsurfaced new sections of road with steep drops down to the coastal plain on our right hand side. We had no clear idea where we were going but we soon found a backroad out of Cetinje and spotted a painted trail marking at the side of one of the hairpin bends. The light rain was turning to sleet as we parked up just above the town and set off.
It was tough going - loose, stoney trail with the waymarks hard to pick up, but soon the landscape around us began to change dramatically as the snow got heavy. We wove our way through the woods with some of the run on trails and some sections of road, with a wolf-like hound from one of the tiny villages we passed joining us after around 20 minutes.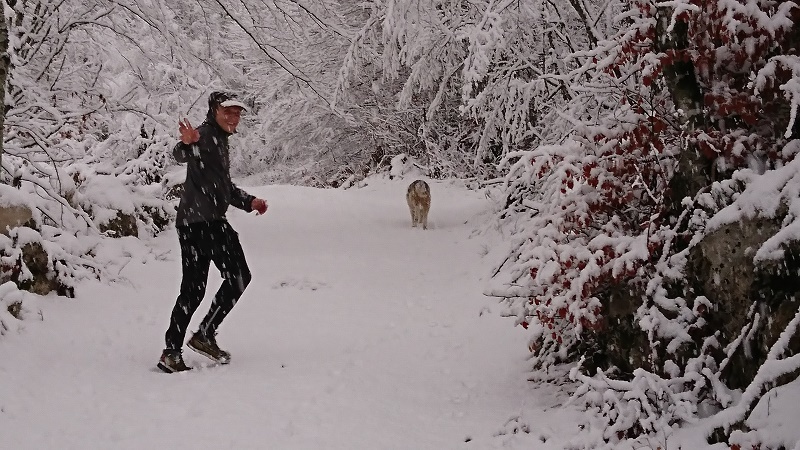 With about 40 minutes gone we ran up to the gate of the national park and had to decide whether to press on or head back to make sure we could get home in the daylight and before the snow made roads impassable. Predictably we kept going, after a chat with the guard on the gate who confirmed to us in broken Serbo-English that we didn't have to pay to enter on foot. Underneath his almost paramilitary uniform he was a very friendly guy, especially when he discovered Daulot had been a park ranger in the Cascades in Washington State.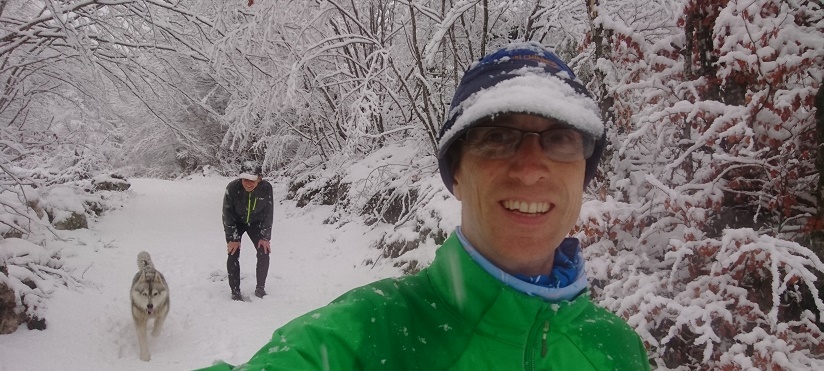 The decision to carry on paid off when we found a gorgeous, snowy trail and the three of us (dog still in tow) headed deeper into the forest enjoying the silence and beauty. We stopped for the shortest of meditations and a quick Gayatri Mantra before turning and running back down the snow-covered road with some urgency.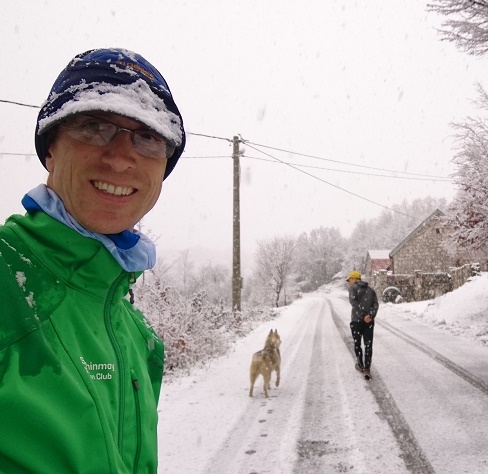 The car turned out to be OK and we soon cleared the snow off it, but the roads were slush-covered for the whole way back to the edge of the plateau. Once over the lip of the hills and descending towards Budva the snow had gone and we were back in the milder air, relieved to make it back OK.