"Each step forward has a sacred meaning of its own" Sri Chinmoy
1 Mile Race, Budva, Monte Negro, December 2017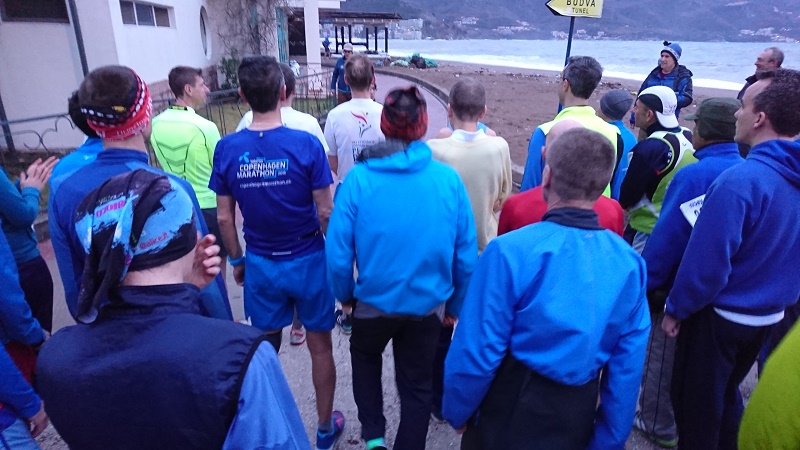 With a hard, hilly hike still in my legs but a rest day in between (I'd opted for just a short, sharp swim session in the rather over-chlorinated hotel pool but no running or hiking) the one mile race on Dec 28th was always going to be a fact-finding exercise rather than a race. Had I worked my leg enough to ease the muscle strain or overworked it, setting myself back to square one?
The weather was interesting - eleven degrees but with gusty winds and some big waves breaking on the beach alongside the start. Dramatic stuff as a backdrop to the run. The course was waterlogged but you could divert on to sand or run along a low, wide wall to avoid it if you weren't chasing a time, so quite a few of us took the longer, drier route.
I warmed up with a walk then a slow jog, easing into a slow, steady running pace ready for the start. I went off with the calf feeling a little sore but not too stiff or tight so I reckoned it was ok to step it up a little. My last outing had been 8.25 so anything under 8 would signify progress, which is always the goal in these races. Further or faster than before, that's the aim. At the turnaround I realised I was doing somewhere between 7.30 and 8.00 pace so I stepped it up a bit more and actually felt like I was running rather than jogging. Instead of being in a pack with the more mature runners I was at least now mixing it with Devashishu and others of my agegroup. Again that felt like progress!
I came in with a time of 7.19 and writing this a couple of hours later, no repercussions. I've warmed down, stretched, rollered - what more can you do? Tomorrow I'll know if this really is progress or a bit of a tactical error. Fingers crossed :)
Warming down on the headland I snapped 4 of the faster guys who were up there ahead of me. This could be a Beatles album cover...