I was in 2 minds about this race – I entered at the last minute after Dave J reminded me it was happening that week, and although I'd done a hard session on the Sunday (running at threshold pace on the Pill path) I decided to go for it. I need lots of warmup and 30 minutes of slow jogging with only a few strides seemed to go in a flash – I timed it pretty well so that I arrived at the start line just before the off. At that point the cold dry weather looked set to break – a huge cloud swept in towards us with the prospect of some heavy rain and then a rainbow materialised slowly right in front of us. It was quite dramatic and uplifting at the same time.
The weather was still dry when we dashed off at the start and I was alarmed at the speed – people were passing me on all sides and I worried I was going too slowly. No need though, as I pushed hard through the first mile and found myself coming through in 6.01 – significantly faster than last month! Just then the weather broke and it was not rain but sleet/hail driving into our faces with quite a serious headwind behind it. I gritted my teeth and ran into it – just like the start, it was exhilarating.
I couldn't maintain that speed of the first mile, and in the sleet it was hard to see the time on my watch, but coming into the last mile I was aware I could smash the time from last month and maybe get under 19.30. I gave it all up in that last few minutes and came in with 19.05 – great result from my point of view because 1. It's a reliable and accurate course and 2. I got 1 second away from 6 minute mile-ing in that first lap and 3. It means that maybe, just maybe, I could do a sub 40 10k.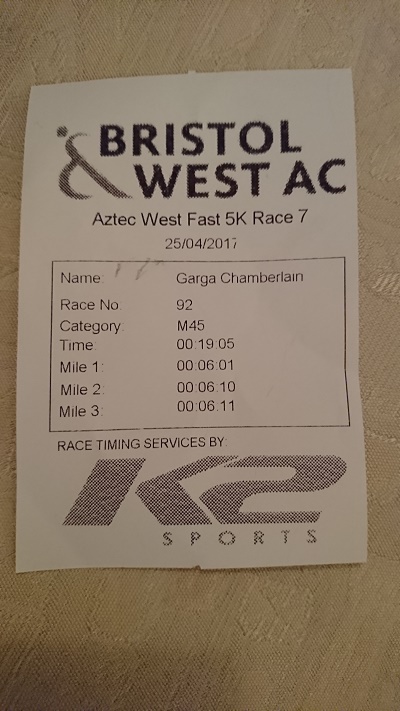 Great race experience!
Over a week later both Achilles tendons are a tad sore but it's clearing up and I think a bit more hard running should toughen them up rather than trash them. Here's hoping!