"Each step forward has a sacred meaning of its own" Sri Chinmoy
Trebah hike - September 2020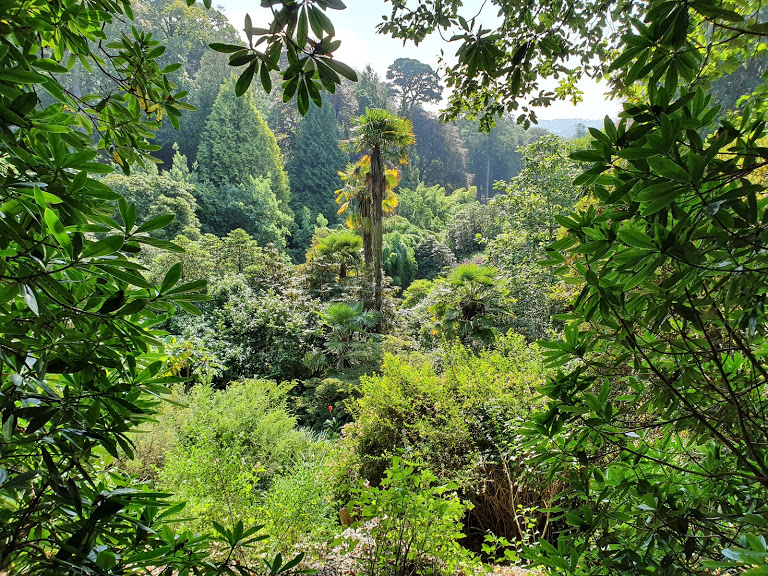 Kokila told a colleague we were heading for Cornwall and Trebah was the top tip we were given for a visit. There are so many famous gardens, this one wasn't on my radar, but I'm glad we had that tip and make it our first expedition of the trip.
Trebah is a hidden valley running down to a cove, watered by a stream and beautifully crafted into a paradise of native trees and flowers, exotics, water gardens and bamboo forest. As with most places in this covid summer, there was a one way route to follow which meant we didn't have to worry about navigating our way around the park. We just wound our way down from the upper slopes to the sea and then took a second loop to have a closer look at the water gardens. Numbers were low, which must be tough for the management of the garden but it did make things more serene and meditative - and the day was all about that rather than long distance hiking.
A chance to meditate on the waterfall - kindness & happiness.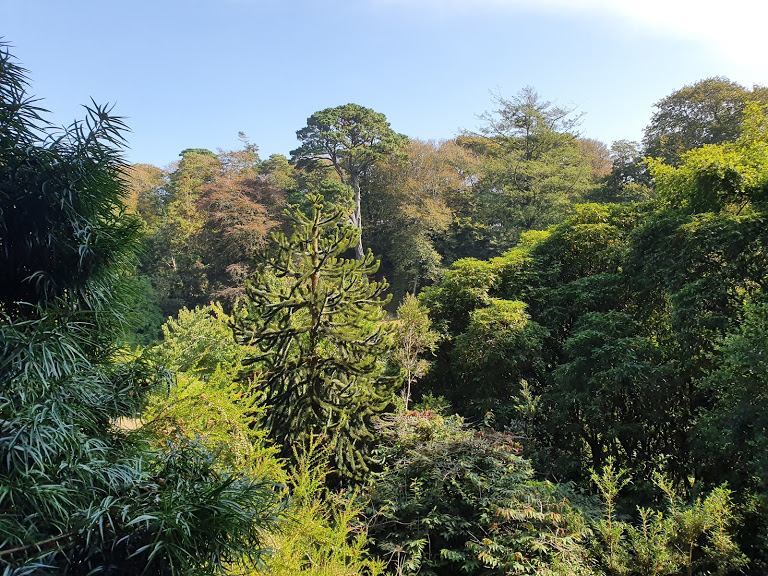 This shot shows the monkey puzzle trees and bamboo blended in with the native woodland. Below - looking through the gunnera plants which fill a damp section of the valley floor.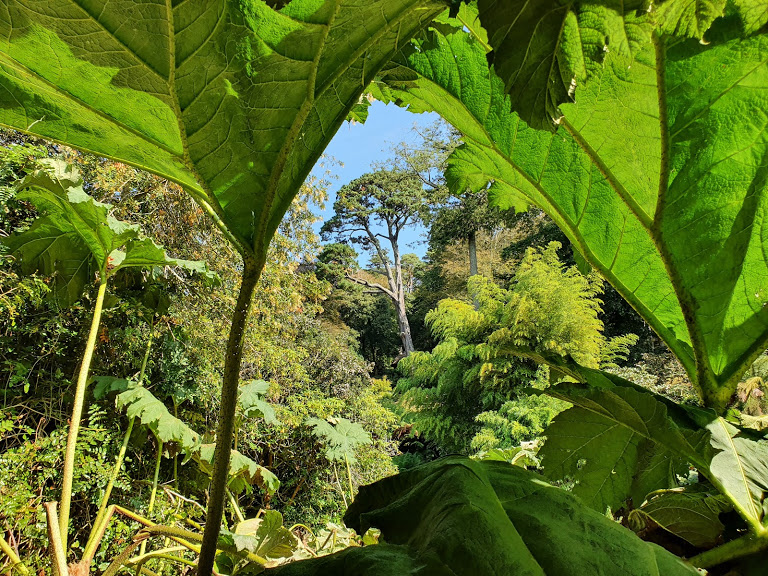 After trekking slowly through the trees of the upper slopes and past the tree-ferns you come to the gunnera walk and then into the open reaches of the lower valley and the mallard pond where the water course meets the sea. We were greeted here by a sea of many-coloured hydrangeas and a bridge that instantly reminds everyone of Monet.
Once we arrived at the end of the valley there was a stone arch leading out on to the beach and I had a chance to get a few hundred metres of sea swimming in. I didn't bother with the full wetsuit, just the cheapy neoprene top I got in Aldi, but that was plenty warm enough for this skinny non-skin-swimmer to be comfortable in mid september temperatures. The water was pretty smooth and although there were plenty of boats out in the bay there was a buoy marking off the private beach of Trebah and none of them encroached in my swimming zone. By the end of the session I was up to around 32km for the year, working towards my target of swimming 50km.
After drying out in the sun we headed back up the valley to explore the bamboo forest and tree ferns, then looped back around near the waterfall to go through the middle of the water gardens. A really peaceful and beautiful day.