"Each step forward has a sacred meaning of its own" Sri Chinmoy
Somerset Levels bike ride - August 31st 2020
With the season of virtual running events from April to August neatly rounded off with a breathless 2 miler on Saturday, Bank Holiday Monday surprised us with gorgeous weather. We'd planned to head out somewhere different with the bikes in the car and ride some new roads, and the prospect of ending up at Rainbow's End for lunch meant Glastonbury was the obvious choice. We parked near Bere Lane and rolled down on to the levels heading towards Butleigh, then turned down Watchwell Drove where I remembered living in a trashed old trailer thirty years ago just before I moved to North Wotton and then finally Bristol. So in a sense these were old roads too.....
Although the levels themselves are as flat as it's possible to be, there are lumpy sections around the villages and we had a few small digs up slopes on the quiet lanes. One lovely section took us along Cedar Walk, the ancient trees lining the road on both sides. Meandering through Butleigh we passed Peony Cottage and I remembered I had been trying to negotiate moving in there back in the 90s. How different life would have been if I hadn't moved to Bristol back then. Well, to be honest I think I would have ended up there no matter what - if I'd moved in to Butleigh some kind of mega landslip or tectonic movement would have thrust the village into Knowle West or something just to make sure I ended up there. You can tell from these idle thoughts that we weren't riding hard - the mind only wanders off on that kind of tangent when you're riding at a leisurely pace!
From Butleigh we headed further south towards Keinton Mandeville then circled back round to Butleigh High Street then Baltonsborough and finally the old lane that runs up towards the Tor and forms part of NCR3. Totally free of cars, this lovely road wound across the levels and we were treated to silence, birdsong, epic views of the Tor on the skyline and vast, summer skyscapes. Towards town we passed numerous trailers and it was nice to see the Glastonbury travelling community still going strong. I wouldn't fit in with it now but 30 years ago I was very much a part of it. Passing the quiet rows of trailers with no signs of life on a racing bike, I was struck by how differently I spend my time now compared to back then.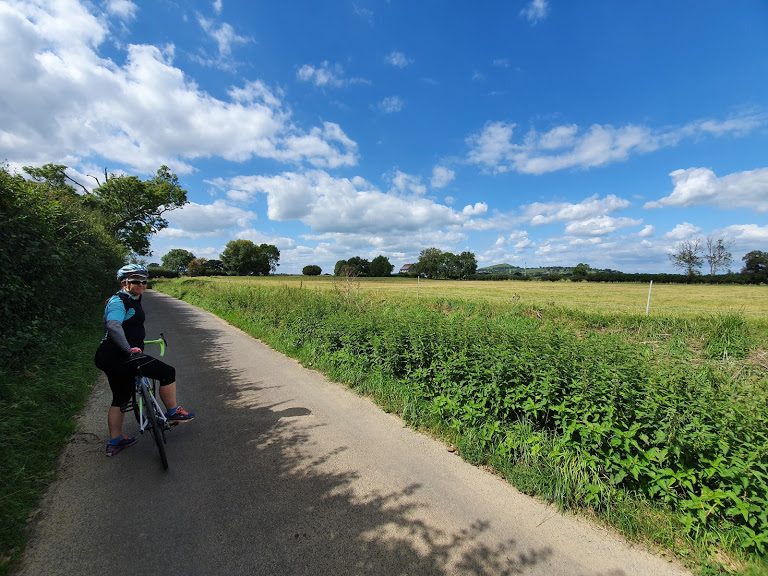 After a brief stop to fill our bottles from the Chalice Well we decided against the climb-fest around the Tor and rode instead along the top of town past the end of Silver Street and down the High Street. It was in full swing - drummers and musicians outside St Johns and every kind of human you can imagine (plus a few you probably can't). I'm a fan of this town! Rainbow's End served up the lunch we needed - way more calories than we'd burned. There was a much more laid back atmosphere when it came to masks and hand-san compared to Bristol - somehow Glastonbury is either way more relaxed about these things or perhaps a little in denial. Anyway we stuck to our heavy-hygiene routine as it's not that much hassle. It was nice to see a glimpse of normal life though - if Glastonbury can ever be described as normal!
Now I've tested my legs on the bike again after several months focussing on running, it's time to look for a 100k or two and maybe something longer. I might try my first DIY Audax. Doing any kind of "first" is always fun.