"Each step forward has a sacred meaning of its own" Sri Chinmoy
Peace Statue Challenge - RUN - 2019
I decided to make my first attempt at the Peace Statue Challenge a re-run of the Peace Run route from summer 2019. First I met up with Amit at around 8am to meditate. That meant leaving my hotel in Beaumaris before breakfast (they don't rise early) and I'd only had a couple of energy bars to fuel up. Anyway the meditation on the statue in the half-light, with the symphony of the wind in the trees overhead, was sublime. It was probably only around 7 minutes but felt very deep. Energised by that I shook the much-admired statue caretaker by the hand and headed off up the path towards the Menai bridge. Taking a right fork up to the main road I got on to the shared-use path and just followed that to the turning for Greenwood Country Park where the lane section begain. I was carrying a couple of gels, a couple of bars, a down jacket in case I ended up hanging around in the cold at some point and a litre and a half of electrolyte drink. The plan was to grab food in Llanberis at some point, or maybe around Bangor, but that part of the epic wasn't clearly planned.
The route was well planned though and very familiar. I was tracking it on Map My Run but not using my phone to navigate - I just had a laminated section of OS map and had to stop every so often to check where I was and which turns I needed to take. This meant my pace was anything from 9 to 12 mins a mile. Pretty pedestrian but to be fair it was very hilly - plenty of V symbols on the map indicating steep ascents. The views of the mountains in the distance around Llanberis were lovely, and the Lleyn Peninsula and the Carneddau to either side completed a full arc of mountains. Breathtaking. Closer at hand the scenery was bleak and wintery but starkly beautiful. I passed a hill fort and numerous old stone farmhouses as the lanes wound through the landscape away from the coastal plain and towards the high mountains. Snowdon loomed in the distance, a weak sun illuminating her from behind a ragged screen of clouds. There was a fierce headwind but, luckily, no rain at all.
The miles ticked by with no trouble of any kind and I chugged along at a pace I thought I should be able to sustain for at least 15 miles. Apart from my long run in Yosemite I hadn't run over 11 miles since the marathon back in March, so these were going to be steps into the unknown as far as my endurance was concerned. My legs had felt tender and bruised before I started, still in shock from the hard trail race 2 days before in Surrey, but with a short stride and a slow pace I had no aches and pains once I'd warmed up.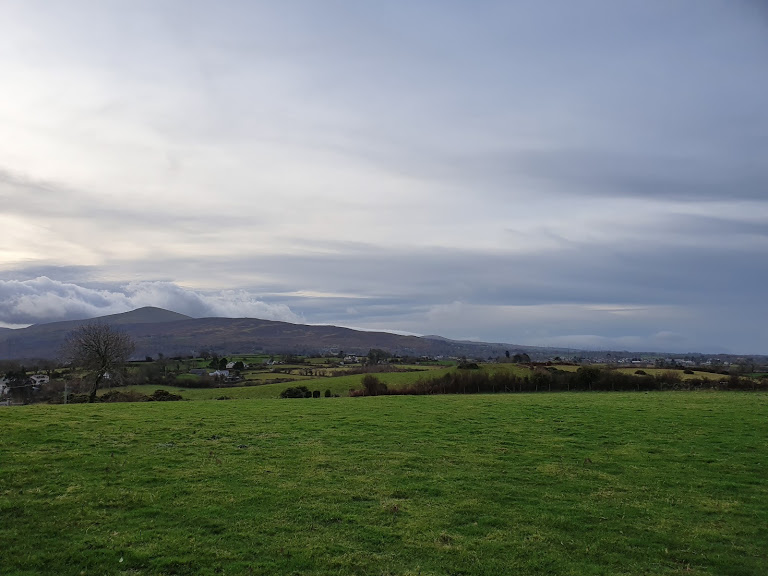 Crossing the main road at Brynrefail I found my way to the ancient bridge over the river that drains Llyn Padarn - here I saw swans and a giant heron - no idea how tall it was but it was some distance away and seemed to be not much smaller than the swans. Herons are a bird I love to see - so graceful and poised - it always seems auspicious to encounter one on a run or ride. I feel the same way about skylarks and roebuck, and red kites.
The run-in down the lakeside was the fastest section - smooth and with no need to stop for navigation checks. After around 1.45 I was standing by the Llanberis Peace Statue for my closing meditation. The cafe was closed so I decided to turn round quickly and run the trail route back to Treborth without refuelling. Ambitious!
Having run from Treborth to Llanberis I made a quick turnaround and began my run back. I was determined to make this more scenic and challenging than the outbound route, and so it proved! I ran to the Quarry Hospital then followed the white waymarks up to the lane on the hillside above the lake - this took me back to Brynrefail where the lake ends and the river drains out into a flat, marshy valley running northwest towards the Menai Straits. Here I took a chance on a bridleway marked on the map which I realised was an old railway line - the extension of the Lakeside Railway that now runs only as far as a station half way down the lake but clearly used to extend right down to Caernarfon. The path took a dead straight line and was nice and fast, until it deteriorated into a deep section of thick, black mud. After that it became a remote road past old slate workings and then a residential street as far as Rhythallt where I came out onto a B road which was pretty quiet (but might be a handful in the tourist season or on a working day). Climbing up from Rhythallt I joined the B road to Llandeiniolen which was familiar from my outbound run and hour and a half before. I was getting to know these lanes pretty well...I was also getting short of mojo so I swallowed a "nuclear" SIS gel with 150mg of caffeine, always guaranteed to give me a surge of energy.
I passed the ancient hill fort of Dinas Dinorwig, now a wooded circle at the top of a low hill, a vantage point with views over the mountains and the sea. I always feel a connection with those times, pre Roman times, when I pass the ancient sites. Somehow they feel familiar, like an old home. No idea why....some kind of Jungian collective unconcious phenomenon, or a past life memory, or just my fascination with time...? After that brief musing I took a very dodgy path to cut off the corner at Llandeiniolen and had an adventure I could have done without. The path was horrendously overgrown with brambles so I had to climb over the slate palings that walled it on one side and run in the field. At the end of the field I climbed back into the narrow pathway and followed it into a bog where one of my shoes got sucked off into the mud. Once I'd managed to get it back on there was more waterlogged path and bog which soaked both shoes thoroughly and then a treacherous broken bridge to cross. Some of the panels of the bridge were already broken or rotted away but fortunately the remaining ones held my bodyweight and I made it up to the road, wishing I'd just stuck to the lanes!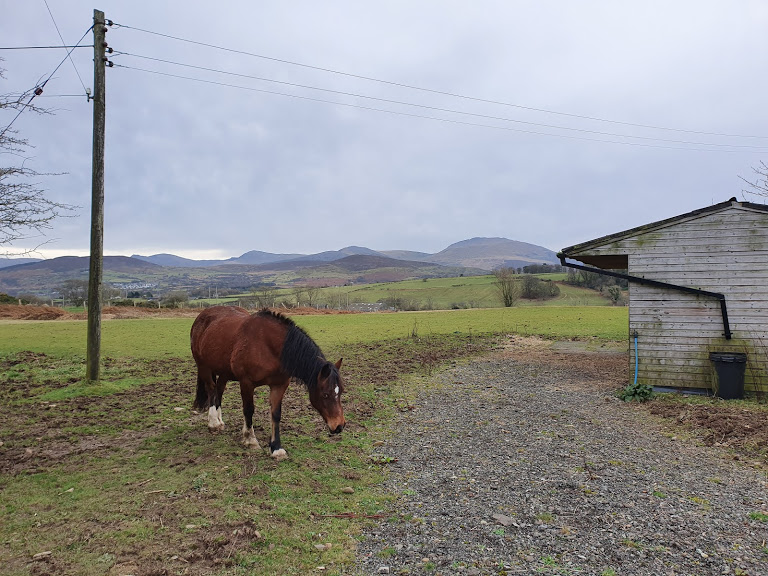 From there it was a glorious run on a high lane, cresting a gently sloping ridge that stood proud enough of the surrounding countryside to afford incredible mountain views to the southeast and gorgeous vistas over the coastal plain and Menai Straits to the northwest. I made good time on that lane despite the numerous rolling hills, then negotiated a final challenge in the shape of a climb up and over the hill by the hospital that led me back to Treborth. I'd swallowed a second SIS gel on the lane at Pentir but by the time I got to the Treborth Peace Statue I was quite drained. Still, fortified by the closing meditation of the run, and the starting meditation of my next challenge (a bike ride back to Llanberis) I decided to head back out there with my last remaining energy bar and 750ml of Kokila's home made kombucha to see me through.