"Each step forward has a sacred meaning of its own" Sri Chinmoy
Avalon Sunrise May 31 - June 1, 2019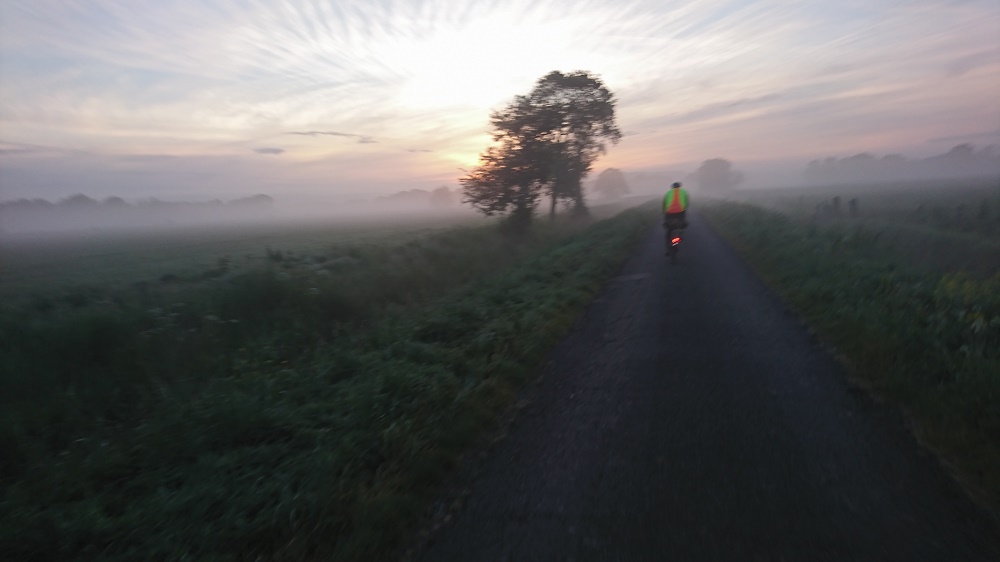 Stepping up to 200k rides a few years ago was an eye opener - these Audax courses seemed much more challenging than the ironman courses or 100 mile sportives I'd done. The extra mileage plus the extra toughness of the B-roads, lanes, climbs and controls meant that I rarely finished in under 10 hours and often took 12 hours on the hills. When the time came to challenge myself at a longer distance (and this year felt like the right time - my goals at the start of 2019 were to swim further, ride further and climb higher than I'd previously achieved) I opted to double it to 400 rather than try a 300k first. 400k struck me as the distance where you might need to sleep a bit and you'd definitely have to cover a fair mileage at night.
I arrived at The Half Moon in Clayhidon at around half past nine ready for the ten thirty depart - I was tired as you'd expect at the end of a week when I'd organised a triathlon (my most mentally draining challenge of the year), run a flat-out 5k and worked a very busy week at the office. The late start was a big attraction for those riders building up to the PBP - but for me it was a chance to get the night section done when I was relatively fresh (and I stress the "relatively"!).
That's a pic of my rig - I was carrying 4 inner tubes, jacket and gilet, half a pizza, half-length OMM sleeping mat, bivvy sack (light, cheap one), a few tools and some gels and bars. For lighting I had a cheap as chips but quite powerful kree-LED light with 2 x 4-AA rechargeable battery packs, one of which was good and one known to be a bit dodgy, plus some pretty standard (commuter-strength) battery lights as backup. The plan was to ride with others through the night and solo the rest using a routesheet. I made the mistake of printing my routesheet in small font to make it compact, so it was lucky I had company through the night as I'd have struggled to read it!
There was plenty of time to hang around at the start in the cool evening after picking up my brevet card, so I mused and meditated in the silent lane outside the Half Moon until the riders had gathered - 21 of us out of an entry of 28. Then a quick chat and a blast on a whistle and we were rolling down from the hilltop pub into the darkness.
I'm not used to riding in a bunch and I found the downhill speeds a bit daunting - I was getting dropped on the descents but easily catching up on the climbs. I'm so used to riding solo, this bunch experience was quite a change. I realised early on that my routesheet was too small to read easily in darkness at speed even with my helmet light at the perfect angle, so I worked at staying with the group through Hemyock and on towards the first control. The Peloton of high-viz riders with multiple lights was quite a sight in the dark lanes and we got some waves and shouts of encouragement as we passed a couple of gangs of late night drinkers outside village pubs.
At the Tiverton control I ate some of my stashed food and got my card stamped by a volunteer waiting in MacDonalds, then joined a bunch taking the A road for the long night section to Minehead. This was tough going for me as they were setting a pace that took me out of my comfort zone. It was a trade-off between burning up energy by maintaining the speed, against the benefit of drafting and not having to stop to check the route. I decided to stay in a bunch until first light and in the event I think it was the right thing. I was definitely drained and already had sore quads when we rolled through silent, charming Dunster and on into Minehead where the control was in a private house - coffee and homemade flapjack were on offer which was just what I needed. From there I joined a different bunch at a slightly easier speed on the A road up to Bridgwater - like the midnight section it was a virtually deserted road so we had the speed of the A road without the traffic hassle. In daylight this is probably a horrendous route to cycle but in the dead of night it's perfect.
Bridgwater's control was a service station near the M5 which I remember from some trips to Devon in the car - I finished off my pizza and got more carbs down me ready for the sunrise section of the ride. I didn't wait for the bunch but instead headed off solo as it was now getting lighter and I was confident I could read the routesheet enough to solo it. Beautiful lanes wound away from the main road into the Somerset Levels near Chedzoy - I soon startled a badger who skittered across the road to avoid my front wheel, and there were bats looping through the twilight at one point. The lovely lanes were probably my favourite section of the ride, with mist hanging over the moors and still next to nothing on the roads. I arrived at Glastonbury ahead of schedule, then dawn broke as I took the old Launcherly drove and the lane towards Dulcote.
I was covering ground I knew well from around 30 years before when I lived just off Launcherly drove - I'd also passed my old park-up at Ivythorne. Later in the ride I would pass several more of my former homes/sights, which sparked off interesting trains of thought about where I am in life and how far I've come since those days. All this time I was riding solo but passing other riders now and again or getting passed. After Dulcote came the long climb to Maesbury, a brooding iron-age hill settlement that looms over the old B road from Frome to Wells. The climb took a while but wasn't as steep as I'd feared, or as muddy as the routesheet had warned. The sky was clearing on a cool morning which promised to heat up into a very hot summer afternoon, and it wasn'long before I'd negotiated the lanes to and through Frome and on to the Beckington control. Quite a few riders ended up here at the same time, having arrived solo and in bunches. I managed to get a seat (there were only couple) and eat a melted cheese toasty and a muffin - with 180k done I was still well short of half way but hopeful that if I fuelled enough I could keep up the effort levels and finish in the 27 hour cutoff.
I joined Bob from Oxford and Kevin from Cornwall on the next section along the excellent 2 Tunnels Greenway then we were joined around Bristol by a crew from Wales. Again the bunch riding felt strange and I was conscious that I was not holding my line very well so it may not have been a great experience for anyone on my wheel. The Bristol and Bath Cycle Path is not really a great place to ride in a bunch though - you constantly have to cut down to single file. The route passed close to my house and then on to Perrinpit Lane where I lost touch with other riders. I detoured to Severn View to meditate for just a minute or 2 at the Sri Chinmoy Peace Bridge Plaque - couldn't resist it. Back on the cycleway I was soon over the bridge, a nice easy ride with zero breeze, and down to the control at Tesco only around 1km later. Now I was thinking about sleep as an option, maybe later when it warmed up properly. I definitely felt like I was going to need it to keep my mind sharp enough to stay safe on the road. This had been my main concern about stepping up to 400km - the effect of fatigue and lack of sleep on my ability to ride safely. Other riders suggested I just grab a few minutes of powernap at some stage so I built that into my plans.
From ChepIstow it was a short drag over to Wootton Under Edge where we could lock our bikes in the back garden of the Edge Cafe and the menu included roasted pepper and halloumi open sandwiches - say no more! I was trying to keep the calories coming at every stop to ward off hunger-knock and that empty-limbed feeling you get when carbs are low. Fortunately I never quite hit that hard-to-keep-the-pedals-turning sensation so I must have got the feeding about right. It was hot now - well into the mid 20s - so I made sure I drank well too. After Wootton I headed south solo then caught sight of Bob around Marshfield. Just as Kevin caught us I spotted a perfect nap spot - he gave me a quizical look as I u-turned but I was pretty fixed on the idea of sleep now and that overrode the chance to ride in a 3.
I got my bike and myself under a tree in the corner of a field next to a churchyard - the branches came right down to the ground so I was pretty well hidden from view. The sleeping mat and bivvy sack came out and I was soon bedded down with my alarm set for 25 minutes. Just at that moment the bells in Marshfield began to ring out loudly for a wedding but I fell asleep anyway and woke up after 17 minutes of quality kip, the bells still ringing.
I felt well refreshed, as if the rest had allowed my body to properly break down all the food I'd eaten before into some muscle-fuel; my legs were fresher and my mind was sharper. All in all the nap was a bit of a rebirthing experience and well worth taking. I reckon it saved me time overall and made the ride much safer. The valley south of Marshfield was stunning and serene but followed by the only navigation glitch of the day when I went wrong around Batheaston and did an extra 2 or 3 km. I was soon back on course though and climbing over the hills to Bradford on Avon. Although it was not a control, Bradford was listed on the routesheet as a great place to feed with The Bridge doing excellent Cream Teas. Seeing it on the sheet proved irresistible - I pulled over and went in. The place had a Victorian vibe and the waitresses were in semi-period costume - there was a choice of loose leaf teas - it seemed a very strange place to stop in the middle of an endurance sporting event. Compare that with a feed station on an ultra race or a long sportive....
Anyway I had a pot of great tea that filled 4 cups and a great scone with cream which I downed in no time at all as I was wanting to get back on schedule to finish in a reasonable time. I made it to the services near Frome just as Kevin and Bob were heading off and as I didn't need food I was able to fill both bottles with lucozade to get a receipt then catch them up on the familiar road out through Chantry, Nunney and Mells. This turned into another exquisite part of the ride - a long, straight, rural highway with hardly a car in sight, beautiful late afternoon sunshine, time standing still as the miles slowly, very slowly, ticked by.
Kevin was in good shape and headed off solo, I stuck with Bob through the grinding ups and downs and then the long descent to Shepton and the massive descent through Pilton. The A road was again eerily quiet, though we did have the odd van passing us. Glastonbury Tor came into view for the second time, this time in early evening light, and we took the route over the Butleigh levels to Street. We were both a bit tired to tackle solid food so milkshakes at MacDonalds did the trick. 500 calories in a single drink ain't bad.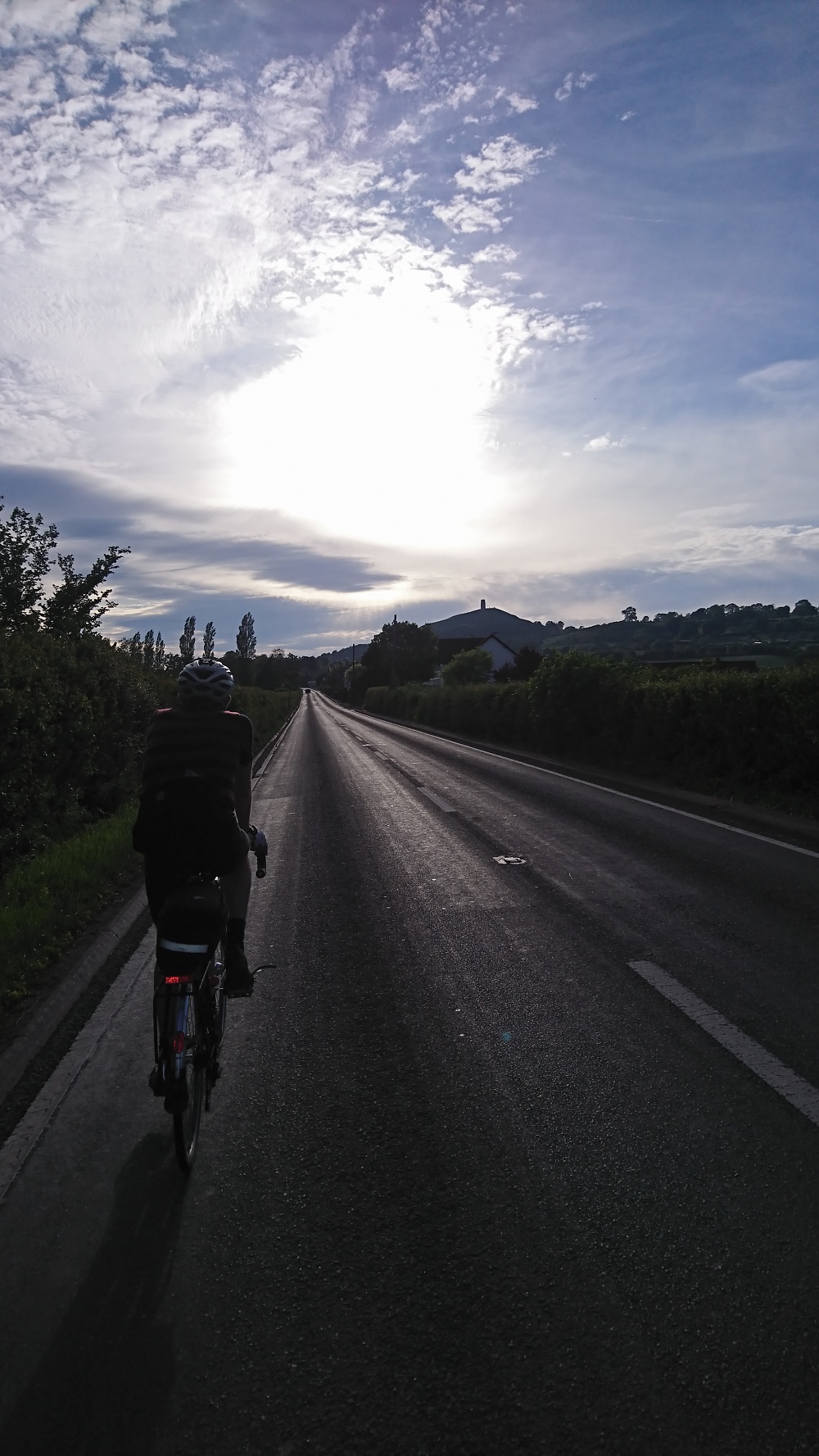 From Street it was a long haul on the A road, ticking off the villages of Burrowbridge, East Lyng, West Lyng, then finally Taunton came and it was nightfall as we began to climb out towards Clayhidon. An interminable climb on the Lanes was made harder by a sign that said "Clayhidon 4" and seems in hindsight to have been more like 8 miles from the arrivee! Finally the top of the Blackdown Hills came and then the lights of the Half Moon where we had one of the best meals I've ever tasted courtesy of the pub chef (and included in the entry fee).
I was well pleased to have finished my first 400 and the longest event I've taken on in quite a few years. Not sure when I'll be able to do another one as my 10k swim is the next challenge and hopefully Kilimanjaro after that, but I'm sure this won't be the last all day Audax I ride. Thanks to Bob from Oxford for his wheel and his sage advice, both of which helped me round.
My time was around 24.13 and despite being a first timer I wasn't the last to finish - although well down the field there were a couple who came in closer to midnight.