"Each step forward has a sacred meaning of its own" Sri Chinmoy
San Diego 2 Mile Race - August 2019
Our brief concert tour of California gave me the opportunity to add another location to my list of exotic 2 mile race venues (well, exotic so me - it was business as usual for the San Diego locals who race here every week). The course in San Diego is not your usual park loop, but a kind of figure of 8 shaped route around suburban streets in the area of Normal Heights, with the start and finish close to the Peace Garden with it's statue of Sri Chinmoy. It's all just a few hundred metres from Jyoti Bihanga so the plan was to head there for breakfast after the race.
With the road crew and musicians from the tour in town it was a cosmopolitan field - California's finest rubbing shoulders with runners from UK, Ireland, Canada, Austria, Serbia, etc, etc. From the start I tried to stick with Durdam and Suswara who were just behind the leaders Sadanand, Anurakta and Lukas. I soon found myself in 4th place hanging on behind the 4 younger guys but I wasn't threatening to gain any ground on them. It stayed that way through the breathless mile out to the playground where we ran a lap around the outside then headed back - passing the outbound runners (out and back courses are the most sociable - you get to say hi to everyone - if you have enough energy/breath to actually speak). Although the course is mostly in road you have plenty of room - you can see from the pics how wide the streets are.
I'd been hoping to clock an improvement for August on my 13.23 run against the garmin at home a couple of weeks before, and the extra motivation of racing with others (on a flat course on a mild morning) proved decisive. I finished in 12.30 which was a good result by my standards, and although the three up ahead were pulling further away as we neared the finish I never totally lost touch so I'm happy with that.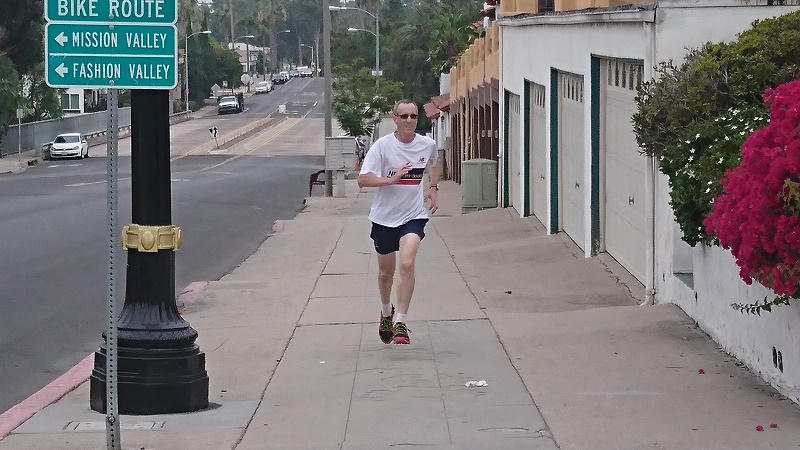 After the race we gathered at the statue for prasad and a full read-out of the results which was a fun way to finish before the legendary Jyoti Bihanga breakfast.