"Each step forward has a sacred meaning of its own" Sri Chinmoy
CAL Bike Rid / Over The Mendips Audax, September 2018
I signed up to do the company bike ride as usual - a 75 miler over the Mendips in late September - and having secured the necessary sponsorship I had to change my plans to travel to Rome. Fortunately my sponsors agreed to back me on a solo ride, which meant I could do the second month of my 12-month AAA challenge and combine that with the Change a Life ride. I signed up to Over the Mendips and planned an extra 60k of riding before and after to make it up to the necessary distance.
It was a cold and clear start - 4 degrees C - when I headed off on the ring road before dawn. Sunrise came soon and I saw a lovely dawn sky from Shortwood Hill. This was my usual long commute / training ride to Chew Magna and it flew by with the roads clear and quiet. Once in the Chew Valley the route took me past the lake (where I paused for a photo as the view was so perfect) and on to the first climb of the day, Harptree Hill, which I span up slowly to save my energy for later.
Once up the climb I was rolling along one of my favourite roads, across the roof of the Mendips in cool Autumn sunshine, followed by a steep descent into Wells. I'd done around 40% of the ride at this point so I stopped for a toastie and coffee in Costa then it was out on the lanes to Wooky Hole where a sign still declares that the road is "not suitable for charabancs". The climb that came next was gorgeous - steep and long but with amazing views out to the west, of the Somerset levels and Glastonbury Tor.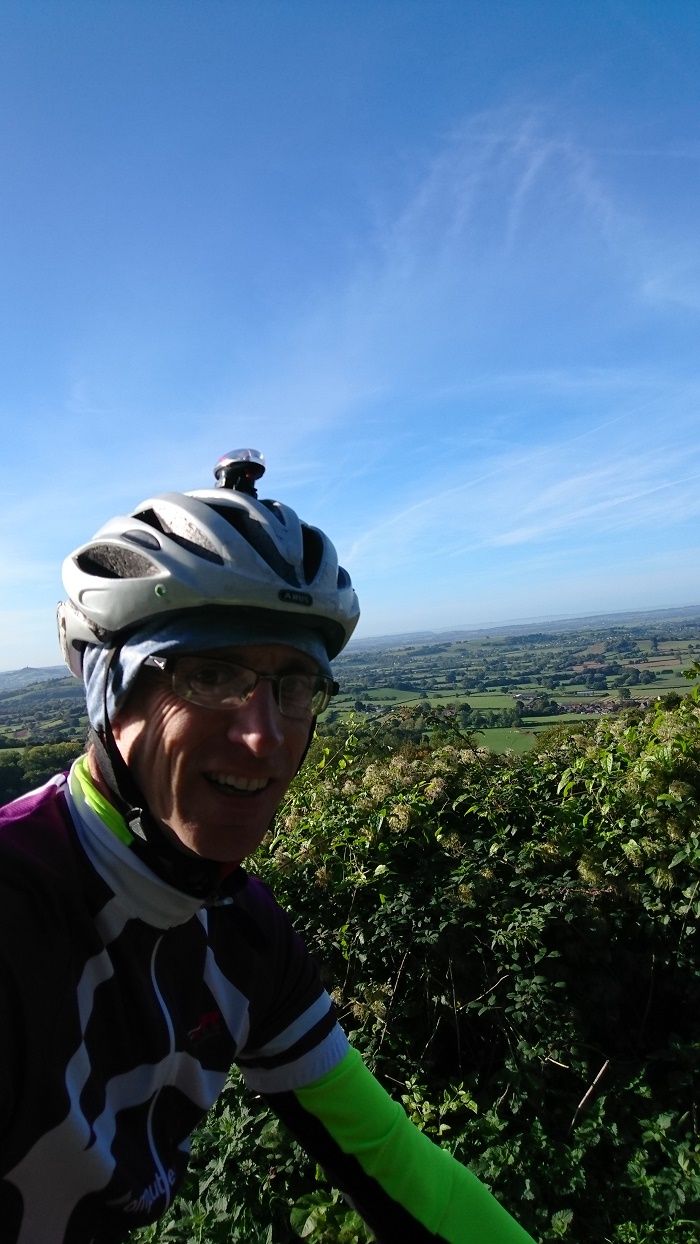 I wound my way through the fair at Priddy where an auctioneer was in full flow selling equestrian gear, then descended Cheddar Gorge which was as crowded as you'd expect with climbers, bikers, hikers and of course loads of cyclists.
I needed brevidence in Cheddar so I stopped at the ATM where I also gulped down 2 doughnuts I'd snaffled from work the day before. Not exactly sports nutrition but sometimes you just need sugar. They did the job and I was up Cheddar Gorge with no problems, overtaking club riders on the way (and being overtaken by one, I should say).
Back across the roof of the plateau and down Harptree Hill I had more lovely views of the Lake and then a familiar ride out through Winford and home via the Tour of Britain climb on Bridge Valley Road. Company ride box ticked, second ride of the AAArty completed.