"Each step forward has a sacred meaning of its own" Sri Chinmoy
2 Mile Race, Biarritz, June 2018
This was a course I knew - vaguely - from a couple of years before. The forest of Domaine de Pignada had gained some notoriety as being a bit of a maze and several disciples got lost on their afternoon runs on Saturday - or got "inspired to run further" if you want to see the positive!
I felt uninjured and physically in reasonable shape - mentally drained from organising a triathlon perhaps but with no excuses to hold back on a 2 miler in a beautifully cool forest on firm-but-soft going 2 days before my landmark 50th birthday.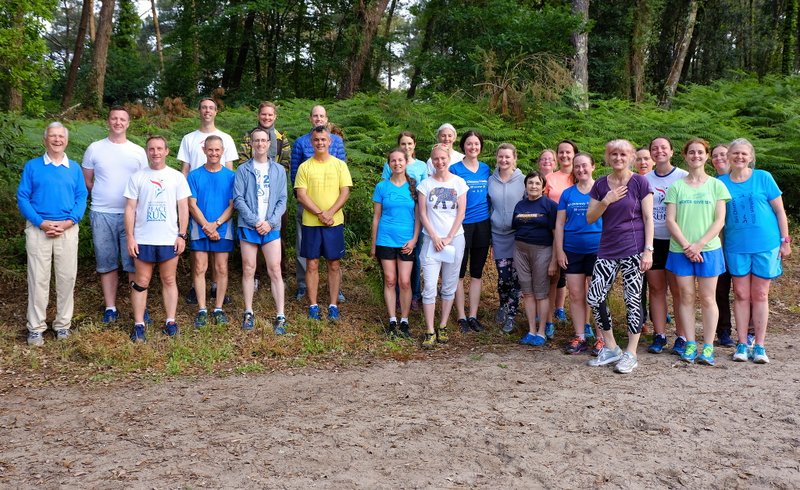 As you can see we had a pretty decent sized group for this one - les disciples de Londres, Besancon, Suisse, Bretagne, Paris, Montpellier, Australie and of course Bristol, Oxford, Ipswich, York, Cambridge, Cardiff...no Irish or Scots had made it to this one but still a decent turnout for the race.
I went off conservatively as I tend to these days, chasing an in-form Suswara and a resurgent Grahak who is going well after his knee op. Ashcharjya stayed with us for the first few hundred metres but it he fell back and then so did I, leaving Grahak and Suswara to battle it out under the pines. The air was amazing - filled with the scent of pine and the salt tang of the sea just a mile or two away, but pure and clear so you could really fill your lungs with it and feel invigorated by each breath. Somehow my body, or mind, or something, didn't have the pace on this occasion and the two leaders receded further and further into the depths of the forest up ahead - in the end I finished in around 13.25 a minute behind the winner, Suswara. He went on to run a 3.31 marathon a couple of weeks later so he was clearly in great shape but I was disappointed with my time - I'm about 40 seconds off where I should be right now, so hoping I can string together a few runs to build my base fitness and perhaps some speedwork or a short race 2 or 3 times a month to get that speed back without breaking down with another injury.
It was a great run though and a perfect start to my 2 weeks of birthday celebration for the big 50.