"Each step forward has a sacred meaning of its own" Sri Chinmoy
Picota Hike - Portugal - December 2018
This was Tarit's inspiration - to head away from our hotel on the Algarve coast to explore the hills and forests further inland. The highest point in the Algarve turned out to be accessible by a sealed road so the three of us - Ambarish, Tarit and myself - opted for a hike to the summit of Picota, slightly lower at around 700m but reached by forest trails.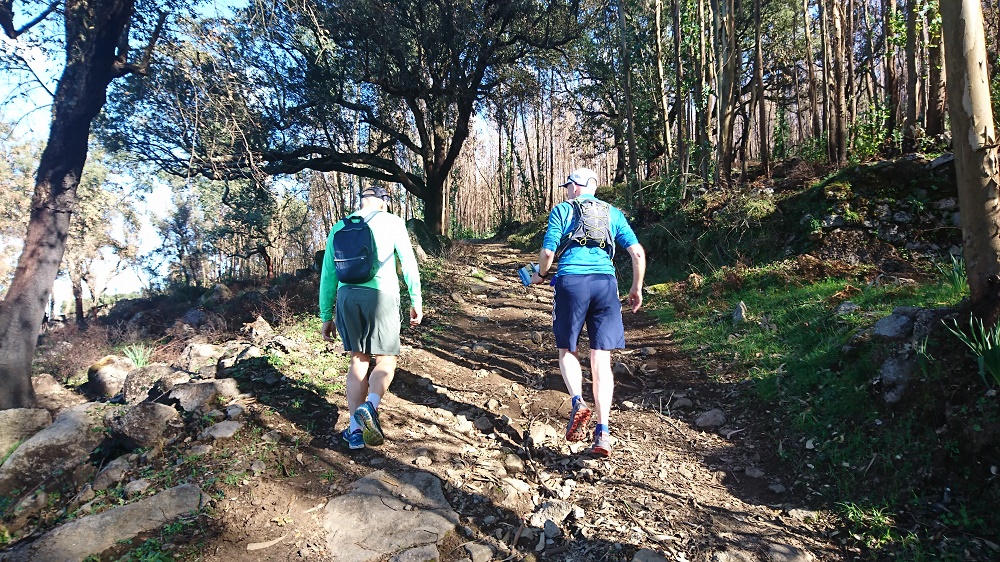 We drove up to Monchique, with great views of the coast giving way to winding roads up into the hill country, passing storks standing guard on nests precariously built on top of telegraph poles and road signs and hillsides covered with stone pines. It was easy enough to find the lane we needed out of Monchique as Tarit had one of those simple but excellent walker's guidebooks. The climb began on sealed road through the trees but soon led on to a rough trail through eucalyptus plantations. It was mid winter but the whole area felt very arid - we had clear blue skies every day of the trip and it makes you wonder when it ever rains around here. The scenery doesn't look parched though, it's green enough, just beautifully free of mud which is welcome when you come from England, Scotland or Ireland!
The summit is clearly seen from the road as there's a watchtower there - pretty much a scaffold structure secured by steel cables - and a classic Portuguese triangulation pillar which reminded me of trail runs I did in the coastal hills near Cabo da Roca years ago. We were up at the top in around an hour and had time to pose for self-timer selfies and climb the trig to get the best possible view of the panorama.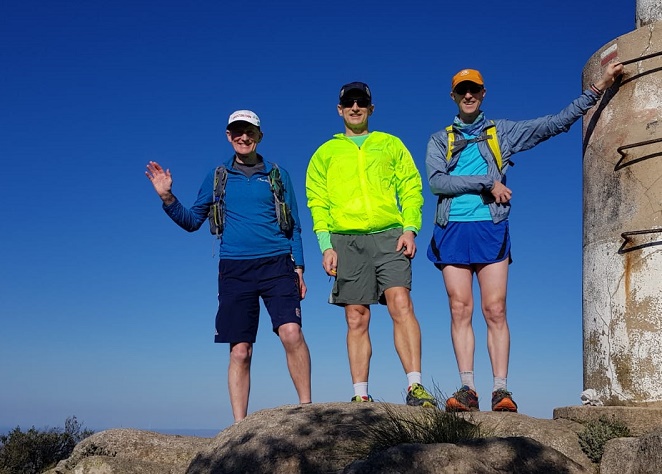 We took a long, circuitous descent off the hill through more acres of slender and pungent eucalyptus and then cork oak forest, many of the trees stripped of their bark to reveal the reddish wood beneath. Each stripped tree was painted with a number - apparently that's the year the bark was stripped. It regenerates in a few years so it's a renewable crop and the trees can give several harvests. Now that corks aren't needed so much for wine (the screw top bottle has seen to that) there are endless products made of cork in all the Algarve tourist shops - Kokila and I came away from the trip with a cork belt, cork-covered lighters, and even a pair of cork sandles.
With max temps of only the mid teens we were never in danger of overheating - Algarve in the winter is perfect for hiking as the combination of brilliant sunshine and shady forest paths is ideal. By the time we were back in Monchique we'd covered 7 or 8 miles I think, at a good pace, but with plenty of chat (profound of course) and time to pause for photos.Although most places are closed in the off season we did find a terrace cafe on the way back south where we could stop and watch the sunset over a decent cup of tea. Not a bad way to end the trek. 2018 felt like a troubled year, so to wind it up in such beautiful and peaceful surroundings and inspiring company was just what I needed. There was still one more outing on the calendar - a coastal path hike on the next day (New Year's Eve 2018) but that promised to an interesting contrast and hopefully just as peaceful.