"Each step forward has a sacred meaning of its own" Sri Chinmoy
Sete Vales Suspensos - Portugal - December 2018
Carvoeiro was the starting point for what our host Sukham billed as an easy hike taking a max of 3 hours, but it turned out to be a testing trek for some of us. Conditions were perfect - warm sun, mild temperatures, gentle breeze. I hooked up with Kanala, Sadanand and Gianluca and their first goal of the day was - Galao! So we hung around chatting waiting for a coffee to be served up while the main group (there were 2 buses full of us) headed off up the road. Suitably caffeinated we set off briskly to catch them up - initially on a road, then a kind of boardwalk then a proper coastal path that reminded me of the Peace Run at Landsend a few years ago.
At times the views were breathtaking, endless arches and caves, craggy islets and stacks, tiny inlets with hidden beaches. There was a light breeze and as usual we were treated to brilliant Portuguese sunshine and a sky of clear blue that became successively more hazy as the afternoon wore on. Going underfoot was rough for much of the time - steep slopes, loose stoney paths and sometimes no clear route so we had to use a bit of trial and error to find the way.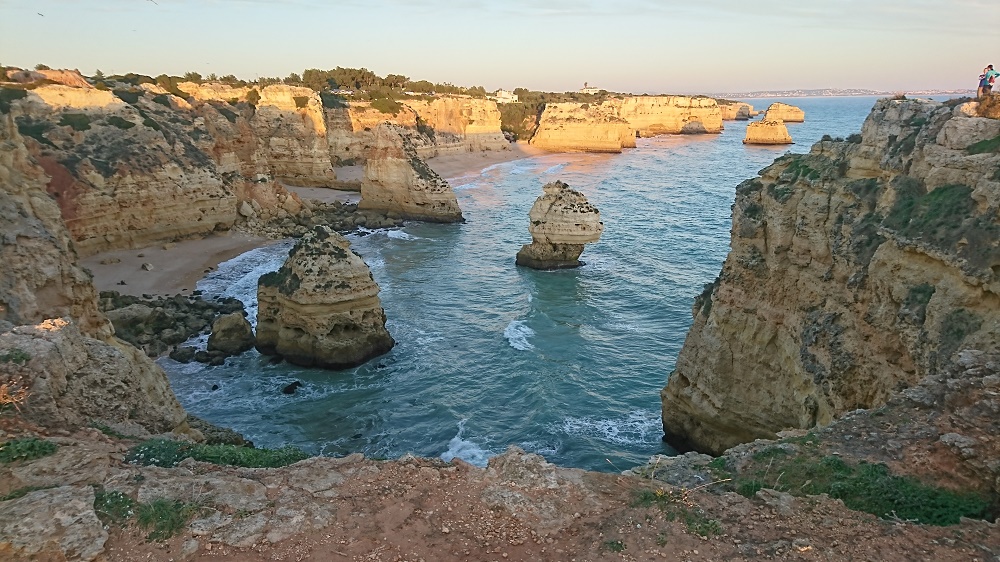 We pushed the pace quite well most of the time which meant we had a few moments to spare for photos every so often. I took countless shots but discarded most as they didn't do justice to the views. Kanala ate his fill from the juniper bushes that were yielding a good crop of small, red berries but I wasn't sold on the idea - he described the taste as like "hot and spicey soap" and while he was keen for me to try this traditional sauerkraut seasoning I decided to leave it.
We gradually overhauled the slower walkers and the whole group came together at a beach some 9k from our start point (as the crow flies that is - probably almost twice that distance in real terms) where the buses picked us up.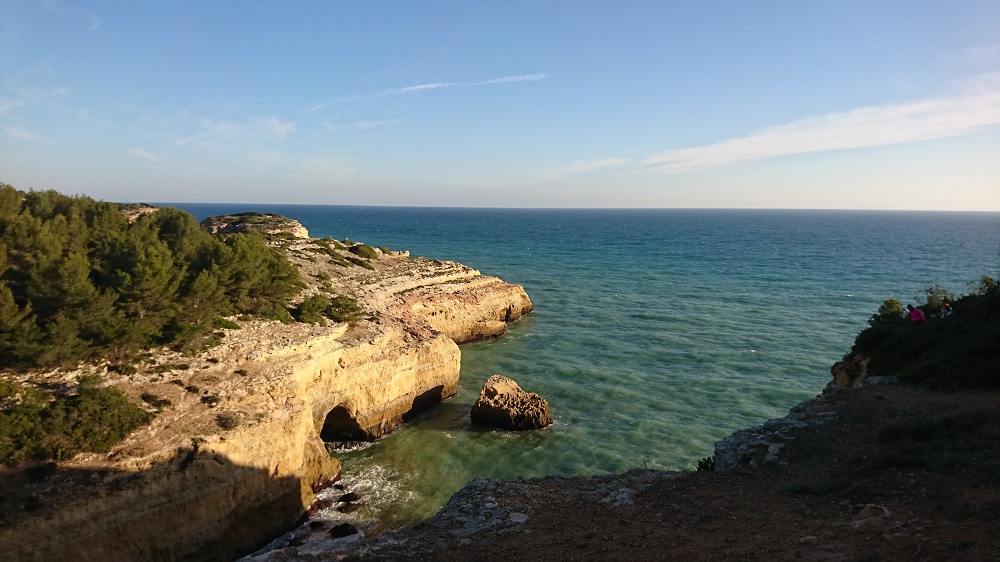 It was a great afternoon - not just for the stunning beauty of the trail and the welcome sunshine (a valuable commodity when you are taking a break from the English winter), but mostly for the company. I'd guess there were well over 50 of us strung out across the clifftops sharing stories and jokes - a great way to spend the hours between our morning and evening meditations. Shortly after sunset we were on the road back to Santa Eulalia where we would see the new year in with a long meditation, music, plays, songs, all culminating in a singing of Sri Chinmoy's "Invocation" at midnight. That would be that for 2018, but the next item on the agenda was an 8am bus ride out to the west coast for a trail race - Sukham had described the course as "flat apart from the last 500m where there is a hill" but after today's "easy 10k hike" we knew things might work out differently......