"Each step forward has a sacred meaning of its own" Sri Chinmoy
Race in the West - Sri Chinmoy MT 10k - Portugal - December 2018
Thanks to BIJOY for his photos!
I hadn't had a run since arriving in Portugal - just 2 days of hiking in the hills or along the coast path - but I felt in good shape for this race and excited to be starting the New Year with a flat out run.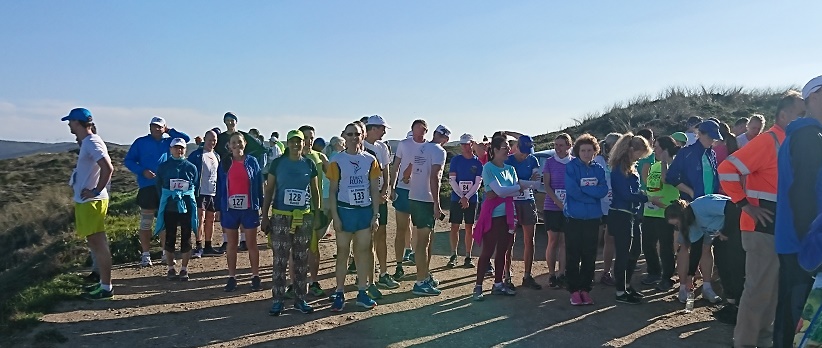 I'd been expecting 10 degrees and so I arrived in a thermal top and compression tights but I'd soon realised there was a lot more power in the sun than anticipated and changed down to shorts and a tee shirt. As I'd approached my 50th birthday I'd set my heart on placing in the over 50s category of a race, just as I'd managed to win a Vet-40 first prize 10 years before. In the chat before the race I'd also heard Abhinandan speculating about a top 10 finish so somehow that had lodged in my mind as a goal as well. I've no idea how many runners we were - 2 buses full including the marshals - but there were plenty of keen runners there and I expected competition to be hot.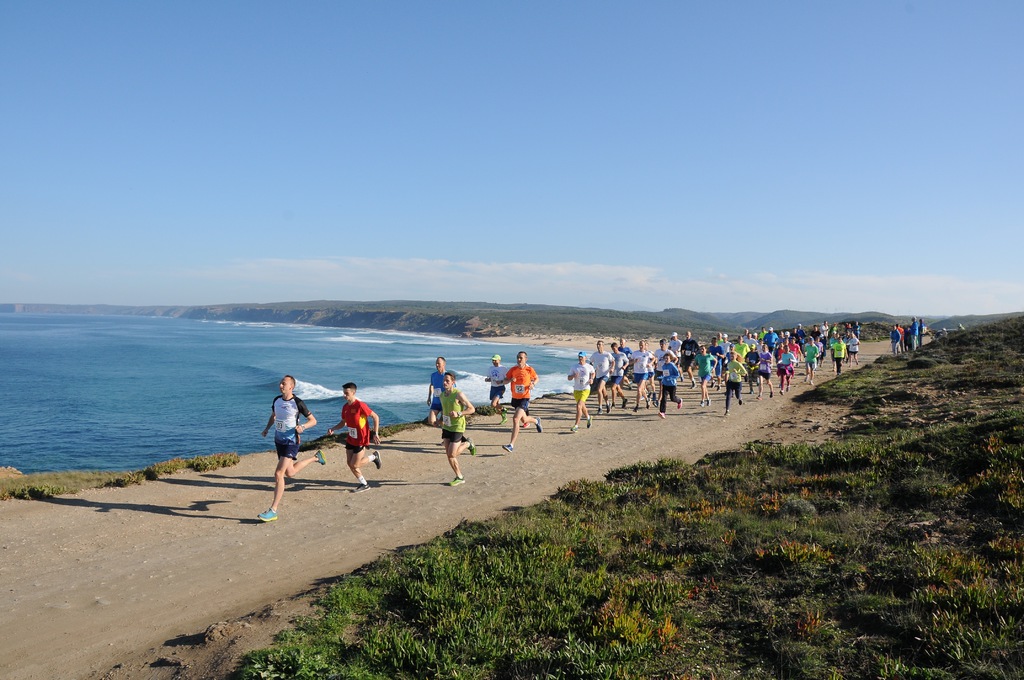 From the start we headed out on a wide dirt road skirting the clifftops, past the camper vans of surfers who were mostly still sleeping off New Year's Eve. The sun was beating down from yet another perfect Portuguese sky of deep Atlantic blue. Immediately it became apparent that it would not be as flat a course as expected - plenty of ups and downs! Also the surface was a bit loose so we had to keep an eye on our feet as well as drinking in the incredible views out over the ocean and inland to low, perfectly scultped hills.
As the first KM unfolded I found myself with 8 or 9 in front of me, including the youngest and fastest battling it out at the front and the familiar figures of Mahasatya, Nirbasha and Suswara immediately ahead. I felt as though I was pacing things well - I hadn't made the mistake of going off at 2 mile race pace as I so often do. I rounded a bend in the trail to see Max slowing to a walk, his back covered in dirt. He was limping and clearly a 50/50 prospect in terms of finishing - I didn't see him trip but he had clearly had nasty fall. As Suswara and I began to catch him he started up again and soon had his pace back so we didn't catch him. Later I saw him with his knee bandaged but still smiling as ever so it looked like no harm done. As we chased Max, George and his guide-runner Pradeep came past - Pradeep keeping up a running commentary for the benefit of the paralympian. We couldn't stay with him and soon he was gaining on Max and Mahasatya. This gave me the impetus to chase a bit harder and I surged on a short climb to edge ahead of Suwara. I pushed hard on the descents too, glad I was in new shoes with amazing cushioning as the trail felt pretty hard on those slopes.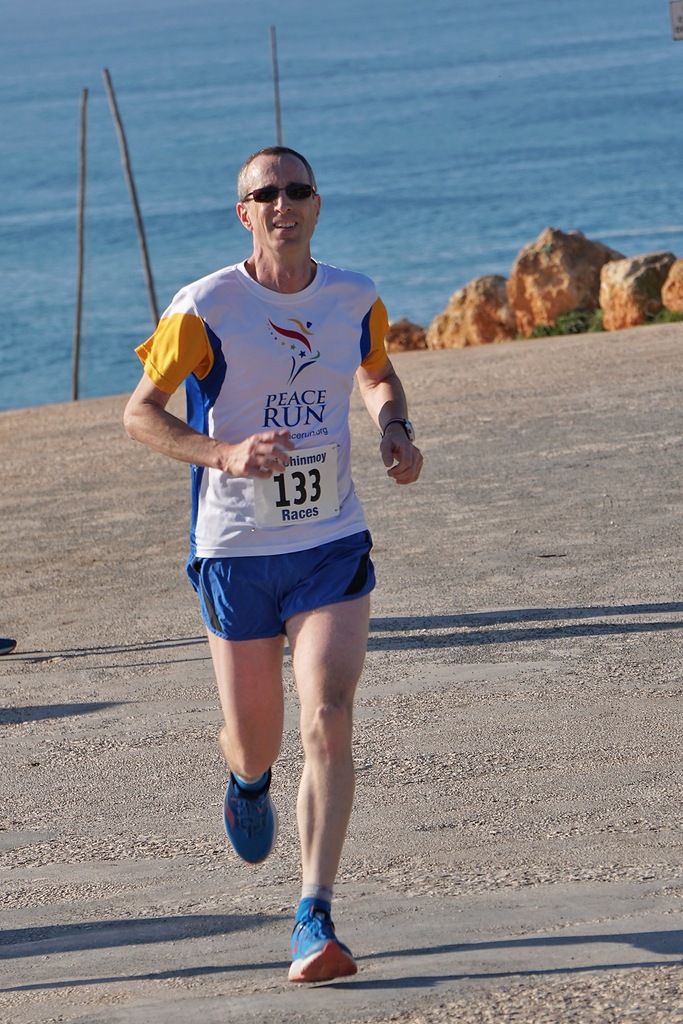 After that it was just a case of hanging on for the remaining 5 or 6 KM of gorgeous but testing trails and quiet, coastal roads. There were familiar marshals stationed at the junctions, including the ever-present Tejvan who pointed us to a left turn from the silent highway for the final challenge - the winding climb up to the finish. It was sapping but my legs and lungs didn't fail me and I managed to stay in 10th place to finish feeling strong in 39.08. It wasn't a full 10K, only around 9.3, but with those hills I was more than happy. I was also over the moon to have achieved my goal of being first in my over 50 agegroup and it was a very special moment for me being cheered by so many friends as I took the prize - as usual a small fruit drink - from our makeshift roadside shrine. In my agegroup Amur from Bosnia was second and Bharu from Switzerland, a mighty marathon runner and seemingly ageless, took third. After that we took prasad, cooled down, collapsed on the bus and looked forward to the rest of 2019. For me it couldn't have started better.