"Each step forward has a sacred meaning of its own" Sri Chinmoy
Lagua do Vento hike - Jan 2022 - Madeira
After our easy hike to the incredible viewpoint at Balcoes we decided to make our next afternoon outing more of a challenge - a tough, mountain drive that took our hire car to the limit and then a hike through some hilly trails to the waterfall and pool at Lagua do Vento. We parked at a scary layby where you had to drive towards the cliff edge to park (no barrier between you and open space) but from there it was an easy start with a long downhill meander to the trailhead. There are lots of hikes all starting from the same spot, some heading into the 25 Springs territory, but we were part of a small minority heading to the waterfall. I had stashed my neoprene top in the backpack as I was planning to have a dip in the pool - despite the fact that Rabinath had warned me to expect water temperatures of around 5-6 C. Ouch!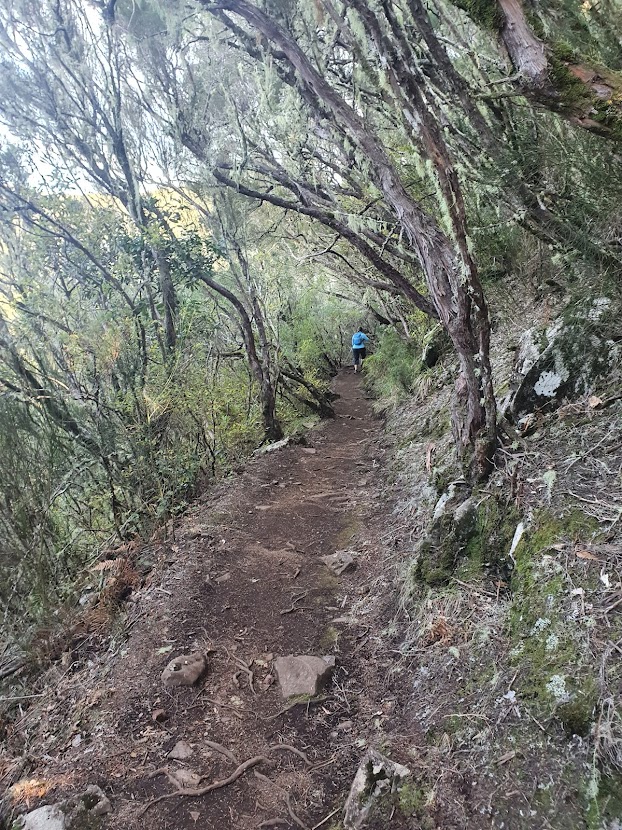 Starting high up on the ridge meant there were great views out over the mountains right from the word go. Once we came off the traffic-free roadway (it's only open to a shuttle van that links the layby to a cafe / outdoor centre in the valley) the path was soft, dry, sheltered and pretty much perfect. Every so often a gap in the trees would reveal more views out into the mountains and forests of nothern Madeira.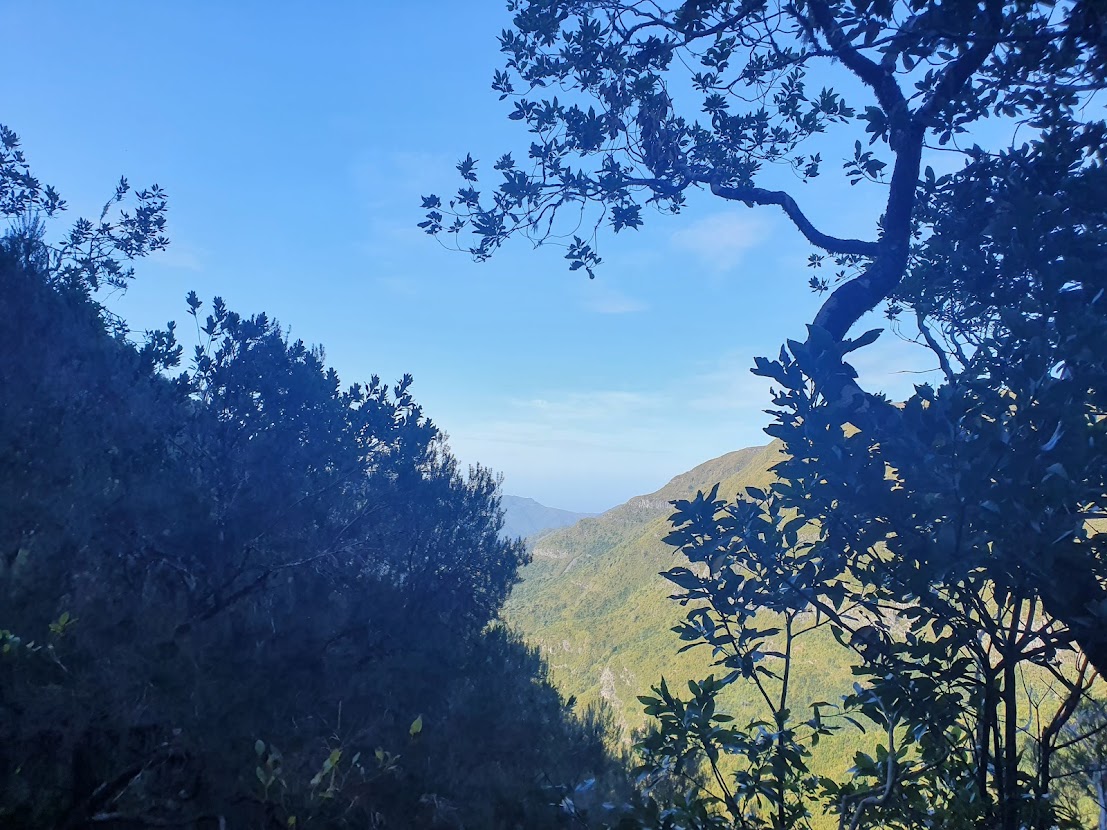 After around an hour we came to a steep descent and heard the sound of the waterfall. When the trees opened out to reveal our first sight of the falls, it was pretty magical - there was even a rainbow in the descending water which you can just detect in this photo.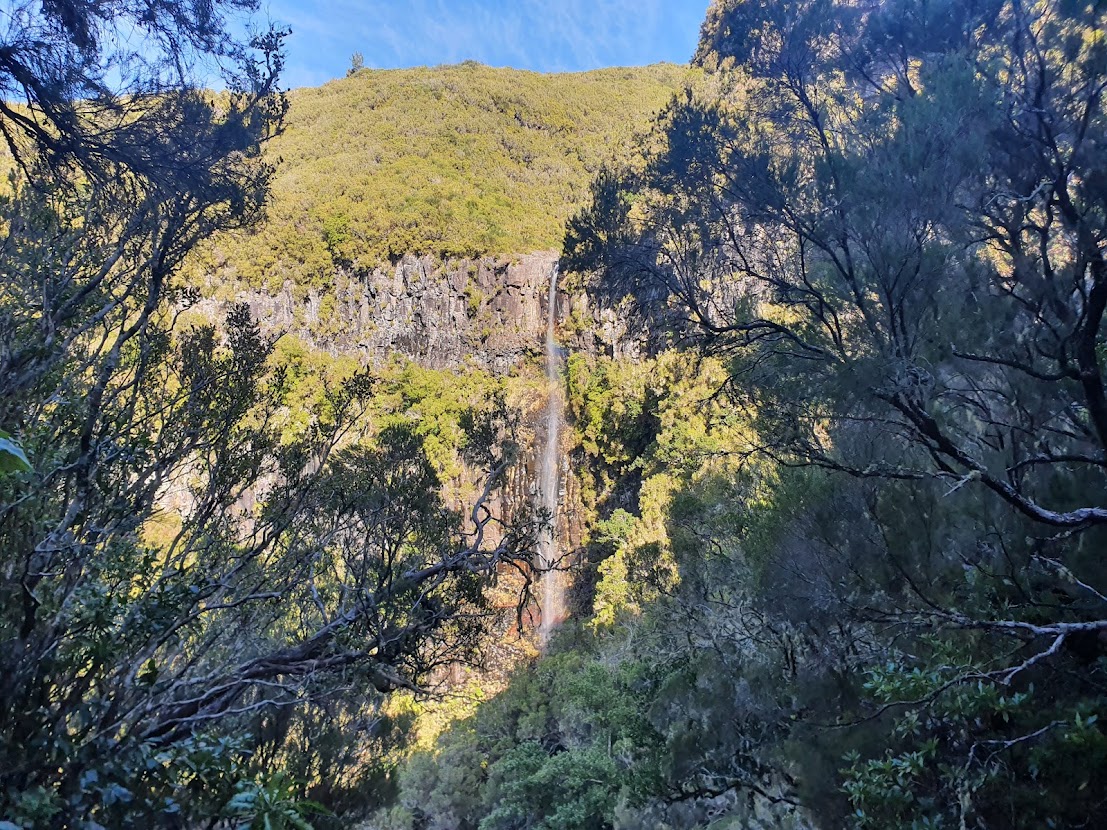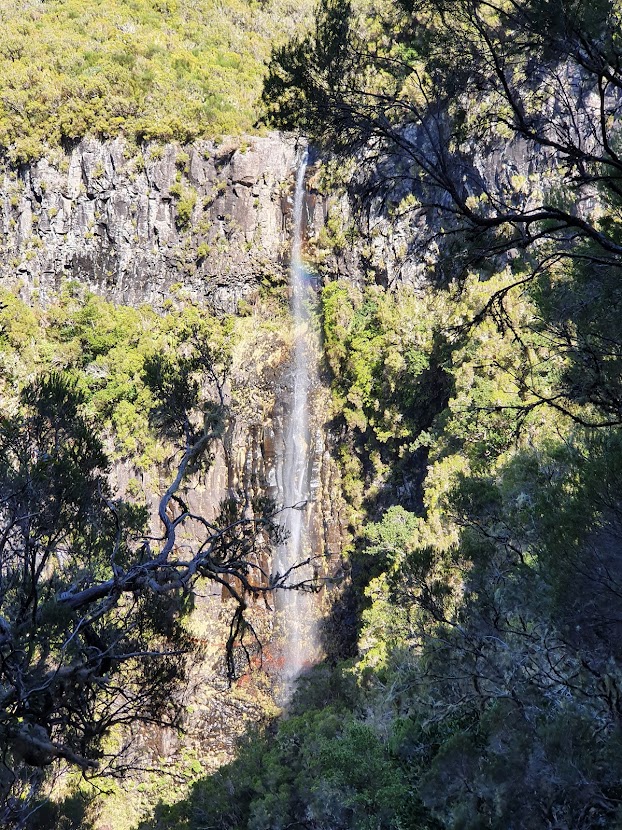 Here's a close up so you can see the colours in the spray.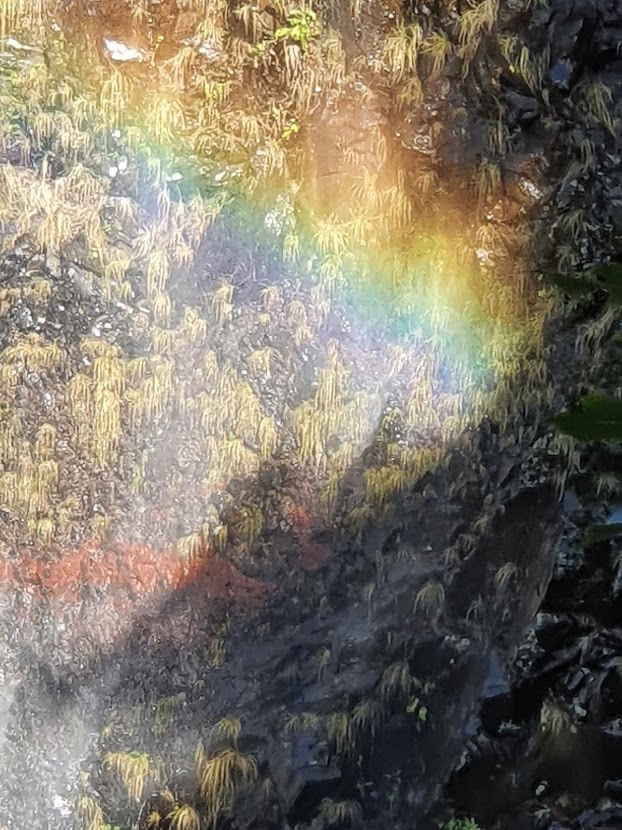 From that first view of the falls it still took a few minutes to descend and pick our way through boulders and scrub to the pool of Lagua Do Vento, which I think translates as Lake of the Wind, rather than Wind Pond which came up on my GPS app - not quite so poetic!
Despite the water being fairly freezing, a dip seemed obligatory so I pulled on the neoprene to avoid too much cold-water shock and slowly eased myself in over slippery rocks. kokila took a video from which I saved a small still - as you can see I managed to get into a bit of a swim stroke but the cold was too intense for me to stay in there more than a few seconds. It was numbing every part of me not encased in neoprene and while that was exciting and refreshing it was not something I wanted to prolong - once you are shivering it's hard to re-warm and change back into hiking kit! It was worth doing though - the sensation of that chilling mountain water is still something I can remember now even sat in a warm room back home in Bristol. It was like tasting the mountains.
Like our previous Madeira hike this one ended with another superb cafe - from where we were considering catching the shuttle for the slog up the roadway back to where we had parked, but we had just missed one and decided to hike it instead. This made the whole trek a decent challenge and we were pretty much "done" when we got back to our hire car in the layby ready to subject it to some more crazy Madeiran roads.