"Each step forward has a sacred meaning of its own" Sri Chinmoy
April Celebrations 2 Mile Race - 9 April 2022 - Jamaica High School NYC
After a potentially frustrating series of Christmas Trip races where injury forced me to take part first as a turnaround marshal and then as a race-walker, I arrived in New York for our first post-lockdown celebrations actually ready to run. My last outing over 2 mile had been a few weeks before at Lee Valley where I clocked 13:15, a far cry from the 11-something I was doing in 2020/21, but I'd had no adverse reaction so I was happy to be able to get out there and run with friends on a familiar course to continue the long and hard journey back to proper race fitness.
I was hoping for a time under 13, but this was by no means guaranteed with the slopey nature of the course and jetlag thrown in. Anyway, after a long warmup and a long and animated chat with the other runners who all seemed surprised and excited to be there (as I was) we fell silent for the race prayer and a few seconds of meditation before Utpal started us off. At the mad dash to the corner I settled in behind Prachar and Susan, as the elite three (Shamalya, Sadanand and Abhinaba) began to stretch out their lead over the hill and round the curve alongside Jamaica Track. It was cold, fresh and just about perfect for a spring race.
As the first lap unfolded I took care to run within my capacity and not burn out, ditching my hat and gloves on the wall by the clock as I passed. I was soon ahead of Prachar and began the task of steadily reeling in the girls who had gone off too quick and maybe one or two more of the boys. I shortened my stride on the hill of Chapin Parkway past the nursing home, running in the road as there was no traffic, then pushed on down past the corner of Goose Pond. I felt good, I was holding up at a reasonable pace and by the end of lap 1 only Vihan stood between me and the top 3 who were by now well out of sight.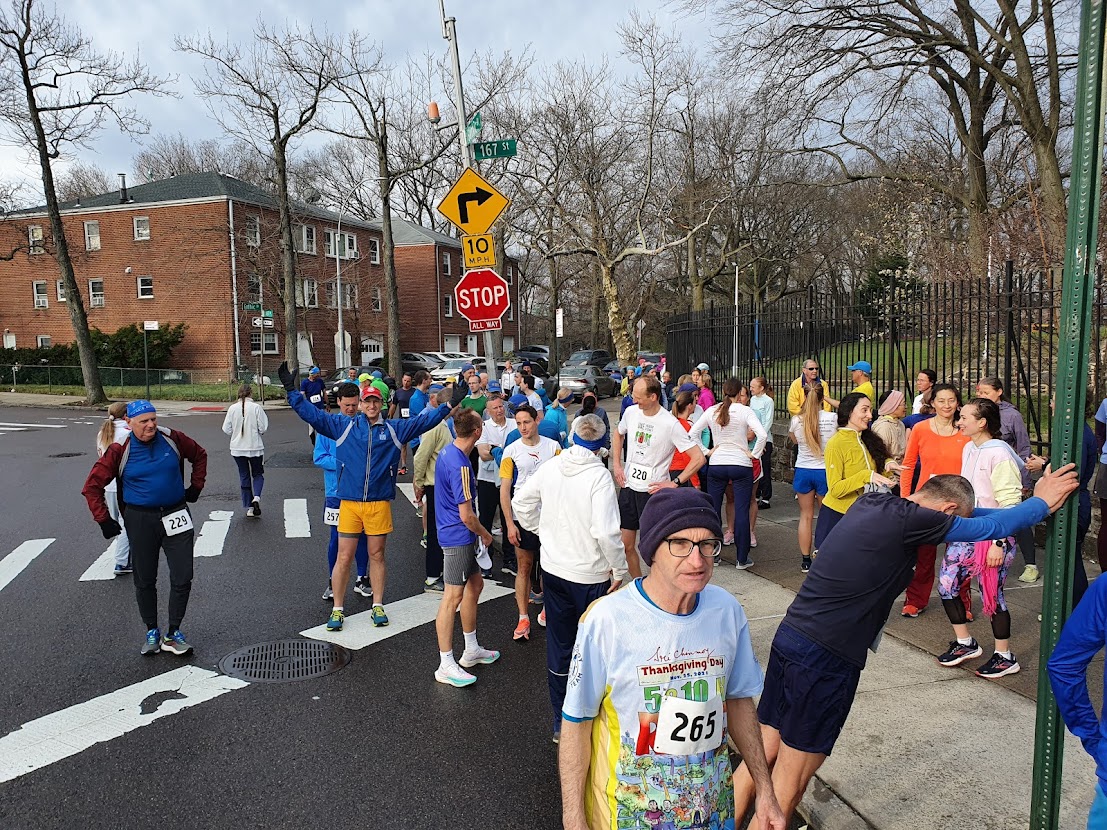 Lap 2 was hard, I'd come through the mile split in roughly 6.25 and that was pretty much my limit. I ramped up to breathing once with every stride as I passed Goose Pond for the second time and hauled myself over the line in 12:48. I felt extremely happy, as if I had run out a lot of "stuff" in the hard effort of the race. The cheerful and excited post-race conversations soon began as we all weighed up our times against what we'd hoped for. I remember telling Devendra I was about half way between the frustration of injury and being at the peak of my form - and that pretty much sums up where I am.
From 12:48 to 11:48 is a very long road, a road of breathless 1km intervals off 4 minute recoveries and maybe some 2 mile time trials or some public races back home. With my knee holding up well to the effort of racing again I began to dream of an August marathon. Getting ahead of myself? Carried away? Yes, probably. But I just need to have a dream, something to train for, a goal to see on the horizon and set a course for. Quite a big expectation to build off a reasonable time in a 2 mile race! 5th place was good for me though, I certainly feel like I am back.