"Each step forward has a sacred meaning of its own" Sri Chinmoy
Isle of Portland - November 2021

After the Mendip Muddle, a glorious and beautiful race in which I trashed my right knee as far as running is concerned, I had to rest up for a while and confine excercise to swimming and a bit of outdoor gym. After a few weeks of little or no progress that way, I got myself to the UWE physio department and they told me to LOAD IT as that was the only way to heal the tendonopathy - that mean't working it with some resistance exercises, squats and short bike rides. Running was off the menu but hiking was not as that didn't ever push me past level 2 on the painscale. So I arrived in Portland with Kokila, both of us needing to use up holiday or lose it at year end, with my eye on some short hikes and possible a winter sea swim (something I've not tried before).
Portland was a curious place, definitely unique and full of interesting corners, rugged beauty and restless Autum seascapes. Our first expedition was to the Tout Quarry, a peaceful strip of coastal land on the South West Coast Path with no fewer than 50 sculptures in the native portland stone to discover. I was using walking poles to ensure I didn't overwork the dodgy knee (I was still a bit nervous, having checked this blog for previous patella tendon troubles and found they had kept me out for anything from 3 months to 18 months in the past). The air was fresh and wild from the south-west wind coming in off the sea and the skies were typically dull for England in November. It was a great day to be out there walking.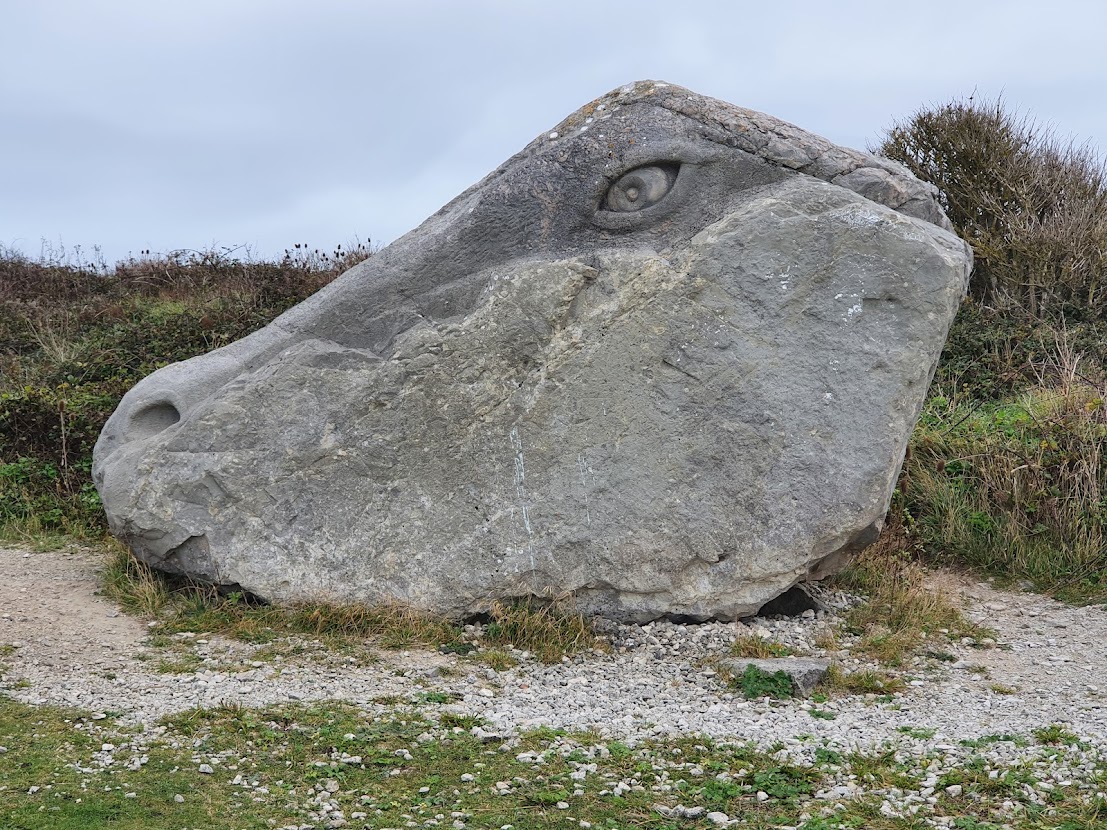 As soon as we were into the trails around the old quarry workings we were wandering past giant stone forms of animals - bulls, squids, bears, elephants - and this very arresting figure which really caught my eye. We went through to the headlands overlooking the sea and down to the windswept coastal path then beat our way back inland on overgrown gully paths that brought us back into the sculpture park. It was hard to follow a clear circuit but we managed to cover most of the trails and see most of the art on display - much of it needed seeking out as it was not centre-stage at the trailside but hidden away down side paths and in corners of the park we came into by chance as we explored.
The highlights for me were the Anthony Gormley / Still Falling which was on a pathway closed by fallen boulders - so I bet a lot of people miss it if they just walk the obvious loop around the park - and the human figures that seemed to appear out of the rock or fade into it as you passed. There was also the Roy Dog, a legendary local beast with one red eye and one green.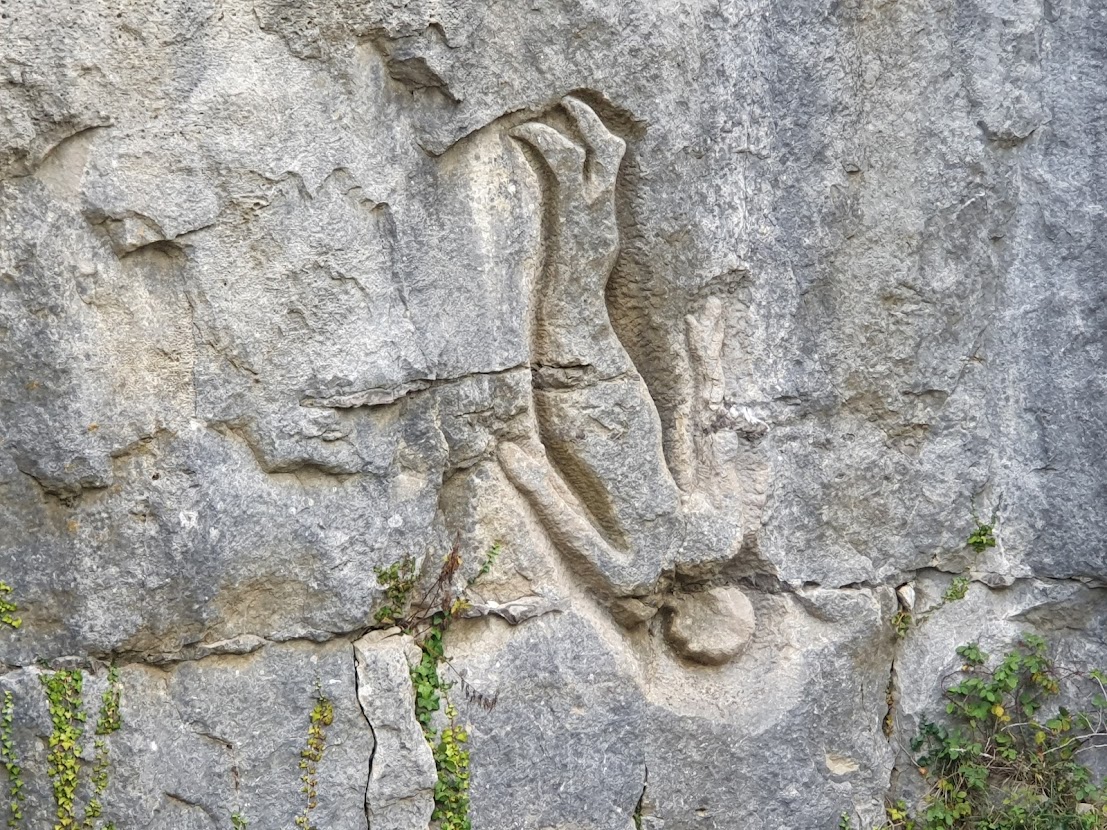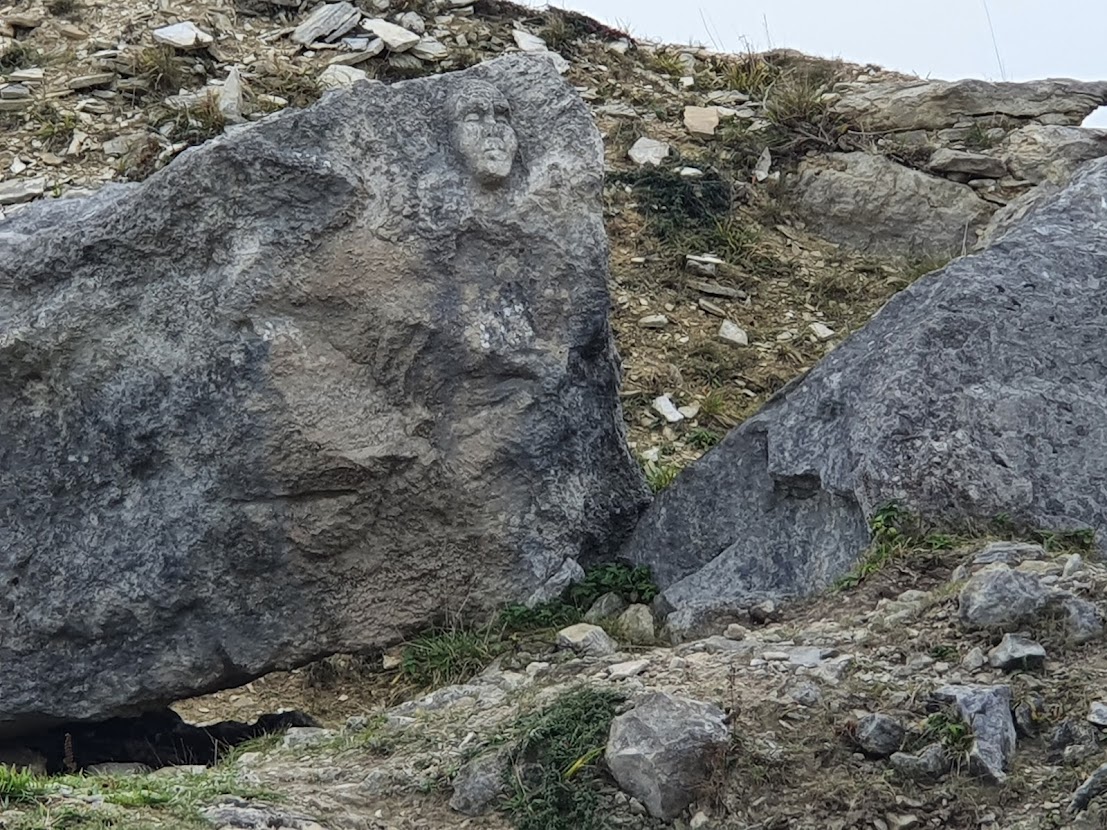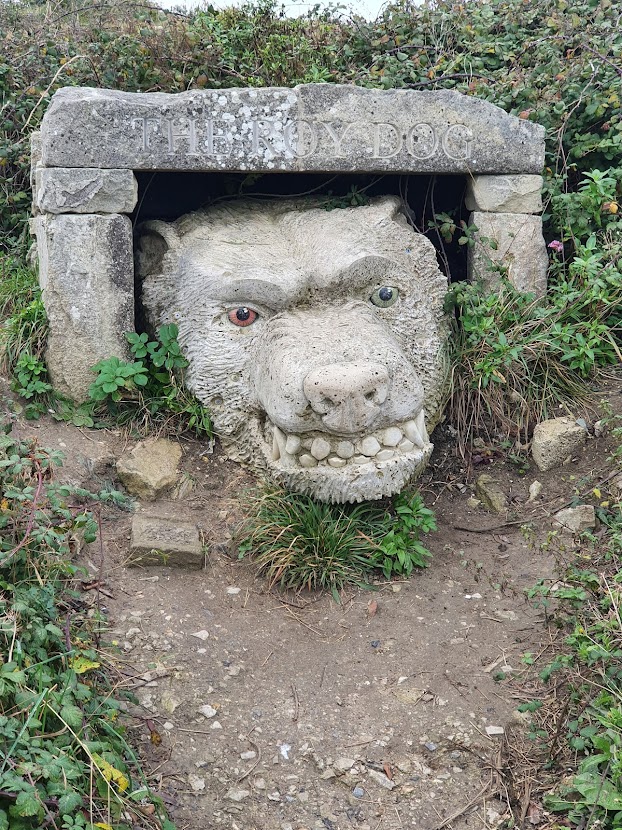 I could have snapped all 50+ sculptures but you can google Tout Quarry for those if you want them. If you find yourself in Portland, definitely get yourself to Tout Quarry for an hour or two of bracing hiking with these fascinating sculptures for company.
Once we'd found the elusive Gormley and seen most of the park at least once (some trails twice - it was a real maze!) we headed down to Portland Bill for more walking on the windswept coast. The Bill boast not one but three lighthouses - the main one a striking red and white tower at the headland itself and the other two, one a tower and one literally a house with a glass turret attached (I think you can rent that one as a place to stay). We started our hike at the main one, which sadly wasn't open so we couldn't climb the hundreds of steps to the top and gaze out over the channel from that vantage point. Heading inland we passed old cranes that had once been used for loading the quarried stone on to boats (Portland stone was used for much of the 17th/18th century building in London) but were now there for lowering small fishing boats down to the water. There were endless huts too - I wouldn't call them beach huts as there is nothing resembling a beach on this stretch of coast, only a forbidding cliff with caves and blowholes. We clocked up a couple of miles on the excellent coastal path before heading back to see glimpses of the sinking sun piercing the wall of cloud above the sea.
I loved the atmosphere of Portland - brooding, weatherbeaten, somnolent and resilient in the face of the wind and waves. I've heard the Portland Race is a real hazard for boats and it was certaily lively further out at sea, even though the wind was not that strong, but we did find a peaceful cove - Church Ope - just a couple of miles to the north and here it was peaceful enough for us to perch on rocks and meditate on the peace of the afternoon fading into evening.