"Each step forward has a sacred meaning of its own" Sri Chinmoy
Cotswold 113 MD Triathlon - June 6th - 2021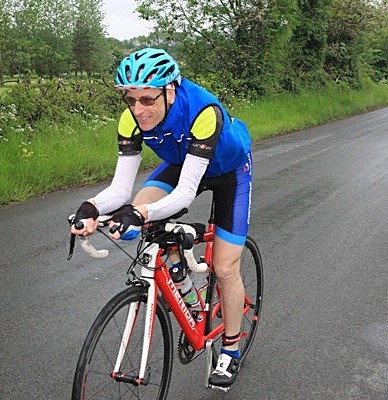 I was certainly trained for this one, but as it was a stepping stone towards a full iron-distance event 6 weeks later, I didn't do much of a pre-race taper. I got in my long ride of 180k the weekend before and my longest swim of the year (3.5k) on the Monday, then I threw in a 2 hour steady run over Combe Dingle on the Tuesday. After that it was feet up for the rest of the week. I celebrated my 53rd birthday on Saturday 5th and was up at 2.30am so I had time to meditate, get my kit together and arrive at Ashton Keynes in time for 5am registration and in-the-lake at 6:10. Phew.
The forecast had been for a sunny and still day, right up until the day before, then the wind direction shifted and we were set to race on a mild and still day but with persistent light rain. I'm not at my best when I feel cold, so I laid out enough kit to cover me for some ropey weather in transition, covering it all with my race gilet to keep it dry during the swim. Then I mooched about for the best part of an hour waiting for my wave to start. That gave me time to meditate on the lake, a lovely sheet of calm and shallow water surrounded by trees, that was big enough for a single lap to equal 1900m so long as we swam into the middle and back out to the edge again at some point. There was some doubt among the competitors about which buoy was which but I knew that I would turn left at 2 yellow markers, then a diagonal left at the third and swim to some buoy that the plan showed as blue - though I couldn't see any blue markers in the lake - maybe it was out of view around the headland? Everyone was a bit vague but someone reassured us that there would be canoe-marshals shepherding us in the right direction. I paddled in the shallows and it felt warm - so much warmer than marine lake where I'd been beasting myself through some cold swims to train.
It was around 6:10 when I lined up and we started at 2m intervals which actually made the swim start very easy. No bunching, no washing-machine start. The water really was warm and some initial fog in the googles cleared within minutes so I could sight easily and see the buoys as clear as day. It all went - well - swimmingly. The third turn was a sharp one, in towards a hi-viz pink buoy that everyone had said was NOT the course marker ("no it's definitely not that pink one") before the race. I followed the shoal of swimmers and there were, as promised, canoe marshals telling us exactly what was what. I didn't push too hard but the swim felt smooth and easy and I was soon getting hauled out on to an exit ramp, with less than 36 minutes on the clock. For me that's a good swim time, especially as I was taking it moderately easy.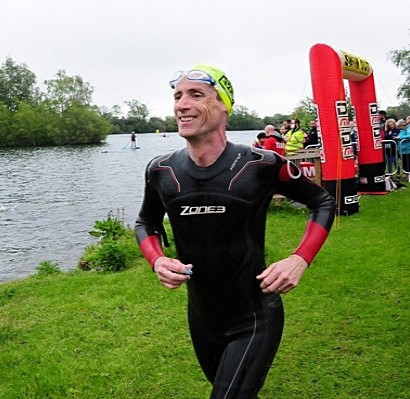 Transition on the other hand took a long time - best part of 6 minutes. 2 minutes of that is probably moving time - walk/jog in and out of the racking area - but the other 4 mins were spent getting socks, jersey and arm warmers on over wet skin, and stashing the gilet in my back pocket in case the intermittent light rain got less light or less intermittent. It was worth taking time over kit as soon after the start of the bike course I was pulling over to get the gilet zipped up and as I felt just right kit-wise for the whole ride it was clearly the right decision. I was aware of how out-classed I was on the bike by the aero machinery on view, but Red Bike, who is now 12 years old, did a great job. I felt glued to the road on the tight, treacherous bends and easily exceeded my target pace of 18.5. In fact my moving speed was a shade under 20mph which is more the pace I expect on Olympic Distance - clearly the training was paying off and the flat course was making life easy. Easy is a relative word of course - I was pushing the pace all the way and trying to feed at high heart rates too, which can be tiring, but somehow I think I got the balance right with effort level as well as with kit. I had 2 pit stops - unavoidable - and one of them involved 7 mins queueing for the one and only portaloo on the bike course - but I still ended up on a bike speed of 19.7mph for the 56 mile course.
The route wound through Marston Masey, Down Ampney (birthplace of my favourite orchestral composer, Vaughan Williams) and Latton. It was a mix of main-roads with heavily marshalled and controlled roundabouts, with quiet lanes and village streets thrown in. Lots of sections were straight and fast but the wet roads meant the bends were a bit lethal - I took them cautiously after seeing two crashes, both on T junctions. Both unfortunate riders were getting up unaided so hopefully nothing serious. One guy had gone into a ditch, very Paris-Roubaix!
I stashed the gilet and gloves and stretched my back and calves out as much as I could while freewheeling some of the last mile - then I was running the bike into transition and getting ready for the half marathon. This is my strongest sport of the three so I am very happy it comes last! I felt suddenly fatigued and my stomach was playing up from the amount of calories I had forced into it on the bike leg, but I still felt strong and confident as I eased myself into lap one with short strides. The course was lovely and very varied - taking in laps of two adjacent lakes. There were narrow footpaths that reminded me strongly of the course at Lake 62 just down the road, there were sections of pavement, quiet lanes and village streets with zero traffic. There was also a hectic road crossing where public traffic, triathlon bikes and triathlon runners were all crossing each others' paths and I have to take my hat off the marshals who managed the potential chaos.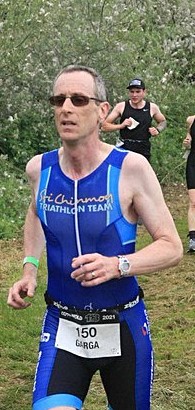 I was getting overtaken occasionally on the run but mostly I was in credit, overtaking lots of slower runners as I pulled myself up from nearly 400th to an eventual placing of 258th. That was pretty much exactly half way down the table, and 42nd out of 104 Male Vet 50. The uneasy feeling in my stomach faded out on lap 1 and that left only fatigue and cramp to overcome - the former came on slowly and never saw me "hit the wall" while the latter was entirely absent. Starting the run slowly with a short stride had paid off. I pulled myself past one runner after another, picking the points on the course where it was wide enough to overtake (quite a bit of it is like a tunnel between closely-set hedgerows where it's pretty much single file) and by the third lap my mind was still awake enough to enjoy the beauty of the lakes, the wild display of blossoms in the hedgerows and the banks of buttercups and wild flowers well watered by the race-day rain. The marshals and supporters were very encouraging and gave us lots of cheering - we all had names printed on our numbers so lots of people called out "well done Garga" and on one occasion "keep it up, Garcia!". Well that's close I guess.
As Lap 3 slowly passed I kept on pushing myself, certain I was on course for a sub 5-40 PB but still not wanting to leave anything to chance. The finish saw me totally emptied out of energy but still running tall, with a finish time of 5:21. That's a massive PB on a course that's definitely the full distance in all 3 sports, so I am more than more than happy with that as a result. Of course this was just a stepping stone, with the real deal - Ironbourne - due for 18th July. That involves a sea swim and a course that is much less flat, so new challenges there, but I finished June 6th satisfied that I'd clocked a personal best at 53, beating the efforts of my 40-year old self over Middle Distance.