"Each step forward has a sacred meaning of its own" Sri Chinmoy
Arthur's Stone 3-Valleys 180k - 18 April 2021 - England & Wales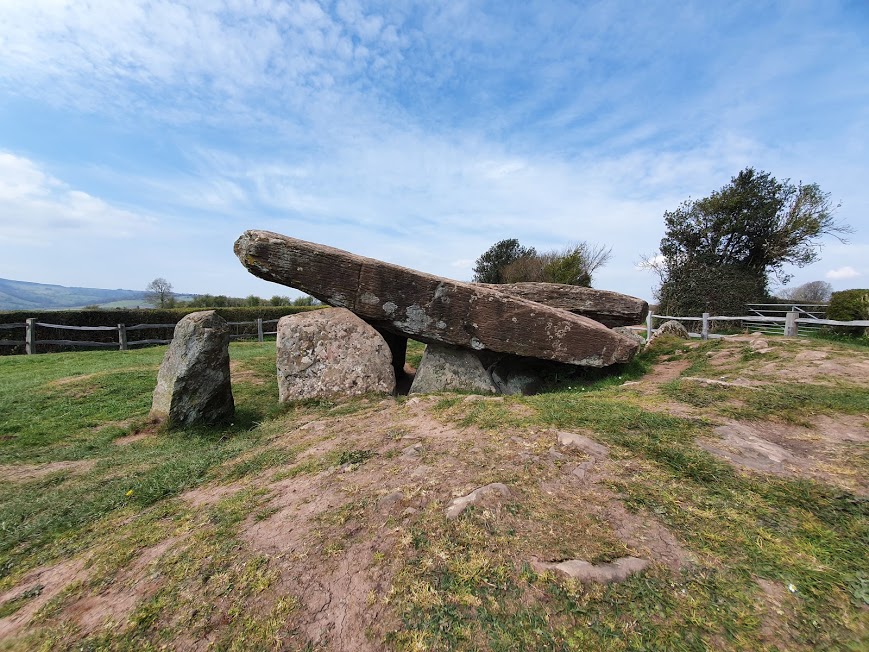 Looking for new places to ride back in the winter I had picked a couple of ancient sites to ride to - for some reason I like that kind of goal rather than having a town or village as the turnaround. One was Uffington and another, with a ride distance of around 180k, was Arthur's Stone. I'd seen in on the map - on the fringes of Golden Valley near Peterchurch - but never had the pleasure of visiting. Wales had been effectively "closed" to english riders for some time so with the border recently re-opened I loaded up the GPS route I'd devised online and went for it. I was back on my Specialized (since the spoke-breaking incident had put my tri-bike off the road for a while) and although I was training for a continuous 180k I decided to have some stops to refuel on the ride. After all this was a big step up in time/distance so I thought I could get the mileage done first and then worry about the feeding nearer to race day (July 18th).
It was a very still day - cool to start with at around 4 degrees but set to warm up to nearer 14 by the time I finished. That meant starting out with zillions of layers on and having a strategy for how to carry them once I got too hot. I had a pouch for my jacket under the top tube and another on the handlebars for my winter jersey but in the end I only needed to stash the jacket - when I start a ride in the cold I usually never overheat. Either that's because I am built like Chris Froome with zero body fat or because I have a metabolism that is useless at generating heat. Probably the latter.
The Severn Bridge was a very meditative experience in the still, sunlit conditions. I was expecting my slow early pace to pick up, but once past Chepstow I realised it was going to be a very hilly route that was going to take all day. In my head I started to calculate what I needed to do as race prep and I decided to alternate long hauls like this one with 100k at a faster pace where I would practice feeding to simulate being in a triathlon (as opposed to an Audax with a cafe stop every 50k). That meant I just had to go the distance on this long ride and not worry too much about mph.
Hill after hill challenged my legs and lungs as I rode up past St Arvans and on to the high ground around Devauden and Trellech. I saw gorgeous forest and enjoyed virtually car-free roads. The descent to Monmouth was one I knew of old so I had my hands tensed over the brakes as I came up to the chicane bend that makes it a risky business. I didn't go into the town but rode past the end of the medieval bridge and pulled into a new Co-Op a mile or so up the road for the first proper fuelling of the day. Pastries of various kinds went down well and a pack of fig rolls was stashed for later in the day - good emergency rations. After that I rode past Rockfield Studios and then got a glimpse of the old and unique church tower - really like something from a fable. I love the little kingdom between Monmouth and Abergavenny - really stunning landscapes, ancient castles, the whole place has an enchanting or even enchanted feel. Once again I felt like I was riding through tangible time as you would ride through a morning mist. A strange and even esoteric sensation.
The Rockfield Road was, I knew, a total hill-fest and my route was an unfamiliar one just generated on a website (either Komoot or BikeHike I think) so I was not sure if I would bypass some of the endless climbs or encounter even more of them. Surprise surprise - it was even hillier on my route than the B road. Really tiring. At one point I had to add a few miles to avoid riding a private road - the joys of believing a GPS/map site! I later discovered the private road was also a public footpath but not a bridleway, so I was probably right not to ride it. That did leave me tackling epic rolling hills before I got to Skenfrith. It was slow going but great riding.
Grosmont was next and I knew that was a nice climb in its own right as the name suggests - I stopped at the top to eat some of my stashed food. Someone was out painting their house in the sunshine. A father and son were pushing their bikes up the hill towards me and got back on - either because they saw another cyclist or because the slope had lessened a little at that point. I rolled down at a good speed and soon found myself at the A-road crossing that marked the end of one territory and the start of another - Golden Valley. Today the valley was very much emerald green and serene, though the small amount of traffic on the B road was more than I'd seen on the Rockfield road so it seemed busy by comparison.
The road took me past Dore Abbey - first time I had seen it and it looked amazing. A sign said it was open for private prayer and I was tempted but thought it might be rude to go in wearing sweat-soaked cycle kit. I might look like a tourist and tourist visits were not permitted. I contented myself with seeing it from the outside. I enjoyed the respite of flat roads past Vowchurch and Peterchurch then tackled the surprising climbs towards my turnaround point. First there was an unexpected 25% all the way up the side of Golden Valley and then the road dipped down towards the Wye before I had to double back and climb again.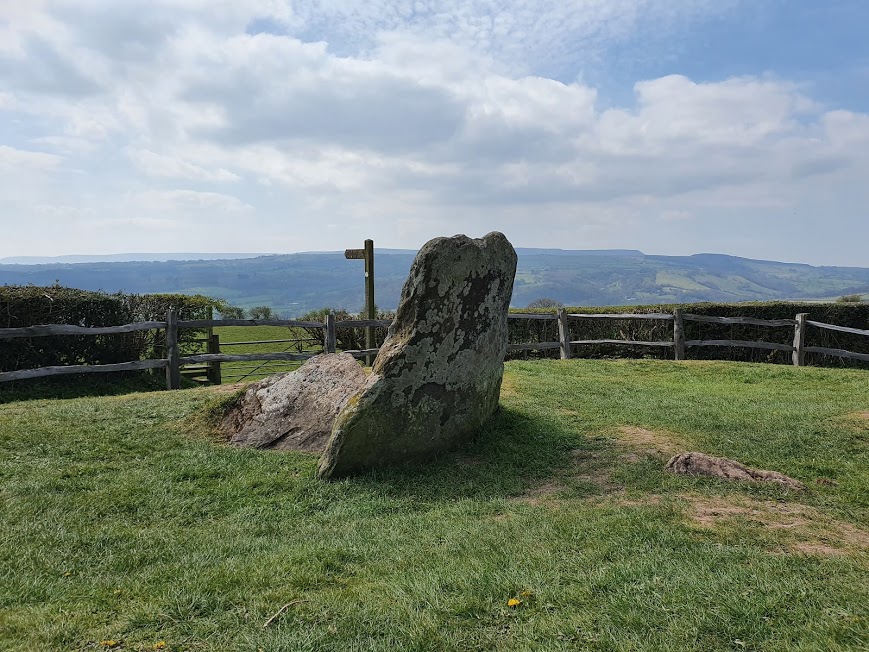 I had time to site and soak up sun at Arthur's Stone, which has a placid atmosphere and expansive views in all directions. A great place to rest on a day like this. I wondered around the stones and got no more than a serene and peaceful vibration - none of the energy I feel at some ancient sites. I only sat for a few minutes as I didn't want to stiffen up - it was time for the dramatic descent into Golden Valley to see if there would be a tailwind to pay me back for the headwinds on the way out.
There was just a little help from the breeze as I rode back past Dore Abbey and once again over Grosmont - I took the B road all the way back to Rockfield and stopped at Monmouth for a coffee and pain-au-raisin at the garage near the bridge. From there I decided to make it 3 valleys instead of 2 by riding the A466 through Tintern - it was hard to find a safe way to the bridge over the Wye but I found the underpass that got me across the dual carriageway and from there it was plain sailing as far as Llandogo and the mighty ruins of Tintern Abbey. I had told myself this route would be flatter than Devauden but the climb to Chepstow from Tintern is a sustained challenge especially when you have upped your distance like I had. It was hard.
From there I only had to cover familiar roads through Tockington and the one last climb at Sundays Hill out of Almondsbury and I was home and hosed in about 9 hours. A really slow time - aiming to do that 180k in 7 hours on race day - but the hills were the culprit I'm sure. It was a dream of a ride though and now I have the confidence of having "gone the distance" I can work on the other minor issues - doing it faster and doing it without any stops. So much easier said than done.