"Each step forward has a sacred meaning of its own" Sri Chinmoy
Mendip Lakes and Gorges - September 26, 2020
Having missed out on AAA points on my Castles 100k around the Forest of Dean and Monmouthshire, I scoured Ride with GPS for a route with over 1500m of ascent. I found one of around 90k with about 1600 that started in Cotham, then decided to augment it with a couple of urban climbs to see if I could somehow ramp it up to 1800 to ensure I scored 1500 on the final analysis by the "AAA checker" when I submitted my GPX file. After all the ride is the ride and all its beauty and challenge are not about numbers.....but AAA points are a way of setting a target and I like that too.
I rode down Gloucester Road into town and then swung up the hill past the BRI and up the famous, nay infamous, St Michael's Hill. This was a good way to start the day and legs and lungs both felt more than warmed up when I landed in Cotham at the top of the climb. Amid the georgian splendour of the old stone houses with their balconies and sash windows I joined the GPS route and headed for Clifton. Once over the bridge I followed the line on my app through Long Ashton and up the nearly-a-climb hill on Wild Country Lane. Next I was heading for Winford on a road I ride a lot before and after work in the summer (not this summer obviously, as there hasn't been much riding to work) and then I turned off onto the unfamiliar Dundry Lane. This was the second big climb of the day and a real corker. Dundry always is, from whichever direction you happen to be coming. The road surface was pretty broken up at the edges and I had to take care not to slip off into the crumbling road-crud of the gutter.
After that epic I thought my next big challenge would the the hill-climb race route at Burrington Combe but the lanes led me to another hill first - the wonderfully named Awkward Hill leading the equally wonderfully named village of Nempnett Thrubwell. These were classic Audax lanes, hardly a car in sight, the occasional horse rider, grass down the middle in places.
Next came a winding route down to the dam at the edge of Blagdon Lake, and a very stiff ascent up into the village from the lakeside. My GPS froze here and sent me on a wrong route but I soon sussed it and got back on the right road, through Chew Valley past the charming church at Rickford. After that the turning to Burrngton came and I passed the Rock of Ages and started the climb. It's another cracker and deserves to be up there with Cheddar Gorge on the list of stunning Mendip ascents.
Over the top of the Mendips I was starting to feel like it was time to take on some fuel - I'd had a serious breakfast, but only a couple of jaffa cakes and a maltloaf bar in over 2 hours of mostly climbing, so I decided to break the ride in Cheddar. I didn't take much self-persuading....Here I caught site of the sea as I rode towards Tynings Farm and a wonderfully quiet and picturesque corner of the Mendips that I often miss out on my direct route from Harptree to Cheddar.
Down Shipham Gorge and into the familiar valley of strawberry farms, I was soon making decent speed on a rare bit of flat terrain and then I decided on Simply Gorgeous as the tea stop. Spoilt for choice, I based this crucial decision on their excellent tea and scones and good bike-parking spot near the window. I locked up white bike and just as I was doing so 2 couples got ahead of me and formed a queue - oh well. It didn't delay things much and while the general awkwarness of masks and track-and-trace meant it was almost half an hour before I was back in the saddle, it was worth it to support this fabulous tea shop. Warm, fresh scone + ample jam and clotted cream is 2.90 which is a decent price in the gorge.
With some high-caffeine assam and the high-calorie food inside me I was soon devouring the climb of Cheddar Gorge. There were plenty of riders out and climbers on the cliffs too - I had several shouts of encouragement from walkers and even drivers. That doesn't happen every day. The Pinnacles were outlines against an incredible blue sky and breathtaking as ever. Not that I had any breath to take at that point as that sublime circlet of rock towers comes at the steepest point of the ascent. The climb is followed by an endless uphill drag where I got into a steady 12 mph which was pretty much the average on a day with so many metres of uphill struggle. Here I lost GPS route and didn't want to restart the app in case I lost my tracklog recording, so I was seeing only mile markers and having to guess the route in between.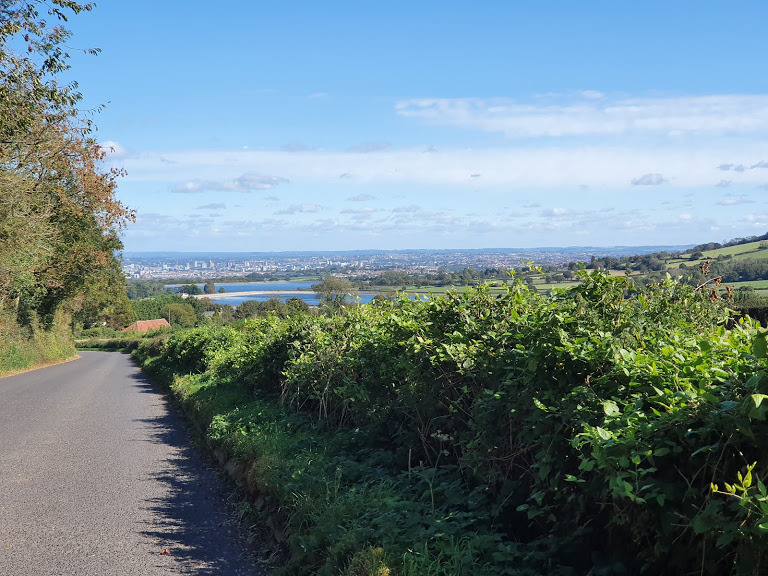 Down Harptree Hill and over the edge of the lake I knew I had some stings in the tail left and so I made sure I kept fuelling on the bars and stuff I had packed in the top tube bag. Belmont Hill was next and I surprised myself by taking it in my stride, even managing to ride into the mid 20s mph on Beggar Bush Lane. Finding the route without the line was tricky from Clifton back to Cotham, but once I had done it I had to choose my way home for maximum hillage. I opted for Nine Tree Hill and wondered why anyone had thought fit to put an uphill cycle lane on this beast of a climb. Surely someone was having a laugh? I was still strong enough to enjoy it and marvel at the fact that normal humans were there also riding up the mad slope. Well done Bristol, good going.
The good news postscript was that all 1800m of ascent got counted and I had managed to bag the 1.5 AAA the route certainly felt like it contained. My ride over to Bath a few days before had felt like the last day of summer, while this post-equinoctal expedition in bright sunshine all the way had still seen me in jacket and jersey the whole way round - temperatures had dropped a lot in a short space of time. What a great ride. Climb after climb for the challenge and vista after beautiful vista to nourish the soul.