"Each step forward has a sacred meaning of its own" Sri Chinmoy
HOPE 2 mile virtual race, 19 October 2020 - Horizon 38, Bristol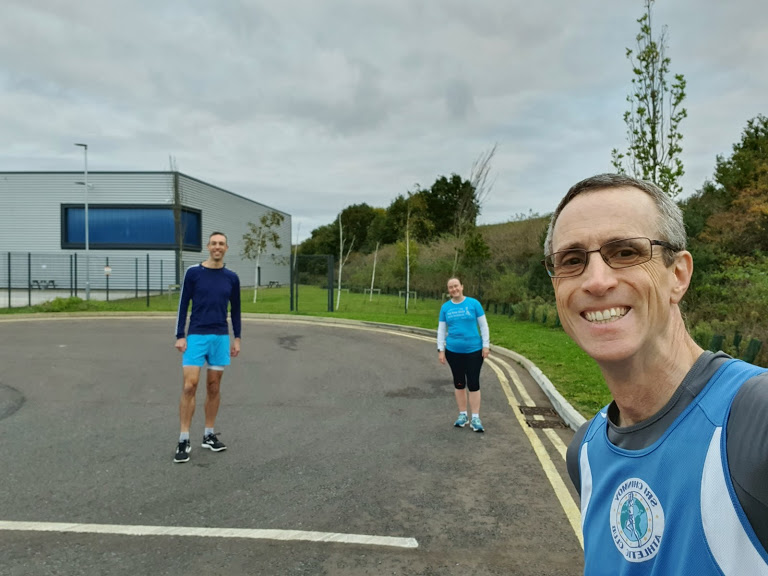 We're still a medium tier territory here in Bristol so up to 6 of us can gather outdoors. There were 3 of us entered for the virtual 2 miler so that meant we could get together and run as a kind of real race within the wider virtual event. Suswara, Kokila and myself met up at the Horizon 38 Business Park, my latest favourite virtual run course, to take on the challenge of 2 miles flat out.
We all had Garmin's of various descriptions - Kokila's is brand new and syncs to her phone. Mine is a vintage triathlon model that still works perfectly but is very hard to sync via Garmin Express on Kokila's laptop using an Ant+ usb stick and Garmin Connect on my phone. Suswara's is even older and doesn't sync at all, it also has a battery life of less than half an hour. Oh well, at least we all had something! You can't beat the simplicity of a start line, finish line and mile-marker but hey, we have do get out there and run together somehow in these strange times.
We observed the ritual of silence and a race prayer at the start - a favourite of ours that Sri Chinmoy first gave in Thailand in 2007, about the time he last ran on the track. It always brings back memories of that special trip (see my pages on 2007). Back in 2020, Kokila gave us the Ready, Steady, GO! and we legged it from our start line in the cul-de-sac at the south-east end of Horizon 38, running westwards towards the "square" of which 3 laps makes up the bulk of the route. It was around 8 degrees, with a lighter than the lightest breeze from the north, near perfect conditions for a fast & short race.
I went off at stupid pace and glanced at my watch expecting to see around 6 mins/mile but it was nearer 5.40. Oh well, way too fast, but who cares? I tanked it round the bend into the slight headwind and got into a rhythm with the speed creeping back to 5.50 and then settling there for a lap. There was the odd vehicle coming in but at the weekends this place is really pretty quiet - by far the best course I've found so far for these virtual runs. With a lap gone I was still keeping the speed at around 5.50. I was running flat out but feeling pretty good. I managed to hold that speed at around 5.51 until half way then as I turned back into the business park from Gypsy Patch Lane I felt the effort to maintain that speed getting too high to hold on to and realised that lap 2 was bound to be slower. I doubled my breathing and kept trying to keep my stride long as I know that if I let that shorten my pace tends to drop even if I quicken my turnover. Time was running pretty slowly but the I was gradually reeling in the distance. With the last lap half complete I really had to gather myself to maintain the effort - with 5.53 on the average pace screen I was in with a chance of a season's best time so I couldn't let myself off the hook and just settle for under 12 minutes.
I managed to hold on and come in with a time of 11.48, which is my best since 2010. Looking through this blog I think I last beat that when I ran 11.46 in New York when stuck there as a result of grounded flights caused by the Icelandic volcano. Remember that? I must have been 41. I was well pleased with the time, and the conditions were clearly pretty good as Suswara and Kokila both ran season's best times too. The race was called HOPE and we definitely all came away with a positive feeling for the future - we had run well, we had done something together, in these times that counts as a little victory.