"Each step forward has a sacred meaning of its own" Sri Chinmoy
PATIENCE 2 Mile Virtual Race - November 1st, 2020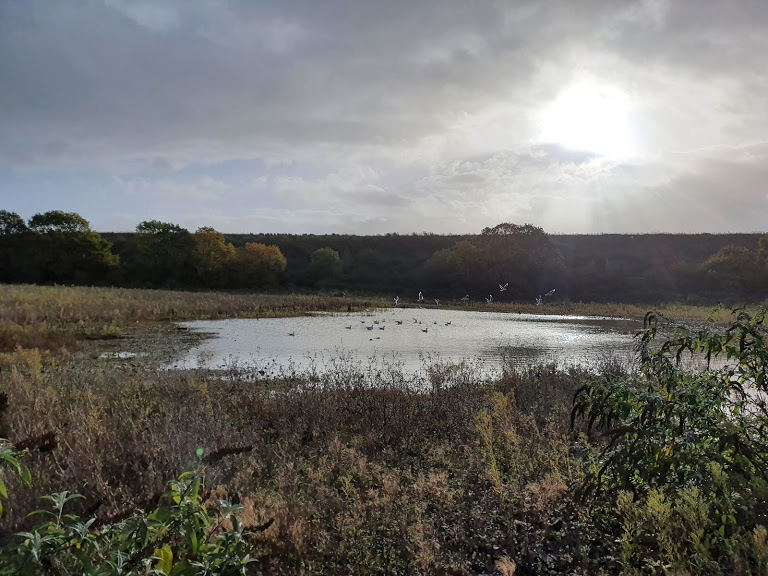 Another wild October day. I was racing solo this time, with the preceding week having contained a 16 mile long run and a 4 mile recovery jog, a couple of 9-milers on the bike between home and work and nothing else. No speedwork, no intervals, no tempo. I was committed to getting in my ten races from thirteen weekends for the Grand Prix though, so I got the Garmin on and jogged up to Horizon 38 with the gusty wind, remnant of a Hurricane now losing itself somewhere in the North Sea, comfortably at my back.
Warming up, I jogged down the dead-end lane behind one of the units in the business park and found a pond on the scrubland hemmed in by the railway and the back of the neighbouring industrial estate. I'm guessing they will build another business unit here at some stage, otherwise they would not have built the access road, but right now it's like an oasis of peaceful wetland on the fringe of the city. I finished my 20 minute warmup and headed for the other dead-end that I use as my start and finish line - stashing my warmup kit among the young trees at the end of the road. Its pretty deserted here on a Sunday but I'm slightly paranoid, so my warmup gear is all stuff I consider worthless, just in case it gets nicked. Pound-shop gloves, an ancient jacket with holes in it, inexpertly patched with tape, a rough head-tube of fleece clearly cut to size with a knife and an old pyjama top that dates from my hospital stay in 2012. Strangely nobody has stolen anything so far.....
Even though I was on my own I observed the race prayer and silence at the start - all of a sudden it felt like a proper race despite the lack of runners around me. On the first lap I was trying to imagine all the others running this event across the world - I could almost see them as silent figures on the road. Amid all that musing I was keeping a close eye on the watch and what I saw was not too encouraging - where I'd managed to come to the first turn with a pace of around 5.45 a couple of weeks before I was now seeing 6.08. And it certainly didn't feel like I was taking it easy!
With the tailwind as I ran northwards past Serco, where everything fell silent as usual, I clawed it back to 5.59 but faltered and slowed down at the next turn as I realised I could never sustain that pace. I just wasn't in the shape I'd been in a fortnight before. I ran a direct line along the road on Gypsy Patch Lane then turned into the wind again to complete the lap. The pace ebbed and flowed - back up to 6.04 and then lapsing to 6.12. Racing against a watch is merciless - racing another runner you always know they might tire and start to slow down, but the GPS never gets tired. I was digging deep every time I ran into the wind but making very little headway.
When I gave it everything on the final headwind-section and turned left for the finish I was surprised to see how many feet were still to go - in fact I had to run a loop for a couple of seconds in the cul-de-sac before the Garmin buzzed and I finished in 12.17.
So, headwind probably accounted for most of the lost time (relative to my two sub-12 runs) but I think the Garmin was not set up right. When I logged it on it had frozen for a while and so I had restarted it and seen it log on immediately with no sight of the progress-bar as it acquired signal. Something not quite optimal. When I got home I did a factory reset to make sure it worked better next time round.
So a hard run for the 6th race of the series, conditions were against me and technology too, but I guess these things are there to teach us patience!