"Each step forward has a sacred meaning of its own" Sri Chinmoy
LOVE 2 Mile Virtual Race - October 5th 2020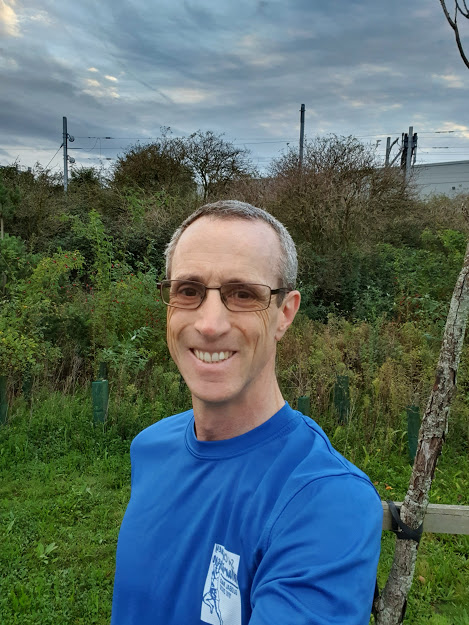 Disappointed with my run the week before, I got myself up to Horizon 38 early on Monday morning to see if I could knock a few seconds off. I'm not 100% focussed on shorter, faster runs right now and I've realised I can't expect to run the times I ran in the summer where my training was all about 5k/10k and 2-milers. Back then I was running very hard intervals midweek and avoiding any long runs that might need recovery time. Now I'm starting to build mileage over the winter to see if I can run a better marathon in 2021 than I managed in 2020, so I can't load my body with intervals as well, not with my record of being fragile and injury prone! On top of that there is a virus in circulation that I don't want to catch, so I am taking care not to push myself into immuno-supressant territory which is something I used to do in my 30s when I regularly caught colds from overtraining. Having said all that though I would still love to get close to 12 minutes....
It was cool and breezy but not bad for October - at least it was a rare window of dry weather. I have only just discovered after living 52 years in this country that October is the month with the highest rainfall (although January has the most days of rain) and the 2020 edition is proving to be a classic. Named storms are already piling in from the Atlantic so I considered myself fortnate to be warming up in my old decorating clothes rather than a running jacket (this is something I've taken to doing so I can leave the warmup gear lying around during my race without worrying if anyone nicks it).
I took time to remember one of Sri Chinmoy's Race Prayers and say it to myself at the start before taking a few seconds of silence to get ready to race. If this was a real rather than virtual race that's how we'd all start. I'm sure the same routine was happening in 30 or so countries worldwide.
My start line (pictured) was at the dead end of a newish road in the business park - behind me you can see the recently electrified railway line. The dead end road was quiet enough but I knew that a Monday morning might require some lorry dodging. I started fast, running westward into the breeze and then right towards Selco and straight away I was having to choose my route to avoid the traffic. In Lockdown I was running in the road here without any hassle but now there are lorries and vans turning in at regular intervals - luckily not enough to slow me down.
To start with the pace was 6.04 and then soon drifted out to 6.08. I managed to keep that up for a lap and a half, glancing at my wrist to see that average pave fluctuating from 6.02 out to 6.10 - definitely no 12 minute race this time! Soon after passing half way with the average settled on 6.08 again I had to start breathing in once per stride for most of the time - that switch to a hight intensity that I can usually only sustain for half a mile. This was hard work and my only reward was to maintain the pace of lap1 rather than start to better it.
A hard slog down the dead end road watching the distance to go dwindle on the watch each time I snatched a glance at it led to a 12:16 finish. Pretty solid and much more satisfying than the Peace race the week before. The whole run felt more soulful too which ultimately is much more important than the time you run.
2 runs down, 8 to go, with 13 races from which to score 10 times.