Winchester Novice & Youth Triathlon 2010
The idea of doing this event was to inspire (or was it coerce?) some fellow Sri Chinmoy AC runners to have a go at a triathlon - my long term plan is to organise an event for the public, so to have a team who have "been there and done that" is going to be essential. Originally ten signed up, plus myself as an impostor at a beginner's event, and after illness and various other factors (volcanic ash keeping Balavan in New York for instance) we ended up with a team of nine gathering at King's School in Winchester on a stupidly cold morning. This was supposed to be a summer sport, it was the second weekend of May, but it fell like February.
We shivered outside for the race briefing - could that really not have been done in the hall? - then the five lads got into the pool and worked our way to the front of the queue to get in the first of four waves. The swim was ballistic - only 200m so everyone felt they had to go flat out. Some of the "youth" alongside us in the pool were very good swimmers, and my stroke was going to pieces from about the second length. My turns were rubbish and once or twice I lost concentration and messed up my breathing, but once out - dead level with Martin who had started 20 seconds behind me - I felt good and even a bit warmed up! Ed had been hard on my heels in the swim, almost overtaking at one point, and I had passed Artur near the end, but the four of us in my lane (the other was Suswara) were all pretty evenly paced, which was very lucky.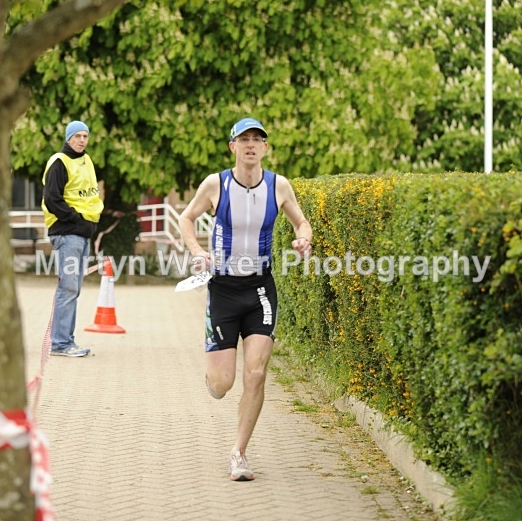 Photos are online at Martin Walker Photography and you can buy them! http://www.martynwalker46.com/photo4968776.html
There was a long, long run from poolside to transition, so we had a kind of pre-transition area outside the pool where I had shoes and a jacket as well as a hat and my glasses. I forgot completely about the hat, but managed to get the jacket on easily on the run. That certainly saved me time, and T1 itself was pretty easy - cap, helmet, shoes, number then on to the bike and away down a rough but secluded lane, legs pumping hard to get warm and pick up the pace. Again we were pretty evenly matched - myself, Martin and Ed all doing pretty much the same bike time, Artur and Suswara on hybrid/mtb a little behind us. The course was a triangle, and the first side was mostly downhill - I began to overtake the good swimmers, mostly teenagers, and soon felt into some kind of rhythm. Still, I had no idea how hard to ride so I went "pretty hard" and hoped I wasn't either overdoing it or being too slack. The roads were rough and I had to keep my eyes glued to the surface on the downhills especially - it all seemed a bit hurried and I didn't get into the usual flow I experience in a race, but basically all was well and I was relieved to have dressed about right - the jacket was definitely a good move!
The second side of the triangle also seemed to have more downs than ups, so I knew what to expect when we hit the A road for the home straight - a long uphill drag. The last hill in particular was hard on my quads as I had been pushing it all the way round, and I also slowed a little to get my feet out of my shoes and rest them on top, but that paid off when we came to the long run in through the school with our bikes. T2 was fast, a quick change of shoes and time to say hi to Martin who was racking as I was heading out on the run. The run was undulating - three laps of the school playing fields - but I kept the effort up and managed to pass a few more - I also saw Amaravati coming in with the bike, still smiling, so at least one of the first timers was having a good experience! When I eventually finished I was fifth behind some tri-suited teenagers, who apparently were vying for some kind of national or regional qualification, so I told myself they must be pretty good! No shame then to be first one home who was old enough to have voted the previous Thursday. Wonder if there's a vet prize?
The first timers seemed to have a mixed experience - they all emerged smiling but there was a touch of shock too at what they'd just subjected themselves to. Over pizza afterwards there was enthusiasm for another event, so who knows - maybe May 9th 2010 was the birth of the Sri Chinmoy Triathlon Team?