Wiltshire 100 Sportive 2013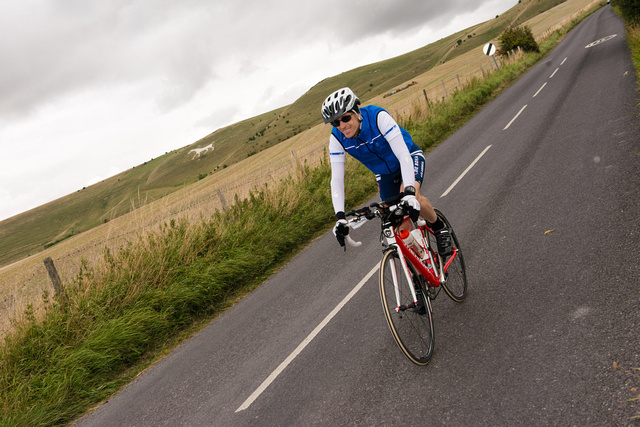 A couple of years ago I entered this event to give me a focus because injury prevented me from running (and therefore from doing any tri/du/aquathlon events) and this year it was exactly the same reason that got me to sign up! A niggle in my foot meant that time on my feet was restricted to jog/walk sessions until the pain goes completely, and that left me feeling fit enough to do an event but unable to run properly – clearly time for a sportive! I can't remember my time from 2011 but I think it was around 6 and a half to 7 hours, and I was expecting similar this time round, though without any "named" climbs this time I expected a slightly easier ride. When a hill has a name, like "Brassknocker Hill" that we did in 2011, you know it's going to be a bit of a beast. Apart from that it was likely to be essentially the same course, but with the start and finish in Devizes instead of Salisbury.
I got there around 6.30 and instantly felt the chill – it was only around 9 degrees but after 30+ in America a week before it felt decidedly cold. I got a jacket on over my gilet and that seemed about right. The start for the 100 mile course was any time from 7am to 8am so when I rolled over the line at bang on 7 I was part of a pretty small bunch, around ten riders. After a couple of stops to clear leaves and other gunk out of my gears (picked up at the start – one drawback of starting on a field!) everything was running smoothly and I was keeping up a steady 16-17 mph. The first part of the ride was through scenic villages, pretty flat, and the sun was breaking through almost straight away. The wind was against us but only a gentle breeze.
In Keevil I had to stop for around 3 minutes for a herd of cows to come out of the parlour and back to the field, but it was the only hold up of the day. Everything went well through the first couple of hours – a couple of gangs of club riders breezed past, but I stayed solo and got down on the tri bars whenever I could. soon I was into the beautiful Wylye Valley and riding totally alone down the familiar road that winds alongside the river, through Steeple Langford and Hanging Langford towards the ancient town of Salisbury. The route took us through Wilton, with its stunning church tower that looks more Italian than English, and then it was on to the busy inner ring road of Salisbury but the route had been well worked out and there were no tricky junctions. Another river valley, that of the Avon, was the route north out of town. All day it was a succession of thatched cottages and gorgeous country villages, quiet roads and sporadic climbs (none too serious). I only made one stop, at the Crofton Cafe to pick up more water.
Just as with a marathon, it was the last few miles that proved the only real test of the day. The last 20 to be honest. I'd got three geo bars down me in the first half of the ride and felt pretty well fuelled, but as the body ran out of carbs and I switched to energy gels my stomach began to protest and I felt a bit nauseous. The back started to ache, the neck and arms were hurting too and my legs were feeling the fatigue you'd expect after training with nothing more than 60 mile rides then attempting a full hundred! I tried jelly babies (picked up at the Crofton aid station) but I was still feeling sick and had to give up on fuel. I kep on drinking and grinding out the miles – surprisingly I felt good inside and my legs never quite gave up – I was overtaking riders from the shorter routes (the courses had merged before Marlborough) and feeling like I might even get close to 6 hours at the finish. As the miles counted down I realised that was unlikely – would have needed a steady 20mph for around 10 miles which was never going to happen – and I was more than happy to roll back on to the green in 6.08. Such a great feeling to be back out doing events – a sportive may not be a "race" as such but it's a great challenge and a significant step on my road back to fitness, to running, and hopefully to another ironman event in the next couple of years.