Weston Prom 5 Miler (Race 1 of series, September 2008)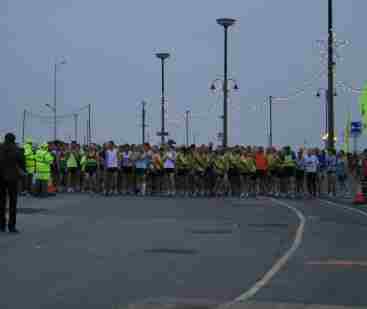 Race number 14 was down at Weston - I think I've run this twice before (not much when you consider it takes place nine times a year) but all I could recall was that there was plenty of 180 degree turning around cones and the course was 100% flat along the prom. Oh, and I think I did 31.25 on my first attempt - can't remember the other. I took the train down to Bristol after work and waited for my connection to Weston.And waited. No show. I was about to get on the 18.30 back home when I thought I'd calll Suswara, my team mate who was also aiming to run the race, and see if he had left town. He hadn't, and kindly swung by to pick me up. Time was getting short. The M5 was a carpark. Time ticked by. We debated how best to handle a late arrival, as we were both keen to run, even though it seemed certain we would miss the start.
As it happened, Suswara dropped me on the seafront at 7.28 and I ran to registration - running away from the start, where 200 odd runners were already gathered - hoping to pay for both of us and get back in time to run while Suswara parked the car and met me with the numbers at the start. Well, the ladies at registtration were fantastic, and told me our two numbers (they had run out of actual numbers, so I just had to remember them!) and I ran back outside. The gun went off as I crossed the road, so I belted over the line and began to make the best of a late start, closing on the huge pack that filled the width of the prom in the rapidly gathering dusk.
I went off wayyy too fast. But I felt good, so I kept on hammering along, slowly working my way up the field. A guy who had registered behind me and started even later overtook, making me feel a bit inadequate:). Club vests came slowly back towards me in the half light one after another as I gained on runners in front, then we neared the turn and I was looking at the leaders surging back in the other direction. By now it was getting dark, and when I glanced at my watch on the return leg, I saw the figure 44, which I took to be 7.44 and therefore 14 minutes after the start - I must be nearly half way. After passing the start in reverse and running up to a second 180 degree turn I glanced at my watch again - still the last 2 digits were 44 and I realised it was on stopwatch showing the time of my last run. Doh! In reality I was now only just half way, and I felt like I'd been going too fast as usual. Still, others were obviously feeling the same and I held my place in the strung-out procession as it snaked back down the prom for lap 2. I saw Suswara and shouted his number to him. Well actually I shouted mine to him by mistake, but I was able to shout a correction when I realised my error.
It went on an on, with me gradually working up the field and one or two coming through strongly to pass me, and when I finally saw the chute and pushed hard for the finish my watch (now on the right screen) was reading something like 8.00.38. So...probably a PB. When the results came out, I saw it must have been, as my race time was 30:12. Did I actually run under 30? I don't think so. I was late at the line, but I reckon it was less than 12 seconds, though I could be wrong. I'd love to break 30 minutes for sure. Anyhow, I was happy with a PB after such a chaotic start and perhaps 30 mins will come my way later in the series.
Suswara had a decent comeback race after a long absence from competitive running (like myself, he collects ailments for a hobby) and we hope to bring a team to the next race with Mark and Fran showing some interest. The Sri Chinmoy AC (Bristol Branch) rides again!