Tour of Torfaen Half Marathon 2008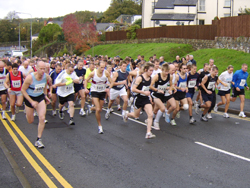 This was race number 16 of the 40 I was trying to rack up in a year. It was also the longest running event I'd taken part in for a couple of years. I hadn't trained specifically for it, but the results in 2008 had all been surprisingly good so I was hoping for a PB (beating 1.25.30 set at Stonehenge a few years back). A nasty bout of what we all call flu, in reality really just a severe cold, had left me a bit drained but I was hoping the enforced rest would work in my favour!
The pre race hassle of getting a bus to the start from the finish all went smoothly - they've got the organisation pretty good here. The rain even slackened off enough to set my mind at rest about my kit choice, and there was only the lightest of drizzly by the time we lined up at the start in Blaenavon. Now, the chat on this race had been mixed - everyone agreed that the first few miles were downhill and fast, some even said the whole route was downhill while others warned of sapping climbs in the latter stages. Who to believe? Well, I was determined to go for it from the gun so I just took off at a brisk pace having set my watch for 6.25 miling to hit the target 1.25 mark.
As the leaders disappeared from view around a bend in the road, I came to the mile marker in about 5.30. Ha! Well, it felt fine, so I carried on. I always do that, I never learn, but it seems to work out in the end. By mile 2 I'd set my season's best for the distance - 11.21 - beating flat out efforts around the Self-Transcendence 2 Mile course in Bute Park. Mmm. It went on that way for a few miles, ahead of schedule but gradually slowing to a more sane pace. The course was lovely - clear, smooth roads flanked by trees in every Autumn shade, and the occasional supporter clapping everyone on. Several times the drizzle threatened to turn into proper rain but it was never enough to be a problem, and you'd have to say the conditions were near perfect.
In Pontypool we turned off-road into a park, probably the first up-slope I noticed, and there were plenty more to come. I was still on for 1.23 or 1.24, and managing to drink a gulp or two at every water station. I was starting to slip back down the field by now, as runners who had held back at the start began to creep up and overtake. By around mile 8 I was really starting to tire, and at mile 9 I was seriously slowing down. Lack of long runs was doubtless to blame, and maybe the fast start, and maybe the virus too. My secret weapon was a caffeine-carb gel so I fished it out and waited for the next water station so I could take it. It went down easy enough, though it threatened to come back up shortly afterwards, and I saw my mile times fading drastically to over seven minutes. The gel helped though, and as I came into Cwmbran and onto a path twisting through an urban park by the river I was able to keep up the pace on the flat, only dying on the slight inclines where my pace fell apart completely. I recognised a few marshals - Colin Lloyd and others - from our races in Cardiff. It was great to get their encouragement, and that from the runners who were by now streaming past me thanks to better pacing and better fitness!
I knew I still had a chance of the PB though, and that helped me drag a better pace out of myself. When I came around a corner to hear from a marshal that I was about to come onto the track, I knew I could do it. Tracks are made of a magic substance that helps you run faster as soon as your feet hit the red stuff, so it came as no surprise when I was able to accelarate around the loop in Cwmbran stadium to the sound of a brass band and some spectators clapping & cheering despite the weather. I staggered over the line in 1.25.06. For a moment I was disappointed not to have cracked 1.25 but then I told myself it was a PB and I should be happy with that!
Maybe next time I do a half I'll feel better before I start and pace it better too - definitely room for improvement. Race 16 in the bag though.