Welsh 1000M Peaks Race
The full course of this amazing race takes in all four 1000M peaks in Snowdonia and covers about 21 miles from the sea to the summit of Yr Wyddfa (higher of Snowdon's two peaks). In 2004 the race fell (!) on my birthday, so I took a rare Saturday off work (for which I thank my colleagues at Run and Become who covered for me) and headed for North Wales.
Being in no kind of condition to tackle 21 miles of mountain, I opted for the short course race, 10.5 miles from Ogwen to the two peaks of Snowdon via the pass of Bwlch Tryfan (between Tryfan and the Glyderau). This involved two decent ascents but only one (albeit arduous) downhill section, as this is one of those rare fell races in the UK that finishes at the summit rather than back down in the valley.
This pic shows the registration point at Ogwen Cottage and the mist creeping down from the pass - true to form, early June in North Wales meant a mild day with persistent light drizzle.From here we walked up onto the hillside to the official start point on a track on the flanks of Tryfan, out of sight of the road and surrounded by breathtaking mountain scenery (shrouded in cloud, of course, hence no pics of the mountains in all their glory in this article, sorry). At the stroke of 11am we were off, picking our way over a rocky ascent towards the ridge. Being a newcomer to this mountain I employed the old "follow the guy in front" method of navigation and fond myself at the pass behind a helpful chap (Andy Creber I believe) from Chepstow Harriers and about two or three front runners who were ahead of him.I'd opted to carry no water, as the mountains provide plenty, though some others were equipped with bottle belts and camelbacks - we all had to carry full kit including neck-to-ankle waterproofs, though some runners looked to be suspiciously lightly laden!
After the pass of Bwlch Tryfan, where the track scales a wall via a ladder-like style, the landscape opens out into boggy moorland leading up to the first check (ghostly figure in mid picture above, behind whom is what I presume to be the Snowdon masif, but you can't see it). At the check you grab a stapler-like device and punch the relevant box on your race number - the marshall warned me that the track ahead did not lead all the way to Pen Y Pass, and some self navigation would be required.
I followed the (uncomfortably rocky & hard-going) path to the point where the vegetation changes - viewed from the bus to Ogwen a local runner had pointed this out as the place to turn off - the hillside changes suddenly from heather to grass at a very distinct point on the fellside. I was slowly contouring across the boulder-strewn flank of the mountain when I noticed a runner from Eryri turning off a few metres higher than me - I caught up with him after fording a major stream and we began climbing around the north-western flank of Moel Berfedd, the minor hill that falls away to the banks of Llyn Cwmffynnon. Soon we were climbing over a style near Pen Y Pass - the Eryri runner (Mike?) mentioned that I and another runner up ahead may have strayed into the "black square" of the map, which means disqualification - this unnerved me a bit but later examination of the map has reassured me that I was well clear (though I was a few metres south of the correct line and will turn westward earlier if I do this race again just to be safe).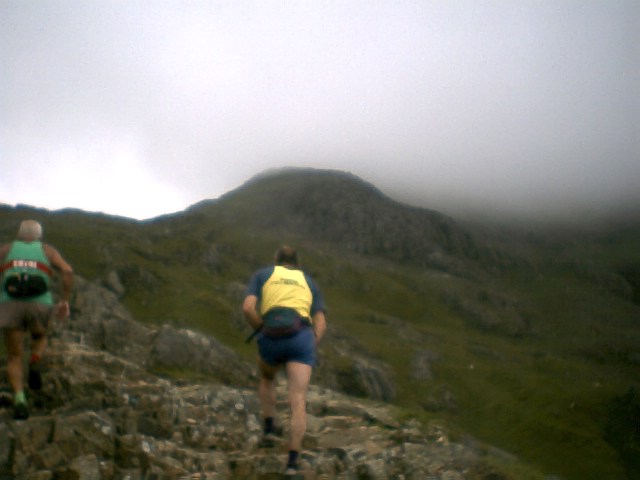 Another runner overtook me as my stopwatch clocked up the 1 hour mark at Pen Y Pass where we went through a check and were treated to a cup of something - not sure if it was squash or something isotonic. Thus far I had been drinking enough from the streams without any hassle to justify my decision not to carry a drink.We began the ascent of the Pyg Track up Snowdon in a pack of 3, the cloud swirling in lower and lower but temperatures still nice and mild. We had a few comments from walkers urging us on, "come on lads" etc. though my favourite was from a walker who gave us a wry smile and exclaimed "have you really not got anything better to do with your weekend?"
The Pyg track is long and stony but easy to follow and not too steep to start with. I was trying to keep up the pace - swapping positions with one of the other runners as we passed and repassed, eyes mostly fixed on the metre of track ahead trying to get a good footing on the loose ground. I was getting fatigued, but happy to be still mostly running (with short intervals of hands-on-knees walking as per your usual fell race style).
At the top of the Pyg track come the zigzags - by now I was pretty finished having climbed steadily for the best part of an hour since Pen Y Pass, and my calfs were going into spasm. The zigzags are steep, and I had to walk backwards on some sections because of the calves locking up on me (this would have appeared surreal I'm sure) - I was puffing like I do at the end of two mile races and sweating somewhat too, but the ridge beckoned and I found myself at the fingerstone (a monolith that marks the start of the descent for climbers coming down off the ridge in mist), staggering off the zigzags into thicker cloud and a ridge with no clearly defined path. I took a right and began a painfully slow ascent to the first peak, mostly walking, leaden limbed, "enjoying" that totally finished feeling you get in the last few miles of a marathon - hadn't experienced that in a race for years as this was the longest event I'd been in since 2000. Its not a comfortable feeling for sure, but I'd missed it. Once through the check point on the peak of Crib Y Ddysgl I was able to run the short downhill section back to the fingerstone and most of the ascent that followed. In the cloud I had no idea exactly where the summit was and just followed the track by the rails that lead up from Llanberis. then it came into view and I heard calls from the marshalls - a final push and I was over the line in 7th place in a time of 2:06. Not bad for a first attempt, especially with my low mileage build-up.
The finish line, as per the picture, is a chute of ankle-high hazard tape flanked by two cheery marshalls - I'm extremely grateful to these awesome characters who turn out in all weathers to make races possible, staffing the checks and finish, registration etc. Without them there would not be any races.......
After crossing the line I exchanged a few words with other finishers and made my way to the actual top of the summit cairn (which is the size of a small house) for a short meditation (now I'd stopped moving I was a little cool and couldn't stay long).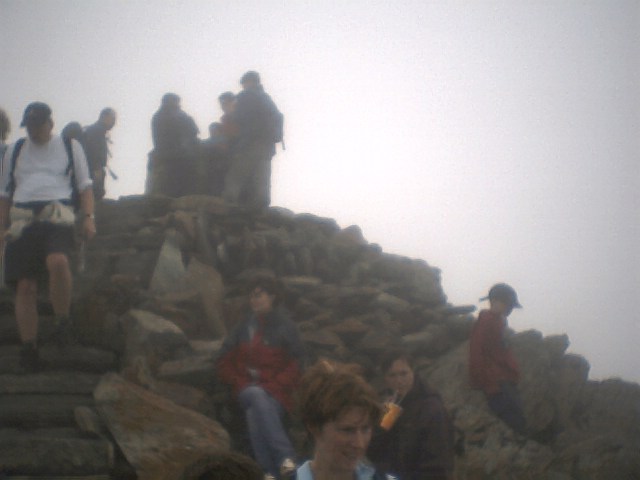 A walker offered to take my pic with the medal, and although he cut my head off it seves as a nice memento of the race.
As you can see (just) I was exhausted but very happy - a great way to spend my birthday. Once reunited with my bag (brought by race organisers from Llanberis to the summit cafe) I got some more layers on and headed for the train - return ticket holders get priority but luckily I wangled a seat for myself and slept most of the way down to Llanberis - just as well as I then had a 4.5 hour drive home. Next time, the full 21 miles and 4 peaks.......er, I think so anyway.