Severn Estuary 200k Audax 2016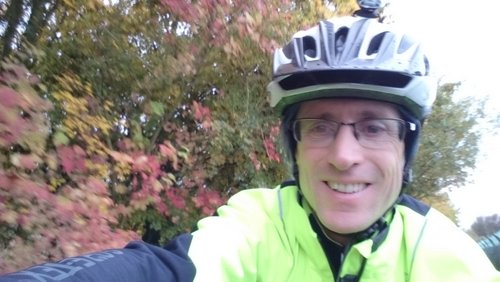 I was expecting this to be a tough ride, but not for the usual reasons! Since my last 200k I'd swung straight into hill training, riding up from the A38 to Dundry 3 times a week flat out with backpack and work gear on my back as part of my commute and managing to knock 20 seconds off last year's climbs which made me optimistic for the Burrington Combe event. Sadly it was not to be - the virus that was going round my workplace and our centre too finally hit me and I was off work for 4 days then feeling pretty lame for quite a while after that. As the end of October approached I still felt fluey and was coughing too much to subject my fragile lungs to 200 hilly kilometres in dubious weather. I spent the intended day of the ride - a scheduled Friday off work in lieu of working the previous Saturday - resting and just spacing around the house. I still wasn't better but at least I felt some improvement so on the Saturday morning I rode out to Chipping Sodbury (and extra 16k) to start the ride there - keen (and also slightly desperate) to somehow get round my 200k before I ran out of month!
I was riding the route anti-clockwise, starting in the dark but hoping to only have a couple of hours of night riding at the end. It was a gloomy and cool day that began with persistent drizzle but fortunately (with M5 and M48 bridges to cross later) hardly any wind. The new goretex Oxygen jacket (courtesy of Cycle Scheme) was going to prove its worth. From Sodbury it was a route down familiar lanes to Pucklechurch, the sky lightening to reveal misty fields and pre-dawn silence. Gradually the drone of the motorway and ring road became noticeable and I joined my long loop to work training route at Siston Lane. Other lovely with less in the way of kit and baggage passed me easily and I realised that while I felt OK, there was definitely a post viral fatigue and I was underpowered. All went well enough through the first control at Keynsham until I got to the A37 and found the turning into Chew Valley closed. I could have tried my luck and headed down just in case there was room to wheel a bike round, but the signs said "closed at Belluton Narrows" so I imagined it might be fenced off at the cutting with no room to pass. There was nothing for it but to follow the diversions which took me right down to the A368, the main road along the south flank of the valley. I was unsure how far out of my way I was going to end up going, but when I saw a sign for Chew Magna and Chew Stoke I chanced it and fortunately I came back on to my route, clocking in at the cash machine in Chew Magna for my second Control.
My route carried on along my familiar commuting/training course until the A38 near Winford - persistent drizzle was still persisting, as it tends to, but I was feeling just right in my gear (cool, dry, hands OK, feet OK). So far so good. I followed the first choice route down a bikes-only lane, recently hedge trimmed so a bit of a puncture risk, but I came through unscathed. Next was Barrow Gurney then on towards Nailsea. Here I would normally pass through Nailsea to the edge of Clevedon then loop round a flattish route to Portishead but the routesheet had other ideas and the tough climb at Wraxall Church tipped me out on top of the plateau before a long and easy freewheel down to Clapton in Gordano. Portishead High Street was my third control, with a cheese toastie at Costa serving as my second breakfast. Still feeling slow but OK. The only ways out of Portishead towards Bristol and the Bridges are the unnervingly fast A road Portbury Hundred or the tracks out of sheepway, so I opted for the latter and found it reasonable going. I wouldn't fancy that gritty surface on my racing bike but the Audax/Commute machine has 25c tyres and they did the job.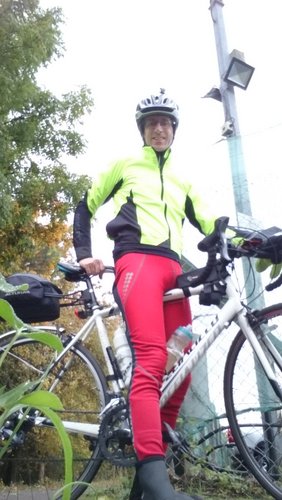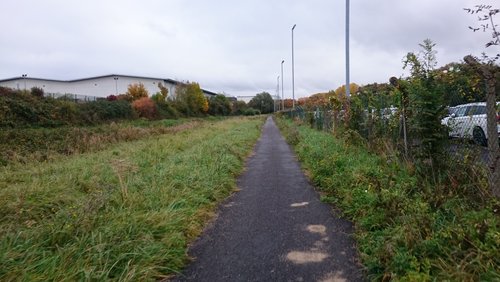 After the interminable A road past Aust I got to the Severn Bridge and allowed myself a pause to soak up the bleak but lovely views over the water. Knowledge of the distance already covered at a slow but steady pace lifted my spirits and I was enjoying reeling in the miles over the Severn and Wye bridges and up into chepstow.
After coming through the old archway into the High Street I visited another cash machine (yes there are a lot of controls on this route!) and ate a couple of small tubs of rice pudding while sending Kokila a text to let her know I was still on schedule for 12 hours - just about! Next came an easy descent to the Wye which the route crosses on Chepstow's old and beautiful bridge, with views of the dramatic castle hanging over a bend in the Wye. From here I was expecting some hard climbing and I wasn't disappointed - the road wound up and up into the high ground overloking the deep gorge of the Lower Wye, with occasional glimpses of the river and the Welsh bank through gaps in the trees. Even after gaining height it was still all ups and downs to St Briavels and then on to Coleford where I was hungry enough to have another proper stop and fuel up with a full veggie breakfast. Kaplan's cafe - highly recommended if you need a Coleford control any time!
Their receipts come with the right time and date, which makes a change. There was more climbing after Coleford, up into the Forest of Dean proper on scenic roads with every Autumn colour blazing on all sides, despite the heavy cloud making it otherwise dull and gloomy. After Cinderford I followed a route I knew of old, down into the Severn Valley, passing the dutch water gardens at Westbury Court and then along the surprisingly friendly A road to Gloucester. The A40 round town is a bit hectic but thankfully you get to turn off on the A38 pretty soon then hang a right through Down Hatherley to circle round to Cheltenham. This section was a long haul with plenty of A road so I made good time but felt quite flat when I finally touched down in Cheltenham. I reached a garage with outside portaloos so I locked my bike to a railing and grabbed a twix and some canned drink that went partly inside me and partly into my bike bottles. The receipt said Cheltenham so although I wasn't exactly in the City Centre I knew I was good to head straight down the A road to Stroud.
Tired now. More hills, compensated for by the epic vistas over the Severn Vale, then down the Painswick Valley to my one-time home of Stroud. Light was just beginning to fail now so I got my lights back on, only to find that the rear flasher was flat. I popped in 1 of my 2 spare AA cells and carried on. Then the front light dropped to 2 indicator lights from 3, indicating it was soon going to go flat and needed a new battery pack. I switched it to flash mode and decided to change battery packs at the next stop, not a control but an extra stop at Nailsworth where I had decided to break up the stage in order to get another drink and check the route before the last really hilly section over to Wootton. I was also planning to call Kokila and let her know I'd be pretty much on time for the 12 hour finish so she could meet me at seven thirty in chipping Sodbury as planned. Unfortunately my spare batter pack turned out to be a dud and my phone had gone completely flat. I got my spare front light out and the batteries in that were low as well! My illness before the ride had mean't I hadn't been riding regularly and all these things I would have been aware of from commuting were coming as an unwelcome surprise. Things were starting to unravel, but at least I had the 14 hour cut off so I was going to make it. Surely?
Night fell as I took the new AA cell out of the back light and put it in the spare front light. I was suddenly unsure about how good those spare cells were - had I picked up the right ones or some nearly flat ones? I clearly had the wrong battery pack for the front light so I was suddenly doubting myself. Luckily I had 2 other back lights so I got those on flash mode, but I wasn't confident to use the spare front light in case it ran out at the same time as my main Britelight Duo (one of those chinese Cree LED jobs) which I now had running on flashing mode only. Anyway, I was now faced with a tough stage over steep, winding and unlit roads across the Cotswolds from Nailsworth to Wootton with no phone to navigate with, less back lighting than usual and only a flasher on the front. I headed out of Nailsworth hoping for the best.
Somehow I must have misread the instructions - perhaps a combination of illness, exhaustion and the mental challenge of my situation (phone dead, Kokila expecting to hear from me, the hynotic effect of a powerful light on flash mode with no other lighting, etc, etc.) - anyway, whatever the reason I must have gone wrong up on top of the high ground after Nailsworth. Having conquered the climb I found myself descending on a road that didn't seem to match the routesheet. There should have been a turning to Wootton but I just wasn't seeing it. Had I missed it in the darkness? I carried on down, surprised to be passing through Uley which wasn't mentioned in the directions, hoping I really was heading for Wootton and not somewhere off-route like Dursley! I got to the bottom, greeted by the Dursley sign. Doh! Fortunately there was a phonebox so I was able (after some faffing - you had to key in a credit card number) to leave a message for Kokila that I was going to be pretty late at Sodbury. Then I had to find my way without the phone. I could have gone back the way I came but that was a massive climb and I was sure there was a quicker way. I asked around but no-one out in Dursley on a Saturday night knew the way to Wootton. One finally suggested I head up a lane towards a golf course where I would see a sign for Wootton, but the first sign I saw was for a 20% climb - the road was wet and mossy and my wheels started to slip - I just didn't have the strength left to battle my way up while sitting back in the saddle to avoid sliding so I admitted defeat and headed back into Dursley central. I wasn't yet at the desperate stage but not far off! There were signs to Tetbury, Gloucester and Stroud so my tired brain chose the A road towards Tetbury, feeling certain I would cross the route I should have been taking to Wootton.
The climb back up the Cotswold escarpment was long and tough, with the flashing light now accompanied out of necessity by the "spare" front light so I could see the road properly. Fortunately it wasn't showing any signs of running out of charge. Once on the plateau above the climb the first sign I saw was for Wootton - hallelujah! Down I went, well relieved to be back on course. I got a receipt from a cash machine in Wootton and called Kokila one final time, this time actually getting through to let her know I was 45 mins away. Luckily she'd brought a book and was not unhappy to be sat in a cold car on a cold dark night in Chipping Sodbury. Amazing. Again the routesheet or my brain was a bit vague and I needed to ask directions to get out of Wootton on the road to Wickwar but the advice I got was good and I made it to Sodbury without incident - lights still working but power in the Duo getting dangerously low by the time I finished. Turns out I had the wrong battery pack - wrong voltage meaning it showed as "fully charged" when I plugged it in but wouldn't actually power my light! Anyway it was one of my slowest rides of the year but, thankfully, it was well within the cutoff and I had made it round. 2 more to go!