Self-Transcendence 2 Mile Race, New York, August 23rd 2008
Race number 11 of my 40 came during the Sri Chinmoy Centre "Celebrations" in August 2008. I have been doing these races for about 14 years now, since my first trip out here in April 1994. The course is a loop of just under a mile on pavements and roads around Jamaica High School in Queens - part of the route is along the same road as the world-famous 3100 mile race which takes place here every June/July. In fact, I spotted at least one veteran of that race (the world's longest) lining up at the start, along with many who had completed our marathon in Rockland State Park just a day earlier on August 22nd.
In my case, I had just been lead cyclist at the marathon (a slow 26 miles on the bike keeping a clear path for the leaders as they lapped the rest of the field) so I was fresh, and totally free of excuses - if I didn't run 11.30 in these conditions then questions would be asked of me (by myself). I warmed up slowly for half an hour, throwing in a few strides and lots of stretches, chest & sides as well as legs. Two miles is one of our favourite distances as a club so I have done enough to know what I need to be ready! When we gathered on the line in the early morning sunshine I was looking forward to a good, hard run and maybe an improvement on my season's best of 11.29.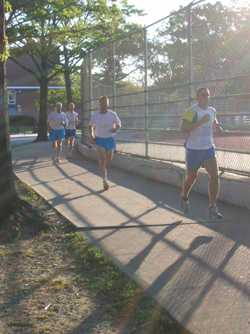 We began with the recitation of one of Sri Chinmoy's "race prayers", which he used to compose and teach to his students, either before or after the Self-Transcendence races he attended. On this occasion, the prayer-poem was:
My Lord, I have won your victory-face, by running every day your morning race.
That gave us something to meditate on during the brief silence that followed then Sundar called us to our marks and we were off around the bend in the street and up the slight incline towards Thomas Edison School. I have so many memories of this course - not just two-milers, but two 47-mile ultras, three 12-hour walking events and more. Most of us in the Sri Chinmoy centre know this loop like the back of our hands. Like many spots here in the Jamaica area wherer Sri Chinmoy lived, it's very special to us, one could even say sacred.
I went off hard, finding myself in a pack with Italian, Dutch, Czech and Australian runners around me, all guys I knew of course. Although Ondrej from Prague had run the marathon the previous day, he was going for it, and I found myself hanging on parallel to him as we rounded the bend and passed the ranks of watchers and the girls waiting for their race which would follow the boy's event as our numbers were too great for a mixed race.

Our pack held together up the short hill and around the curve to Goose Pond Park, past the start line and back around to the halfway point where Utpal called 5.49 or 5.50 as we passed. Well, I hadn't started this race with the intention of running just another 11.40 so I dug in and upped the pace. The guys around me did likewise, and the second lap was a breathless effort that brought me in with a best time of the summer of 11.25, edging ahead of the rest of our little pack apart from Giovanni who was too fast for me even after his 26.2 mile warm up the day before!
I was glad to have improved, and to have race number 11 under my belt, especially as it was one of our own, on the hallowed tarmac of our favourite course.