Peace Ecstasy Sky 2014
"The River Severn, the River Wye, are giving us Peace-Ecstasy-Sky"
That couplet from a song by Sri Chinmoy kind of sums up our trip on the Wye! There were 6 of us attempting to paddle 50km in a weekend to commemorate our centre's 50th anniversary. Most of us weren't born in 64 when Sri Chinmoy came to the West to teach, but that's what we consider the founding of our centre and there were many events this year marking the 50 years.
We started at Glasbury, not sure if we'd manage the distance (a lot further than the canoe-hire guys recommend on The Wye) but keen to give it a try. The sun was warm and the breeze gentle - water levels low, but not so low that lots of dragging the boats was expected. Good conditions, but without a lot of current to help us clock up the distance.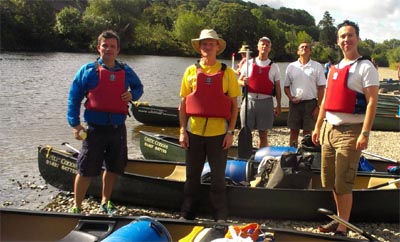 Paired up in open boats, we headed off towards Hay and immediately had to relearn our tandem paddling skills as it had been a while. Adam and I had spent more time paddling than the others in recent years, while some boats (i.e. Karteek and Prachar) were zig zagging and probably clocking up lots of bonus distance without covering much in terms of river miles. I'd paddled this stretch a few years earlier and remembered that there were lots of shallows and small rapids - nothing likely to tip a boat, but good fun and easy paddling.
We came in to Hay after an hour and a half which meant we were on schedule to cover the distance we needed to set up the 50k - because of the spacing of camp sites, we would need to do about 36k on the first day an 18 the second, so it would be a major effort on day 1 in the sun and a tough but short paddle on Sunday as heavy rain was forecast.The boats were laden with tents, cookers, food and all our other clothes and camping gear, so the lighten the load we had a long lunch break at Hay and ate wraps, fruit, cakes and whatever else was in the bags. It made for an extended break, but that allowed us to see someone fall out of a canoe just as they passed us - we applauded in a good natured way but he didn't seem to share our sense of fun and there was no cheery acknowledgement in return! Back out on the river having lost a bit of time, we were paddling in a better rhythm and soon passing other canoeists on this popular stretch of the Wye. All along the route there were regular mini-rapids for variety (only very small drops - grade 1 stuff) and regular shallows where the lead boat would run aground and have to be dragged back into the deeper water. The scenery was stunning, and for most of the day the sun shone brightly on the water.
We reached Witney at around 2pm and well on schedule - here there was no shop or cafe in evidence, only a pub (The Boat Inn) so we supplemented our camp food with chips and tea - this led inevitably to another long break but we got away at 2.45 determined to paddle hard to Bredwardine. On this next stretch we had our only mishap - a fallen tree had lodged mid-stream on a small rapid with a narrow channel, and in attempting to dodge it Adam half-turned his and Prachar's boat - this led to the cooker, lots of bags and food and also lots of sheet music (Prachar of course is always learning songs) becoming strongly identified with the waters of the Wye. We took this as a sign that it was time to stop for our final break and so there was time to retrieve and dry out pretty much everything.
Then the final of the 4 sections - from just after Turners Boat to beautiful and dramatic cliffs of The Scar, where the Beech Trees seem to be falling riverward in slow motion - then Bredwardine Bridge and past the surreally perfect manion at Moccas Court - finally into the home stretch and landfall at the camp site at Byecross at 6.30. Tired but happy to have made it we had our tents up in no time and dinner on the go, also a fire lit and cups of tea and hot chocolate. Not frequent campers by any stretch of the imagination, we seemed to have all the boxes ticked nonetheless. All was set up for a final 4 hour paddle via Monnington Falls to Hereford, but alas the canoe hire company were mindful of the worsening forecast and called time on the trip - we had to be picked up from Byecross on a rainy Sunday morning and our 50k goal was not to be. Still, we had a great trip and pushed ourselves hard to go the distance on day 1 - sore muscles and stiff backs attest to that! We enjoyed ourselves amid some beautiful scenery and dedicated the paddling, and the rainy camping, to Sri Chinmoy, 50 years of his teaching and the oneness of the Sri Chinmoy Centre.
4