Joy Day 2 Mile Race May 2013 Mas De Bruyere
Runners always like to get their excuses in first, and on this occasion mine were pretty good! This was my first 2 mile race since my 2 cardiac arrests about 7 months before, but the main thing holding me back was the injury sustained in a mystery bike crash on March 21st. I say "mystery" because as well as wrenching my adductor muscles so badly I could hardly walk, I lost my memory from the blow to the head I also sustained (hard enough to break my Specialised helmet) so I've no clue at all what happened!
Anyway my head wasn't damaged but my groin muscles certainly were and I was having to phase myself very slowly back to walking, brisk walking and then short jogs. No fit state for a 2 mile race on the side of a hill in the Cevennes (north of Montpellier) but I wanted to be part of the race so I went down at 7am intending to walk most of it and jog here and there. Nidish and Udarka had arranged a 2 miles course that took in 4 repetitions of an out-and-back section of lane that ran from the public road up past our gite to the hillside.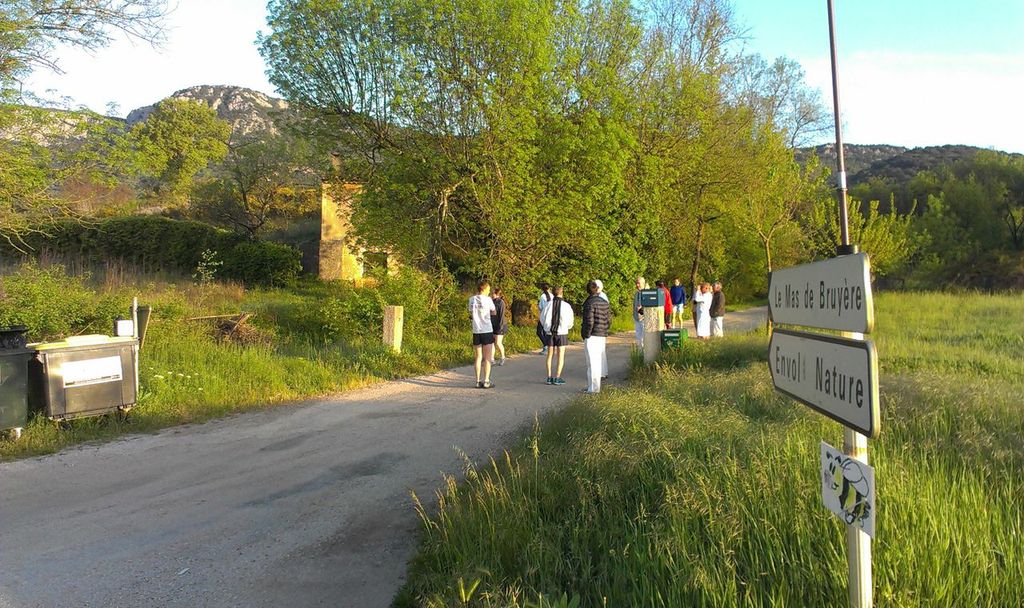 A classic up and down with a chair placed in the middle of the track as our turnaround point! We meditated for a minute or so to the sound of birdsong and chattering frogs in a nearby pond then we were off in silence up the lane.
I used to struggle to hold myself back in races but after all the injuries (and now illness too) that my poor body has been through I find self-restraint no problem at all! So I speedwalked off towards the hillside, enjoying the cool morning air and feeling a hint of warmth in the sun already although it was barely up. Lap 1 was all walked - both up and down - lap 2 the same. But I got more confident in the second half and walked both uphill sections plus the last couple of hundred yards to the finish. I can walk pretty fast when I go for it so I didn't come last! Well, I was last of the boys but I still managed to stay ahead of 1 or 2 of the girls, so you could say I was last in my category which is fair enough. 23 minutes for a 2 mile race!
Well that's my new beginning as far as racing is concerned - if I am fortunate enough to avoid further disasters I should be able to improve steadily. Who knows maybe I'll get back down under 12 minutes? I've no idea how my lungs are going to be, even assuming my injury heals fully, so it really is anyone's guess.
Lovely to be part of the race though on such a beautiful and soulful morning.