Garth to Llantrisant Forest MTB 2007
I left a rough route for this one at http://www.gmap-pedometer.com/?r=1380825, and you can also follow it on GetAMap.
I started at the foot of the Garth on a cool but crystal clear day with a camelbak full of water, spare tubes, the requisite tools for most emergencies and a stack of energy gels. The idea was to get a moderately hard ride in along a section of the Ffordd Y Bryniau route - a footpath that runs from the ridge above Brynna past Cardiff towards the hills near Machen and Rudry. This section from the Garth to Llantrisant looks great on the map as a run but how would it be on a bike?
Straight away on the section from the Garth to Ty'n Y Coed I found myself having to lift the bike over fences and also tackling some steep downhill in the pine plantations. It was lovely countryside - sun slanting down through the pines and the going soft but easy underfoot (underrwheel?). The 1:25000 map was not really adequate for routefinding in a forest (what map is?) so I found myself lost, off the route, and following the contours to get back on track, lifting or pushing the bike over fallen trees before I finally got back on a decent path. The road section was a quick blast of speed before I was pushing and carrying again on steep slopes up to Coedcaerau Bach and the hill fort. The path around the base of this hill was great, and the long, stoney bridleway down to Cross Inn was exhilarating. Once at the bottom of that descent I saw that my rolled up map had leapt out of my bottle cage so I smiled a tired smile and retraced my route up the hill to pick up the map and bomb down the bridleway for a second time.
Views from the Rifle Range (as it calls it on the map) were stunning, and with some helpful directions from Llantrisant residents I was soon back on the Ffordd Y Bryniau on the path that contours along Y Craig - pic below shows this eminently bikeable path and the top photo was taken from here too - it shows the end section of the ride (Mynydd Gwarthmaelwg).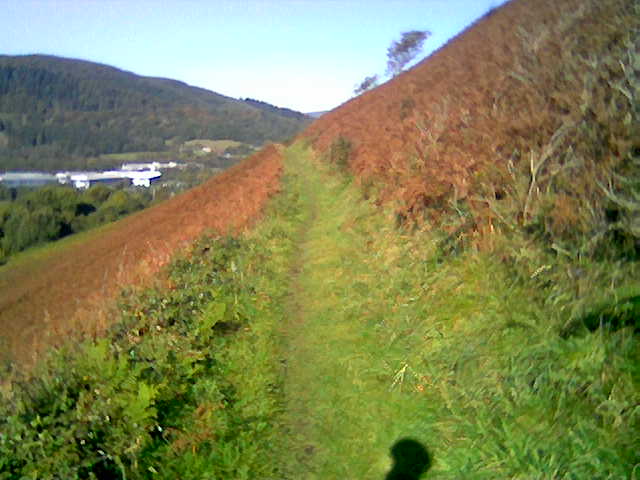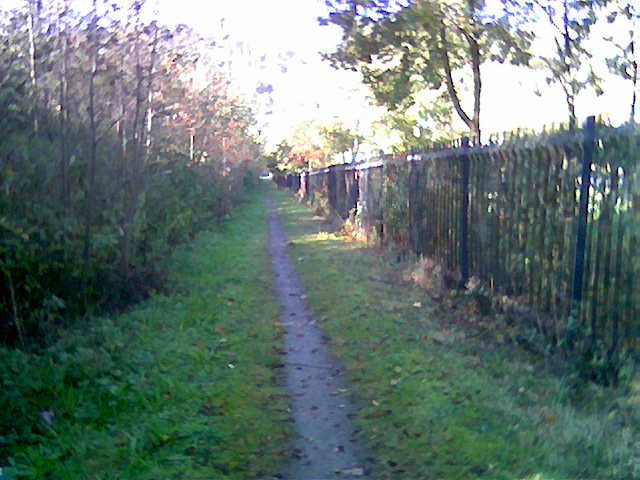 I found the way easily enough up to Ynysmaerdy and then began the steady climb up into the forest. I turned off a little too early and had to push a fair bit on a trackway that was too steep to ride (couldn't keep the front wheel down) before I emerged on the forestry road that runs for a mile or so in a circle around the mountain. This road has loads of twists, turns, ups and downs and is a really great place to hurtle around on a mountain bike so I did two or three laps before I found the way down - a stoney path which is part of the F-Y-B but may be a bit steep to ride up.There were great views where the woodland opened out and the forest smelt fantastic - a rich scent of pines sweating in the Autumn sun.
After my laps of the forest I rode back to the Garth hard on the roads - some of the lanes were fabulous - no traffic to speak of, quiet and with excellent scenery. Once back at the Garth I had to try and ride to the top even though my legs were finished after three hours of riding. A group of students were walking up ahead of me and I found myself struggling to overtake them in my lowest gear - Once past them my legs hurt so much I was desperate to stop, but I would have looked a bit daft giving up so I soldiered on for the top where I pretended to look at a map while slowly regaining consciousness after the knackering ride. I hadn't pushed myself in any form of exercise for that long for many months, and it was great to feel that hammered that my legs would hardly move! I really had missed that feeling. Back down the Garth I finished in a total of just under three and a half hours, with the reward of a flat tyre on the car! Oh well, at least it didn't happen on the bike.
All in all this was a great way to spend a few hours of such a perfect, cold & clear day pushing myself again after a long, enforced break and just soaking up the beauty of South Wales. For me, the kind of nature-meditation I can have in these surroundings is never as intense or fulfilling as the kind of deeper and more real meditation I get at my own shrine or if I'm lucky enough to be in a group of seekers meditating together. But, that said, you just can't fail to absorb some of the peace and purity of the forest as you ride through, with your heart and lungs working hard and your legs even harder.