Gower Triathlon 2008
My third tri, and my first competitive sea swim!
I camped out in a reserved triathlete field at Banks Farm, high above the beach at Port Eynon with the sound of the waves drifting up from the shore. With 7am start, I was aiming to get up at 4, and as usual when I have to rise early I only slept intermittently. Still, with the soothing sounds of the sea and some really pure air to breathe all night I felt pretty good when I woke for the final time at 3.50 and got stuck in to a powerbar for breakfast. After my usual morning meditation in the gloomy pre-dawn I was off in the car to get to transition for 5.15 and have everything set up so I could relax before the start. Obstacle one came unexpectedly when I could find my way out of Banks Farm but struggled to find the route to Port Eynon less than a mile away! I wasn't the only one - I passed another competitor coming the other direction, then we passed again a few minutes later both having given up and done a U-turn. Finally, after a stupidly long detour out to Penrice Castle, I found myself at the beachfront ready to rack the bike and get myself sorted.
As start time approached, the 120 odd entrants rolled up and started to get bikes into transition - it was dull and with a light, slightly chilly breeze. Just as the briefing came around we started to get some drizzle, so it was a relief to get in to the water for the five minute warm up. And surprisingly warm that sea was too. The "3, 2, 1, GO!" caught a lot of us by surprise as we were still lining up, then I experienced for the first time the notorious congested start of a tri swim leg, with arms and feet coming at my face from all directions. Fortunately I kept my goggles on OK and settled into my own lane pretty quick.
The first buoy came around quite soon - this was my first sea swim and the buoyancy was really noticeable, keeping me flat in the water where I could pull pretty well and feel like I was making decent headway. Once round the buoy and heading out to sea, I got separated from the pack, and it felt like I was swimming a more direct line to the seaward buoy than everyone else but this could well have been an illusion. I kept sticking my head up to get a sighting and had to constantly readjust my heading as I zig zagged through the water. Swimming in a straight line suddenly seemed very tricky. As we got further out to sea the waves got bigger and I felt myself lifted up and pushed around by each one, struggling to keep sight of the buoy. After turning landward again I went really off course, ending up in the boat lane (two lines of parallel buoys running shoreward to guide craft to the landing area) where a canoeist pulled up in front of me to shepherd me back towards the beach. In the end I had swum for 21 minutes, despite feeling strong throughout, so I must have swum more like 1100 metres than the required 750!
Thankfully, transition went really well - coming out of the water we were all cheered up the beach by the spectators which gave me a lift as I wrestled my arms out of the suit, jogging up a narrow boardwalk and into transition. Then the suit came off more easily than every before, and I was out of T1 in 1:04 - better than I'd hoped. The bike leg began with a steep climb out of Port Eynon, and I soon felt strong enough to overtake and start moving up the order. In fact, it carried on like that for the whole 25k. The course was beautiful and varied, taking us inland and over the moorland ridge of Cefn Bryn, then round in a loop through tiny farming villages and narrow lanes back to Port Eynon. There was lots of climbing, and I felt surprisingly good on the hills, coming out of the saddle and "attacking" (I now call it that having watched Le Tour on Eurosport) on the ascents. On the downhills I took it easy - there were sharp bends and single track roads to contend with, after a rainy night too, so I wasn't taking any chances. Fortunately, as I came back into the village after fifty odd minutes on the bike I hadn't been overtaken once, and I felt ready to go hard on the run.
T2 was straightforward, and with running shoe on I headed out onto the sandy course. The run route was a little confusing, being two laps with a variation at the end of the second lap for the finish, and this was the only section where I could have done with better signs or marshals...that said I didn't take any wrong turns so all was well. After a short stretch of sandy lane we were on the boardwalk and running past the Culverhouse Hotel (highly recommended) and on to the dunes. Here there was a mix of boardwalk, soft sand and grass/heather pathways providing lots of changes of pace as tired legs struggled with the hills and turns. As usual this was my strongest part of the race, and I came to the finish 34th out of the 124 and feeling fantastic. It's a great finish line, running down on to the beach and back towards the sea.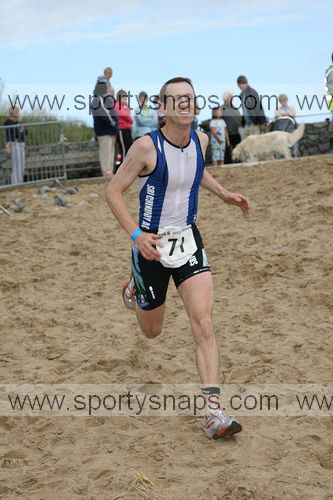 Photos are by Sportysnaps.com as you can see and do intend to buy one as I look so happy at the finish! As you can see, the sky had cleared by the time I crossed the line and the rest of the day was gloriously warm and sunny. Come to Gower, and if you can, come for the Tri.