Gospel Pass 200k (Audax "Permanent") November 2014
In my fell running days (soon to be resumed, I hope!) I discovered the Gospel Pass and fell in love with the dramatic views of the Black Mountains and the magical Vale of Ewyas. Now I'm concentrating more on cycling than mountain running, I set my sights on the 200km bike route from Cheltenham, throught the Gospel Pass from the north and back via Monmouth. This was my first attempt at a "Permanent" - an Audax route that you follow with a route card, collecting stamps or receipts on the way to prove you comleted the course. After last winter's 200k taking 10:59 I was determined to get through this more mountainous course in a quicker time.
The start point was a Sainsburys car park on the edge of Cheltenham - the cash machine reeled off a rather alarming overdraft balance, with a time stamp of 7:05, which was my official start time. Still fully dark and cold, but thankfully dry, the conditions were typically Autumnal, meaning anything could happen. At least it had been cloudy overnight - no ice or frost. Heading out of Cheltenham I was very soon on B roads that gradually traversed the wide, mostly flat valley-bottom of the Vale of the Severn. Everything had that cold, damp, grey-and-green feel of the english Autumn, with mist clinging to the fields and mud spreading into the road from the farm gates. I kept the pace at around 24kph, not fast by my standards but at 204k this would be my longest ever day in the saddle. Preparation had been a bit rubbish thanks to a nasty cold virus (call it man flu if you prefer) that mean't I'd only got one properly long ride of over 100k in since my last event in early October, but I felt in reasonable shape and very determined to break that 11 hour mark.
The first control came at Hoarwithy, 50km into the ride, by which time I'd recognised a few sections of lane from my previous 200k ride, including an ancient wall near Kings Caple. Criss-crossing these roads and trails on bike, in a canoe or running has been a pastime for around 15 years now, so each time I pass a point that's lodged in the memory it gives a sense of an endless journey - like a timeless marathon that keeps getting resumed. Timeless is definitely the word for this area between the Severn and Wales, rural and sleepy just after daybreak on a Saturday morning. The only people around were those boxing up their horses and driving off to a meet of some kind - point to point by the look of it. Then there was the odd dog walker. And me on the bike.
The sun was well up by the time I got to Hoarwithy. Nothing was open so I headed straight on to try and pick up a receipt at one of the alternative controls. The first of these, a Londis that I'd visited before on a different Audax, was also closed. In fact with the newspaper signs decaying and the building looking pretty shabby I had a feeling it might have closed down. So, I pressed on and found the next control well and truly open. This was a Londis Express at a garage around the 66k mark - there was a long queue, probably as it was a local hub selling food, hardware and even ammunition as well as petrol. I stayed long enough to use the loo and then head inside to grab a drink, but by now the queue was even longer and I was starting to feel impatient to get moving again. In the absence of any mineral water I grabbed what I thought was an own-brand clone of lucozade, and some rocky road and fudge bars for emergencies, then paid quickly before filling my bottles and getting back on the road. Later I discovered that the drink was actually own-brand red bull! Well, it helped me over the mountains but might have been partly responsible for my energy dip later on.
From Hoarwithy the route meandered into the Golden Valley, with its dramatic church at Peterstone. A quiet and insular place, this valley runs along the fringes of the hills around the border and eventually the road leads to a high point overlooking the larger and better-known Wye Valley.
Golden Valley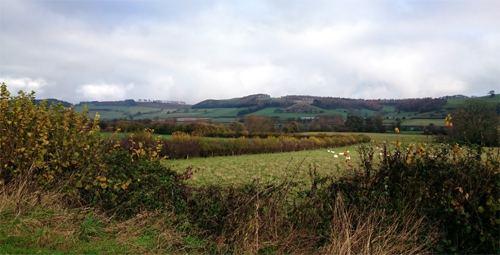 Hay came next, time for a sit down on a bench by the cash machine, looking out towards the hills. I was eating my way steadily through a bag full of energy bars plus the stuff I'd picked up at the garage, determined not to blow up like last year. From Hay, the most exciting section of the route began, over the pass itself and into the Black Mountains. I hadn't ridden this "Forest Road" before, so it was a revelation. This has to be the best way to approach Hay Bluff. The road winds up through mixed woodlands and hillside farms, wet and twisty with occasional steep sections that got me out of the saddle in low gear. Numerous cyclists came the other way, but only one or two cars. Finally the road broke out of the woods and into the uplands themselves, the escarpment of the Black Mountains lit up by sunshine in some places and hidden by brooding clouds in others. Hay Bluff looked spectacular, Twmpa too, but it was too cloudy to see the long line of bluffs heading west that you can sometimes see from here.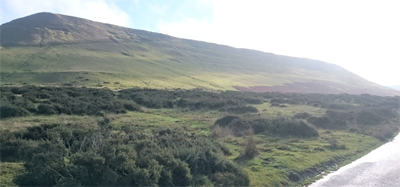 Once through the pass, the wet road shone like silver, threading its way down the Vale of Ewyas between russet and green mountainsides. Llanthony beckoned, just over half way and clearly the place to stop and do some serious refuelling.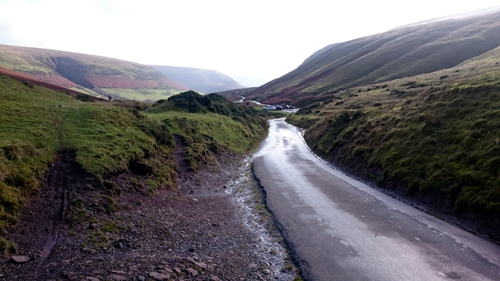 The ancient priory ruins are dramatic in themselves but it's the setting that makes this place so impressive. Add to that the bar/tearoom in the vaulted cellar and it makes a perfect stopping place.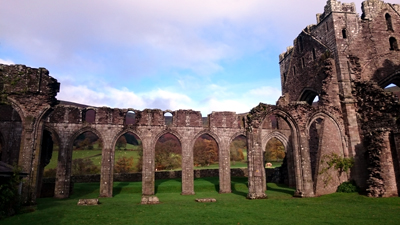 I tackled a basket of chips washed down with tea - felt I needed a change from sweet foods, bars etc. It seemed too stodgy but I managed to eat most of them. And the tea tasted amazing. Around 1pm I was back on the bike and enjoying the downhill towards Abergavenny. I knew there would be some climbing between the end of the Valley and Monmouth, then again a big drag over the Forest of Dean, so the downhill was more than welcome.
The next section was new to me - I'd never taken the tiny roads around Grosmont before. This was actually a very challenging (all up and down) section but very beautiful too. Quiet, hilly countryside with dramatic views through every gateway. Eventually I reached Grosmont and stopped just long enough to take a pic of my bike by the Post Office to prove I'd been there. Then it was along the side of the Monnow Valley to Monmouth, where I grabbed more food from a health food shop and snapped myself by the historic Monnow Bridge (you can see it just over my shoulder).

Now the hard work began and the time target began to look tougher than expected. The climb out of Monmouth into the Forest of Dean is long and sapping, but I got up OK. It was starting to get dark as I began the ups and downs over the dome of the Forest itself, sticking to a decent road for quite a few miles. When I arrived in Cinderford I was feeling very tired - the process of getting a receipt from the cash machine and eating a couple of bars must have taken me about 15 minutes as everything was slowing down. Then came laborious climb out of that strange little town and a fast descent to the A48. I was worried about sweating too much and then getting too chilled when night fell, but it was chilly already so I stopped again and pulled on my waterproof jacket. This had a remarkable effect - I must have been getting reallly cold without noticing, because within a few minutes of getting that extra layer on I was steaming along the A48 at a decent pace and feeling much, much fresher. Now 10:30 was in my sights.
A succession of turns between Gloucester and Cheltenham confused me and at one point I thought I had gone wrong. I retraced my route, wasted 15 minutes exploring and looking for another turn only to realise I'd been right first time! Now the time target was looking much harder to hit and although it was pretty much an arbitrary and self-imposed goal, I was desperate to beat my last year's 200k time. Head down in the darkness I made a big effort into Cheltenham and found the car park where I'd started. Fumbling with my cash card I finally clocked out at 17:50 - a time of 10.45 even with that unfortunate detour near the end. I was well pleased with my effort for the day - a small improvement is still an improvement - and I'd seen the amazing Gospel Pass from a new and extremely beautiful angle.