Glendalough 2 Mile Race - July 2015
First 2 miler for a while - I've said that so many times lately as my running has been so stop-start it's unbelievable!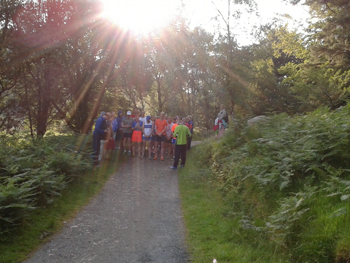 Anyway, this time I was confident of getting round as a top sports medic had diagnosed my tendonitis as a degenerative condition that will probably give me some pain for 6 months to a year but will respond well to being tested with some exercise (whereas "you can't rest it better"). OK then, I'll run hard ish, not full speed, and not be bothered if it hurts a bit. Sounds like a plan.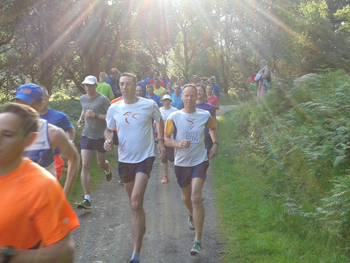 This was probably the most beautiful 2 mile route ever - nestling in the Wicklow Mountains but essentially a flat course along the lakeside through the woods then a loop right across the lake itself on a wooden "boardwalk". I was nervous about my achilles, anxious about twisting an ankle on the rough trail, all the usual headaches, but they soon melted away as I started to work hard on a run for the first time in months. I never got up to full speed - I was consciously holding back - but one by one I managed to catch and pass a few runners up ahead of me and get myself into the top ten. I wasn't going to catch Cliff or Suswara without going full out so I contented myself with coming in a few seconds behind them in around 14 minutes.
The course turned out to be long so that translates roughly to a 13 minute 2 mile on the flat road - let's see if I really can carry on for a few months without breaking down and maybe get back into the twelves. Fingers crossed, I think this could be the turning point. Hey, I'm a born optimist!