Forest of Dean "Forest 5" or "Christmas Tree Race" 2008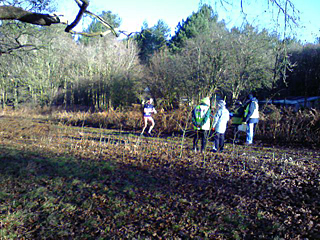 This race seemed to go by two names, and while the "Forest" tag was more than appropriate, with the whole course deep in the lovely woodland around Coleford, the "5" was a little inaccurate as Dominic's garmin clocked it at nearer 4.5 - you can see him hitting the stop button in this rather blurry photo courtesy of my phone. This is the only pic I have, but it does show you just how foresty the whole thing was - from the start we had only the shortest of dashes down a slippery road (frosty and icey with temperatures still hovering around zerro despite the brilliant sunshine) before we headed off down a narrow, rutted track into the trees. I found myself, surprisingly, in the pack of eight or so runners at the front, and decided to go for it and try and hang in there with them. Overtaking the guy in front was hard as the path was so narrow and uneven, but I managed to nip past without losing my footing and stay within sight of the athletes up ahead. Soon we were well strung out on the trail, with sometimes just one runner in view up ahead and sometimes no-one in sight at all - it was going to be a solo mission.
So, with just the trees for company, I settled into a pace that was just the right side of uncomfortably hard and tried to enjoy the beauty of the surroundings as much as one can while giving it full throttle. There were plenty of marshals, plenty of fluoro powder paint arrows, and some hazard tape too to provide certainty about the turnings we needed to take - this is a really twisty route and whoever marked it out had been pretty meticulous to ensure we stayed on course. It's hilly too - all the time you are either climbing or descending, with virtually no flat sections. Unlike a fell race, though, the climbs were all runnable and the descents not too hair-raising. All in all, this is what most of us would think of if asked to imagine a genuine or quintessential British trail race.
My personal journey remained a lone effort, I was just in contact with the guy up ahead without ever threatening to catch him, and while I occasionally heard the panting of the guy behind he was never actually on my shoulder. Ice and frost were ever present, and there were a couple of fallen trees to get over, so there was a technical element that made me glad of the grippy shoes I'd opted for - full-on fell shoes would have been better but I parted company with mine at the Sodbury Slog and haven't yet replaced them! Anyhow, road shoes would be a liability here for certain. I was expecting around 40 minutes for the five miles because of the hills and mud, perhaps thirty six at a push, but at around 30 minutes I recognised the trail from my pre-race warmup and realised I was just around the corner from the finish. The path wound up the densely wooded flank of a deep valley before I emerged on to the finishing straight in a clearing alongside the football pitch where we had started. Fifth place was a great result - not first 40+ though, as the second placed runner was also a vet and had come in a full couple of minutes before me. I did get a spot prize after though - there seemed to be one for every runner! There were photographers on the course, as there so often are, but I can't trace the pics on the web yet.....maybe the FODAC site will have a few.