Dorset Try-a-Tri 08
Trying something new - always a great feeling. I had been building up to this beginner's tri event for a few months - well over a year really if you go back to the point where I was too injured to run or cycle so I went for swimming lessons. Anyhow, this had been a long time coming and I was nervous, excited etc. and all that. The 6.30 registration was "interesting" too, and I found myself awake at half past four munching on a powerbar to the sound of the dawn chorus.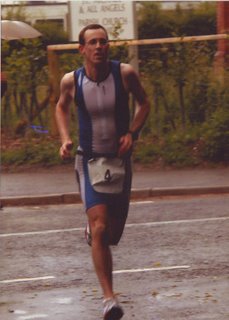 Racking my bike, I noticed there was a broad spectrum of competitors - one or two mountain bikes were rubbing shoulders (or brake hoods) with the road bikes, and at the other end of the scale there were some carbon disk wheel merchants and seasoned triathletes with all the gear. The pool was indoor and pretty small - 14 lengths would be required to do the 250 metres. I watched the first wave go off at just after seven - four to a lane swimming clockwise laps, with lots of overtaking - the brief was to touch the feet of the swimmer in front who would in theory let you pass either mid-length or at the turn. It all looked quite thrashy and there were pelnty doing breaststroke which made me feel better - at least I shouldn't be out of my depth in this event! But that's the idea - a race where the novice won't feel intimidated, and the experienced can use it as practise for their next event.
I was fourth to start in the second wave, and soon got into a rather hectic but even stroke in the warmish water - I was needing to overtake very early on, which was a little tricky as everyone was doing their best to get a good start and wasn't keen to give way (can't blame 'em) but my lane managed itself well enough with no collisions. I lost count of laps pretty quick, but I did get the tap with a float from the timer to let me know when I had two more to go. I almost blew everything by climbing out of the pool via the steps but the marshal gave me a shout and I hauled myself out at the end of the lane (thus avoiding a penalty). It seems a dumb thing to do but I wasn't thinking that straight at the time, with my first ever transition from swim to bike about to happen!
Next came a barefoot jog across the school playground from pool to transition bar and the first thing I noticed was that I wasn't freezing - I had been dreading the change from indoor swim in my tri suit to the beginning of the bike ride on a cool, drizzly morning in that aforementioned cold, wet tri suit, but in the event it was fine. I had all the stuff laid out, so it was goggles off, glasses on, helmet on, bike shoes (greased on the inside for easy-on) then bike off the rack - I dithered about gloves, still a bit insecure about getting cold on the bike - and ended up cramming them in my back pockets as I jogged out to the road with my bike (of course I never needed them).
I always hope for that athletic leap on to the bike and a smooth accelaration out of transition but as usual (ie. as in my duathlons) it was a little less graceful as I fumbled my way into the clipless pedals. Once away down the road, though, it went like a dream. I had been first out of the water in my wave and was soon overtaking some of the first wave (those on mountain bikes, predictably, which are always going to be slow on the road). I managed to get down intoo an aero position some of the time, but the route was quite hilly and with the roads wet I got back on the hoods for the bends. I think I only saw one car in the whole seven miles - it was so peaceful and silent. After half an hour or so of intense but quite meditative solo grind through the lanes I was lumbering off the bike and back into transition feeling glad it was the most familiar bit - the run - ahead of me. Helmet off, shoes on, nice quick transition - and I was stiffly running back out on to the course. Apart from a bit of a stitch (too much drink on the bike?) it went well enough - again the course was around quiet lanes and again I was passing a few runners and not getting passed by anyone which felt encouraging.
I felt stronger and stronger on the run, which ended when a humorous marshal waved me back intoo the school with the words "in you go, just five laps of the field now...........only joking, finish is straight ahead". Joker! Actually this was quite amusing and I smiled/grimaced the last hundred metres at full pelt. Job done! Felt great to have completed my first tri and also felt a lot more confident about Cosmeston, a week later, wiith a much longer course and my first experience of open water competition (oo err.........). Like I said, trying something new is always a great feeling, and I was happy to get 15th fastest time out of a hundred or so. I need to get smoother both on to and off of the bike (getting my shoes out of the pedals earlier for a start) and also get the hang of dealing with a big flappy race number on a race belt, but apart from that it all went OK.