CHIANG MAI ATHLETICS TRACK
In February 2007 I was lucky enough to be in Thailand with the Sri Chinmoy Centre - as usual we raced twice a week and instead of using local roads (tricky in a city with such intense traffic) we were lucky enough to have a 400m track to ourselves early in the mornings.
Apart from my finishing photo from the two mile race: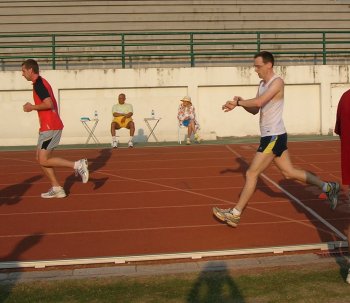 Everything else is in my news item on the web site of the Sri Chinmoy Athletic Club.
My two mile time was a slight disappointment at 12.02, but I was happy with 5.42 for the mile which I then improved to 5.26. Not bad for a crocked runner with a regime of three sessions a week of easy jogging. Hopefully the two miler will improve in the summer - have to get back to eleven fifty something or forty something.