Cardiff Cross Challenge 2009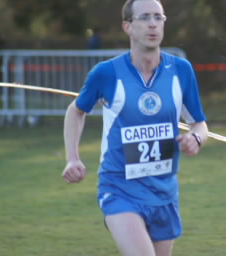 Despite having done stacks of trail and fell races over the years, this was my first actual cross country race - I guess that's a result of being in a club that's diffused all round the world rather than being centred on one city. Here in the UK, we number around a hundred but couldn't muster a team for a cross country league in any one area. With the Cardiff Cross, though, anyone can register and run regardless of club or affilation, so I decided to have a crack at running round and round Bute Park in the last race of the meeting - the Mixed Masters (v35 women and v40 men).
Lined up at the start I was surprised that we only numbered around 40 - with the various junior and senior races having taken place already, with several hundred runners in total, it seemed a low key way to finish the event. At the start we were told the race was just over 6k and would consist of "two medium and one large" laps - that was the first I knew of the distance I would be racing, having thought it would be more like 10k. We started from a gun - just like on the track - and soon we were ploughing our way around the muddy course that had been churned up by so many pairs of spikes and studs since around 11am that morning.
As usual I went off optimistically, around the sports field at Blackweir, up the steep bank by the changing rooms and on a twisty course through the woods with the Taff on our right. Where we crossed the tarmac paths, rubber mats had been laid for the benefit of spike wearers, but as I was in a set of Inov8 fell shoes I found my studs slipping alarmingly on the smooth rubber so I had to remember to take each crossing cautiously. Soon I heard shouts of "Come on Mick" from the spectators as I passed, so I realised that the runner breathing down my neck must be Mick McGeoch, who everyone knows, and sure enough on the second lap as we approached the woods he edged past me, giving me lots of room, with his trademark look of steely determination on his face and arms swinging economically at his sides. I was not going to catch Mick, but I soldiered on and resolved to try and not lose any more places - more Les Croupiers runners were behind me but I was aware that there was a bit of a gap and so long as I stuck at it I should hold my place. Not sure why that matters, and I guess it doesn't, but without some kind of goal it's hard to maintain the all out effort that you need to make a race into something meaningful.
The large lap was interesting, included one fallen tree that had to be leapt over, and seemed to last a very long time. In the end I did manage to hold on to my place in the field and finish fairly strongly, but it had felt like a slightly below par effort all round, perhaps because of the strange time of day (3pm start). Still, it was a really enjoyable event and left me thinking how I could work the Gwent League races into my schedule next season. The atmosphere and the course were both very different to a trail or fell event - only the mud was the same :)