Bristol-Bromyard Ride 2016

I had a Friday off work and I had to be in Bromyard for some music recording by the evening, so it was a chance to get a long ride in without having to make a circular route back to my place. I always enjoy it more heading out into less well known country, so I arranged for Suswara to take my mandolin & daysack up to the cottage and headed out en velo at around 9am. I had picked a window in the weather so it was neither icey and dangerous nor blowing a gale - fortunate for February! Out from Bristol on the A38 I was soon on familiar roads to Tockington then over Old Down Hill and down Mumbleys Lane into the flat lanes of the Vale of The Severn. A straight route on A roads would have been 61 miles but I had opted for the B roads and lanes so I was expecting more like 70. As far as Berkeley it was all territory I knew well - I was making good time on decent roads. After that I headed for Slimbridge as the GPS had plotted a cycle route that missed out the busy routes through Gloucester and I was interested to see where it went. At first it was great - the road out to Slimbridge was straight and flat, but then it took me on to the canal towpath which was more suited to a tourer with suspension or a mountain bike - pretty Paris-Roubaix on a road bike with 25mm tyres! After 2 miles of rough stuff I was glad to be off and back on to lovely lanes leading into Quedgely - I followed the GPS again and it took me on cycle lanes and some (paved) cycle paths up past Gloucester Docks. Then it was down on to a paved but slightly rough cycleway through some low lying ground by the Severn where I had to shoo a herd of bullocks off the path - they weren't keen to move but eventually got the message.
After that the path was closed but I found one heading north from the A40 and it was roughly the right direction so I took it. The lane/byway became a thin pavement (formerly a classified road but now closed to traffic I'd guess) then that became another rough path which spilled me out on to decent lanes and then a B road. That B road took me north at a good speed but the traffic was heavy so I nipped off towards Highleadon Green and Upleadon on a gorgeous road that was briefly sunlit on an otherwise cloudy day. Here the scenery was hilly with lots of woodland and tiny, ancient farmsteads and hamlets. A contrast from the flatlands south of Gloucester.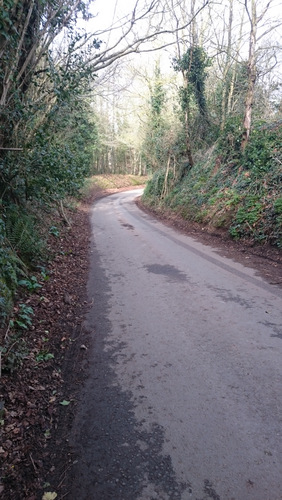 One lane led to another and occasional checks on the GPS kept me heading towards Ledbury. After 3 hours I could feel myself slowing - having had not much food over the previous couple of days was catching up with me! Then at 3 and a half hours the legs started to feel aching and empty. Good to know how far I can get without a feed. A Hi-5 gel kept me going to Ledbury where I took refuge in a cafe to fuel up with soup and bread before the last hour of riding over to Bromyard on quiet, rolling B road.
Here the views of the Malverns were amazing, different aspects opening up with each bend in the road. After the weekend of music and stuff (mostly stuff) I only had to get as far as Worcester to pick up the train to Filton. This was actually the nicest scenery of the lot - the hour before sunset, rolling along on silent lanes south of the A44, following a hidden valley so quintessentially English and timelessly beautiful it was breathtaking. Worcester itself came all too soon with its cold waiting room and dirty train, but it got me home to Filton on time.