Black Mountains Race 2000
I ran the Black Mountains Race in September 2000. It was my first Fell race, and it was pretty dumb to start with such a long one - 17 miles and around 5000 feet of ascent. Perhaps, having done a marathon that Spring and my first ultramarathon in August I felt it was manageable, but in the event it proved tougher than expected. Still, it was a memorable race!
John Darby is a great race organiser - at the registration in a hall in Llanbedr I was handed a map with a suggested route penned on it and all the checkpoints marked, and while there was no systematic kit-check I remember one chap, after admitting to having no whistle about his person, being promptly dispatched to Crickhowell to get one.
John gave a pre-race briefing along the lines of "don't follow me as I may get lost myself" then joined the ranks of the 60 or so runners for the start in a lane near the centre of Llanbedr.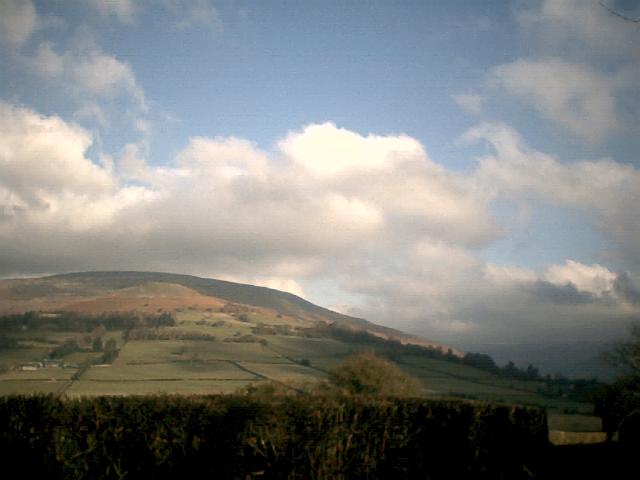 After only a few hundred yards of road we were off onto a very steep farm track heading for Table Mountain and Pen Cerrig Calch (above) - I took it into my head to run the whole first ascent, which I just about did (perhaps a few brief hands-on-knees walk breaks) and I was pleased to reach the first summit not too far adrift of the pack. Big mistake. As I headed along the ridge I felt very low on energy, and realised I was still not recovered from that ultramarathon in America. Well, of course I wasn't, it had only been two or three weeks before and I wasn't used to that sort of mileage. I was slowing down further on Pen Allt Mawr (below) and finding the steep descents hard on the legs, even though they were short. I was also blistering on both feet, quite severely, as I was not then the owner of any fell shoes and was attempting the race in a pair of Saucony Stabils.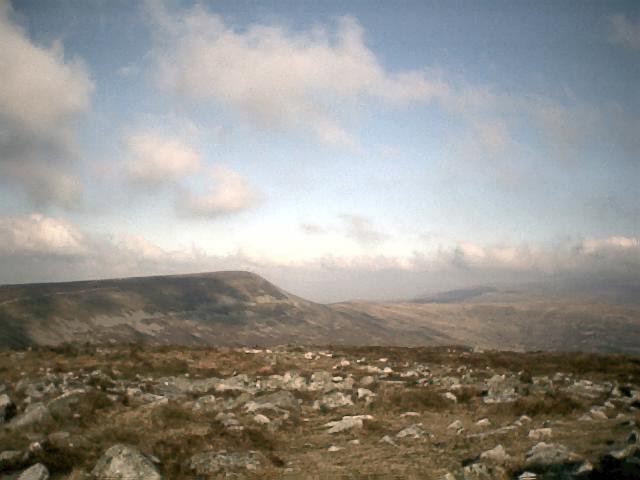 The long descent to the valley was arduous as I picked a bad line (mistake number two - stayed too long on the ridge) and the terrain across the valley floor was rough and draining. By the time I was ascending Pen Y Gadair I was walking and being overtaken by droves of runners - one of whom thought to enquire how I was, which proves I was looking a bit of a state (and at such an early stage in the race). Blisters were very painful and making any forward movement very tough.
The slope up to Pen Y Gadair from the North - we climbed up the steeper slope from picture right. Pic gives you an idea of the going underfoot.
After passing the check on Pen Y Gadair I was finished. I sat down on the hillside. Then I lied down for a few seconds. I had come to a complete stop. I drank my small bottle of energy drink, which was mistake number three. I picked myself up and headed onward, soon finding my stomach cramping up from the indigestible drink (I had trained with it, but under such duress my stomach was not behaving normally - it had completely shut down - I should have stuck to plain water). The descent to the river was very hard on the legs and the stomach gave me a lot of pain - I enjoyed the splash through the river though, and was still getting overtaken by other runners as I started the ascent of Chwarel Y Fan. This is an interesting sight, as all the runners use the fence posts and handholds on the way up - a most peculiar method of climbing it looks too. I joined in and found that the fence was a welcome releief from the legs-only efforts of the other ascents - at least you could trash another muscle group this time.
I don't remember the next check, but I do remember the next descent - athrough a maze of forestry tracks - each step was accompanied by a stabbing pain in my middle from the persistent stomach cramp - it got to be too much and I had to walk even on the downhills. I was in a really sorry state - totally drained and in total pain - but unbelievably I was still glad to be there, still in some sense having fun. I wonder about myself sometimes.
A friendly marshall at the bottom of the hill had a bottle of plain water which he was happy for me to swill down,so I managed to get some hydration. Next came a wooded ascent which I enjoyed in the company of three or four fellow runners, proving I was not quite in last place and still capable of a slow jog. As we came out of the woods I saw the last check and as I reached it I realised the only runners behind me were the real veterans - just everyone under 60 was back in Llanbedr by now. The last section from Crug mawr to the finish was interminable - endless stud-marked paths, fields, stiles and fences - then from a heavenly dell at the foot of the mountain with a beautiful babbling stream and sun glinting through the leaves, a draining final climb brought me to the finish. I felt elated - I mean really elated. The marshall at the finish didn't think much of my time (about 4.45 I think - 58th place out of 63 roughly). "What happened to you? Get lost?" he said, sounding a bit disgusted. I didn't care, as I had completed my first Fell Race, in the supremely beautiful Black Mountains.