Brecon Beacons Traverse 2006
Slow, but I got there! 27 hours 20 minutes.
It was a dull morning, one of those lulls between the heatwaves that were sweeping South Wales in the summer of 2006. The previous days had been stormy and although first light should have come earlier, the low cloud deterred me from venturing out from the car at Pen Rhiw Wen until 4.20, when I could just about see where I was putting my feet.
It was mild and I was in shorts and t-shirt with a windproof jacket to keep off the morning chill. My preparation had been mixed, with reasonable times on my training runs (about the same as last year) but some worries over a knee injury sustained in a headlong fall on Cefn Yr Ystrad while recce-ing the route. Although that had happened some weeks before, the bruising under my knee was still causing me pain especially on downhill sections and I was a little apprehensive about doing eighty-odd miles on it. Still, I was soon across the open moorland and picking my way through the boulders that form a defensive bastion along the weestern side of Carreg Lwyd. At the huge summit cairn I was within a minute or so of last year's time, but as I headed off towards Carreg Las I began to realise I was not feeling up for it. Some days you head out for a long run and it all seems to flow well - you cover a good distance in a good time and feel strong. Other days you go off and the energy just isn't there. This was a "low energy day" for sure - despite the rest I'd got in the previous few days - and I was aware even in that first hour that I was in for a real battle to motivate myself when I felt so below par. At the summit of Carreg Las I was 5 or 10 minutes behind my 2005 schedule, partly from my low speed and partly from picking a poor line - last time I had contoured along the western flank then climbed up to the ridge just before the summit - thats definitely quicker than following the indistinct path that winds up the southern end of the ridge and then along the crest as I did this time.
From the twin barrows at Carreg Las I headed down to the stream with my knee protesting slightly then off into the featureless slopes of Bannau Sir Gaer. It was still dull and daybreak had not brought a big improvement in visibility. On the plus side, two days of torrential rain had not been enough to soak the parched mountainside, and it was still firm underfoot. After negotiation the loose path down Bwlch Y Giedd and the streamside path towards Cefn Cul I was glad to see Ed and Steve in exactly the right spot with the car - they had started as they meant to go on, hitting every meeting point on the route to the exact yard, which is easier said than done for anyone who doesn't know the area and is relying on unfamiliar OS maps and my obscure instructions! They were full of encouragement, which I needed as I was more than 10 minutes behind already, and I took a small bottle of sweet tea with me over cefn Cul. The guys were waiting to hand me back my refilled camelbak on the other side and I slogged up Fan Gihirych experiencing alternate waves of despondency and optimism.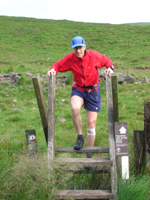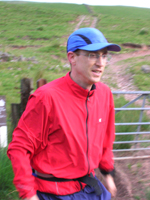 Pics: me at the "tower" meeting point after Cefn Cul, and a look along the Black Montain escarpment with clouds boiling up from the lakes at its foot.
My line over Fan Nedd was not the best, and the descent was bad on the knee, but once again the guys cheered me up before I found an easy ford of the almost-dried-up river and took a diagonal line up Fan Llia. I was eating and drinking well - that was the only thing that seemed to be going according to plan in fact. I was loading up with calories that I hoped would help me later, and one advantage of my slow pace was easy digestion! The honey stinger bars were great, both for ease of consumption and for the energy hit, and I alternated these with SIS gels. The energy was all going into my body, but didn't seem to want to come out in the form of speed.

Pic: view back over to the Black Mountain from Cefn Cul
Once atop the ridge of the Fforest Fawr I knew it was time to make a real effort to get back on track, so I pushed on faster and gambled on a shortcut through the bog towards Fan Frynych which cuts off a corner and saves a few minutes provided you don't sink. The ground was firm, and by the time I was heading back from Fan Frynych to its neighbour, Rhos Dringarth, I knew I'd pulled back a few minutes. Fan Fawr was tiring as usual, a steep slof for a few minutes then a ballistic knee-crunching descent to Storey Arms, where I realised I was back on track. Mash potatoes and more tea raised my spirits then it was time for the Beacons.


Pics: Corn Du and Pen Y Fan, and Fan Fawr from the path from Rhos Dringarth.
My line up Y Gyrn was better than last time, though I tried to head straight for the top instead of taking a curve in the path and this resulted in almost total immersion. Even the recent drought hadn't had an effect on Y Gyrn. I extracted my legs from the bog and chose a new route to Duwynt, using a bit of the "motorway" towards Corn Du then cutting right to the Bwlch Duwynt. After not seeing a soul all morning I was suddenly surrounded by weekend crowds "doing" Pen Y Fan. I felt self-conscious in my rhidiculous but essential kool-off hat with its foreign legion style sunshade and the fact that I was in running kit but rarely getting above walking pace. Once on the ridge things improved - the summits come so close together here that you feel you are covering ground quickly. The descents were, as I feared, slow because of the dodgy knee and I remembered my physio, Karen, advising me that I should be wary of any pain on the flat sections and climbs as this would indicate that the injury was worsening. To be honest, there was low level pain most of the time and a little more on the descents, but it wasn't bad enough to worry me. As I got progressively more tired on the trek past Fan Y Big towards Waen Rhydd I began to question why I was doing this traverse thing. Normal people sit on their sofas at the weekends or on their days off. Why was I pushing my useless body through this stupid mileage on the mountains? It was a classic mental "attack" that you get when the body is tired and the inspiration has dried up, and as always each such attach passed fairly quickly. On this particular day, though, I had a great deal more such attacks than normal - probably because my energies were so low from the start and it was always going to be an uphill struggle (sometimes literally).
The route up to Waen Rhydd was easier than usual with the peat all dried up, and I found a reasonable sheep track towards Allt Lwud, but after that I had a bit of a shock. Heading down the uncomfortably steep slope towards the road at Abercynafon I saw that a huge swathe of the hillside was no infested with tall ferns that hadn't been there on any of my previous visits. I was too tired to put my overtrousers on so I just went for it in my shorts, ripping slowly through the vegetation like an icebreaker struggling through pack ice. It was painfully slow, in both senses of the word, and the reward for all that hassle was to arrive tired, irritable and covered in scratches at the fence of the plantation, with its thistles and masses of dead branches and twigs. By the time I got through that I was feeling wretched, but the path down to Abercynafon is, surprisingly, one of the most beautiful stretches on the whole traverse. I have my own names for a lot of spots around here, which I keep in my memory as reference points, and I always call this bit "The Perfect Path". Sun was filtering through the trees and their leaves were vibrant with colour, impossibly green and gorgeous. I came round the bend in the road apprehensively, having failed to raise Ed and Steve by phone, but there they were, on the spot, dishing out mash, tea and counselling when I needed it.
Cefn Yr Ystrad was next, scene of my painful fall in June. After fording the completely dry river, I found another huge expanse of ferns filling the fields between me and the Taff Trail. I gritted my teeth and began to hack through them again - this time they were over head height and accomapnied by thistles and nettles. There was blood and sweat but, for what it's worth, no tears. Once over the gate onto the trail it was a little tricky finding the style up onto the mountainside - things had changed here since my last recce, with new forestry tracks, and I took a few wrong turns before I found the fence and hopped over to climb in a straight line in a "v" between two descending streams. Tiredness kicked in badly. When I got within site of the prominent cairn which lies close to the summit (obscured from view until you're almost upon it) I felt suddenly anxious and a little disorientated. There were strange sounds - bagpipes, car engines, who knows what else. Quite a few people were hanging around the quarry, one really was playing bagpipes while others were trying to tow a jeep out of some mud. They all looked at me with hostile expressions as if I'd caught them committing a crime. Perhaps I had. A disturbed mental state usually leads to bad decision making and poor performance so it's no surprise that after reaching the summit in 11.40 (a few minutes ahead of last year, despite the fern nightmare) I made a hash of finding the way down through the quarries and took a long route that lost all the time I had struggled to make up. On top of that, I couldn't find the start of the path down through the forest. Fran called me on my mobile which gave me a lift, but as we chatted I was legging it backwards and forwards along a path around the valley head, until I spotted the top of the downward path, all blocked off and hidden by wire and debris. Is this no longer a right of way, or is someone just trying to ensure it falls into disuse?
I raised Ed and Steve on the walkie talkie, chuffed that it worked (mobile reception is worse than useless in Cwm Pyrgad) and they had my road shoes ready for me at the end of the lane. The road section went well - I ran the vast majority of it, just walking the up slopes, and got a much needed loo break at the Red Lion. Before long I was jogging past the massive redwood (?) trees on the flanks of Myarth and ordering some hot food from Ed to eat on the A40. It took a while to cool down - it was one of those all-natural "Tru-Free" meals with brown rice and I was hoping it would fuel me for the nasty climb ahead. It wasn't ready until I reached the farm by the lane up Cwm Gu, so I happily sat down in the car and ate it before starting the slog up the lane, now joined by Steve who had accompanied me over the Black Mountains before and knew what he was letting himself in for.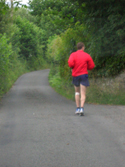 Pics: On the road and still running! Tal Y Bont Reservoir from Cefn Yr Ystrad.
At first it was slow but steady progress - I had started the climb at 14 hours 40 mins after the start, so a 24 hour finish was still theoretically possible though 26 seemed more probable. We walked as fast as we could and talked when we had enough breath, and for me the company was very welcome after fourteen hours of solo running. We reminisced about our experiences here a year before, and it all seemed so much easier now - tackling Pen Allt Mawr and Mynydd Llysiau in daylight, then on to Waun Fach before night fell and we struggled to find a path of any kind to Pen Y Gadair. We took a bearing off the GPS and just headed straight towards the next mountain, with the weather starting to rev up for something pretty wild. It was as if the storm clouds had been afraid of the light and had waited for nightfall before sneaking out to let loose. As we began the climb of Pen Y Gadair the rain was falling heavily and the going was slow over heather and deep tussock, but when we got close to the summit the gusts that hit us right in the face were truly awesome. I had trouble keeping my balance, often hanging over, balanced on one leg, trying to bring the other one down to the ground and take the next step.
After Pen Y Gadair the march down to Pen Twyn Mawr was even more sapping. All hope of completing this stage quickly evaporated as we trudged in the horizontal rain, zig-zagging every few seconds to pick up the trail again after having lost it in the darkness. One thing that was helping was the Big Torch - I had decided to bring a massive maglite despite the weight and its searching beam kept us on track many times when headtorches only served to light up the drops of rain in front of our faces.
From Pen Twyn Mawr, we staggered down to the gate and the relative calm of the Mynydd Du Forest. Tiredness was affecting y brain and I was amused to see a fire hydrant in the middle of the path which was a total hallucination and changed into some muddy ruts as I stepped on it. My new downhill route worked a treat, despite being a little slippery in places, and we got down to the river without incident. Here I was expecting a footbridge but we emerged instead by stepping stones which were negotiated with some caution. A short stumble up the grassy bank and there was Ed, bang on target, getting the 12 volt kettle on for us. The Pen Allt Mawr and Pen Y Gadair ridges had taken about six hours. Shockingly slow.
So there we were - peeling off layers and putting on dry ones, swilling hot tea. The realisation dawned that this was the point at which I'd had to abandon the traverse last year, too cold and wet to safely carry on and also with no batteries left for the headtorch. This time we were in better shape, and soon able to head back up and start the climb to Chwarel Y Fan. The fencepost-assisted ascent was arduous at first but soon eased off to a more gentle slope, and as we passed the top corner of the plantation and took a diagonal line for the summit I began to play around with my head torch and check the map for the next section - this was a mistake, as we soon vagued off the tiny path and ended up too far south. This made for a rougher and longer climb that brought us out in the old remnants of a felled plantation just below the ridge - a maze of trip-hazards and obstacles that exhausted bodies found hard to cope with.
Once on the ridge lack of sleep began to play around with my brain - I was almost falling asleep as I walked (by now I needed a fair bit of walking to recover from each climb before I could run again) so I had to talk to myself and swing my arms crazily to keep awake. Steve was a rock, happy to lead or follow depending on my energy levels, and not outwardly worried when my routefinding off the summit of Rhos Dirion was less than convincing. It was getting light by the time we came to the top of Twmpa, and after a brief pause for more hot drinks and food from the car at Gospel Pass we were back up onto the ridge for the long, final stretch. Even here things didn't let up - Steve had stomach problems which slowed us down and the weather was still hostile at times. The lightening sky, far from being encouraging, only served to remind me how slow we were going as the hours passed. After an eternity (as they say) I was looking down at the priory, and able to summon a final spurt to run down - albeit stiffly and awkwardly - to the finish. In the last field, as I ran up to the wall, I finally felt a real sense of satisfaction that I'd completed the task that I'd set myself two years before. The time was disappointing of course, but I had definitely surpassed last year's performance and made it to the end, so I was happy enough. Touching the ancient stone walls of Llantony Priory with both hands to end the run was a special moment.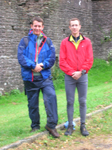 Pics: Steve with Ed (top) and me, on a dull morning at Llantony after a pretty rough night.Thanks guys - you were superb helpers and your reward is that I will one day drag you through this again - sorry.
I'm keen to come and do this again of course, and try to get my time down to 24 hours, or at least close to it. For now though, I'd like to focus on other challenges for a bit so I can come back to the Traverse with a fresh mind. So, the goal for 2007 will be the West Highland Way Race (90 odd miles from Glasgow to Fort William through the mountains) and maybe a half-traverse, just to keep my hand in. Then in 08 I can celebrate my fortieth with a faster traverse.